Le Bandit (Hacksaw Gaming)
Discovering Le Bandit: A Comprehensive Review
Le Bandit is not just another slot game. Crafted by Hacksaw Gaming, this innovative slot captures the adventures of a gold-loving raccoon, Le Bandit. The narrative is charming: our raccoon friend has cracked the secret to reaching the end of the rainbow, a feat once thought exclusive to Leprechauns. Beyond its enthralling storyline, players have the opportunity to multiply their bets up to a staggering 10,000 times!
Le Bandit Demo free to play (Hacksaw Gaming)
Play Le Bandit (Hacksaw Gaming) here:
Immersive Design Aesthetics
Every element in the game echoes its central raccoon theme. The graphical design is attention-grabbing, as we see Le Bandit with a crowbar, stealthily eyeing the game reels. This design promises not just an immersive gameplay experience but also a visual treat for both new and seasoned players.
Engaging Slot Mechanics
Dive into unique slot features that set Le Bandit apart. The game adopts a Cluster Pays mechanic, emphasizing wins by landing five or more similar symbols either horizontally or vertically. Slot features like Super Cascade, Wild Symbol, and Win to Win elevate the gaming experience. Yet, it's the Luck Of The Bandit, All That Glitters Is Gold, Treasure At The End Of The Rainbow, and Bonus Buy that truly steal the show.
Tempting Free Spin Opportunities
Free spins, an enticing element for any slot enthusiast, are abundantly present. Secure three scatter symbols and activate the "Luck Of The Bandit" feature, gifting you 8 free spins. Land one more scatter symbol, and the game sweetens the deal with "All That Glitters Is Gold," offering 12 free spins. For the ambitious, five scatter symbols unlock the "Treasure At The End Of The Rainbow" feature, ensuring a rainbow symbol graces every spin.
Golden Squares: The Route to Treasure
A unique addition is the golden squares that illuminate behind winning symbols. The arrival of a rainbow symbol on these reels can activate these squares, revealing a horde of bronze, silver, or gold coins.
Bonus Buy: Direct Entry to Big Wins
For those eager to dive straight into the action, there's a Bonus Buy feature. This allows players to directly engage in enticing features. The options range from a 3x bet for enhanced chances at activating bonus rounds to a 250x bet for accessing the "All That Glitters Is Gold" feature.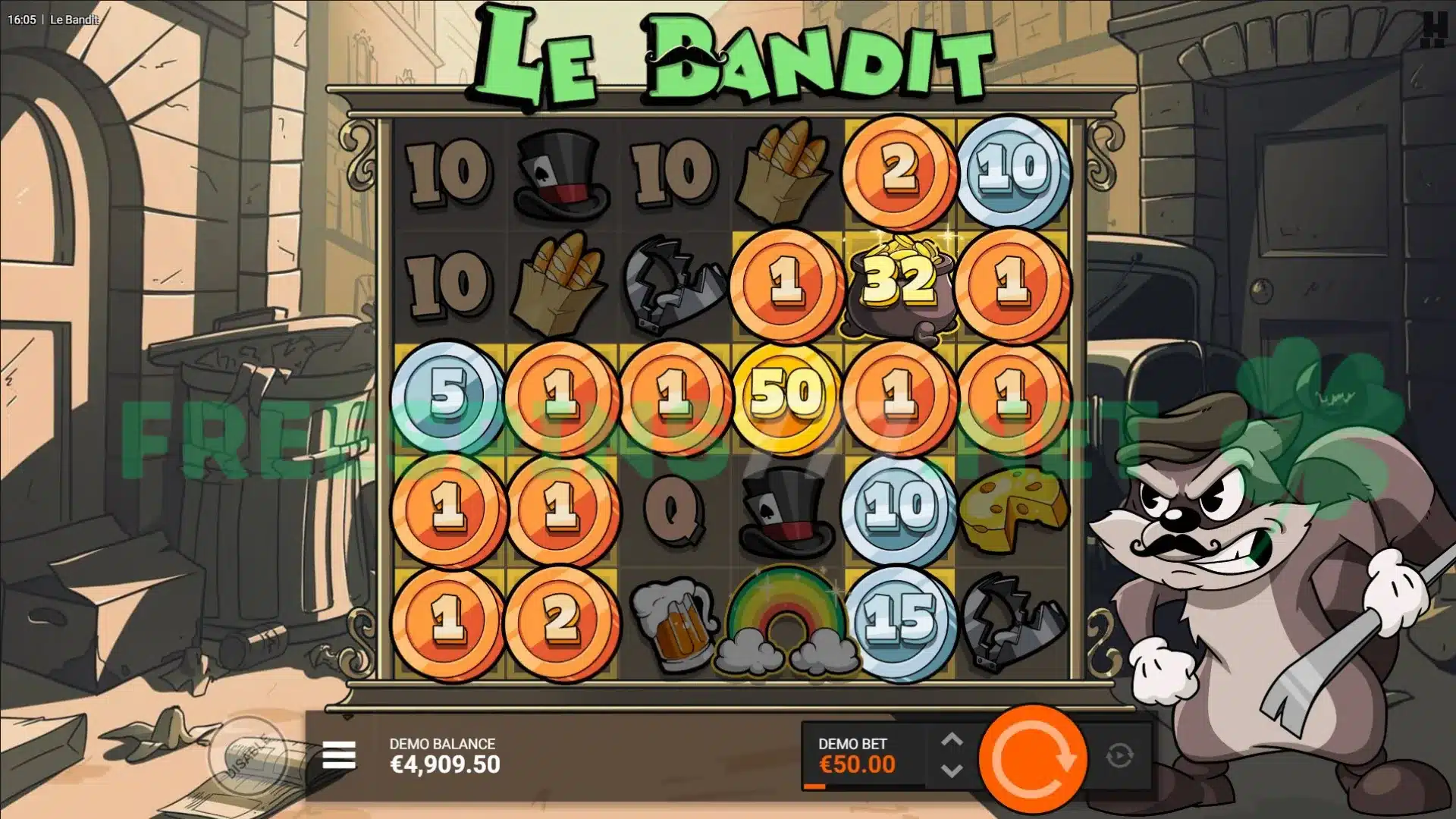 Game Performance and Odds
Le Bandit offers various RTPs, catering to diverse gamer strategies. While the default RTP stands at 96.34%, players can also choose from 94.23%, 92.17%, and 88.36%. And for those aiming for the skies, the game caps the maximum win at a massive 10,000x the bet!
Le Bandit Conclusion
In the vast sea of online slots, "Le Bandit" by Hacksaw Gaming emerges as a golden beacon. With its unique storyline, dazzling designs, and a buffet of features, it promises an unparalleled gaming experience. And with an RTP reaching up to an impressive 96.34%, your chances of striking gold with our raccoon friend have never been brighter. Dive in, and let Le Bandit take you on a thrilling pursuit of riches!