Theme and Design: A Dreamy Journey to the Stars
Step into the fantasy-like world of Starlight Princess, where dreams and imagination intertwine. Inspired by popular anime and manga aesthetics, this game showcases a 6-reel, 5-row game panel adorned with symbols reminiscent of the beloved Moon Princess. The ethereal design features floating clouds, a radiant moon, shimmering stars, and a majestic tower, immersing players in a dreamy atmosphere.
Starlight Princess Demo (FREE TO PLAY)
Play Starlight Princess for real:
Gameplay and Mechanics: Scatter Symbols and Tumble Feature
Starlight Princess takes a unique approach to gameplay, discarding traditional paylines in favor of a dynamic system. All pay symbols act as scatter symbols, offering payouts when at least 8 matching symbols appear anywhere on the game panel. This innovative mechanic grants players greater flexibility and opportunities to land winning combinations.
Moreover, Starlight Princess presents an exciting tumble feature, allowing for continuous wins within a single spin. As winning combinations disappear, new symbols cascade down to replace them, potentially creating multiple wins in a single spin. This engaging mechanic enhances the thrill and keeps players on the edge of their seats.
Multiplier Symbols and Free Spins: Unleashing the Magic
Prepare for the magic to unfold as StarlightPrincess introduces multiplier symbols into the gameplay. These special symbols can take on random values ranging from x2 to an astonishing x500, amplifying your wins and adding an extra layer of excitement to each spin.
For those seeking even more thrills, Starlight Princess offers an enticing free spins feature. Triggered by landing four or more scatter symbols, this feature grants players 15 free spins. What's more, the game incorporates the Ante Bet feature, doubling the chance of triggering free spins at the cost of a 25% increase in the stake.
Statistics: RTP, Volatility, and Stakes
When it comes to the technical aspects, Starlight Princess does not disappoint. The game boasts a default Return to Player (RTP) value of 96.5%, ensuring a fair and rewarding experience for players. However, it's important to note that Pragmatic Play offers alternative versions of the game with slightly lower RTPs, ranging from 95.51% to 94.50%.
In terms of volatility, Starlight Princess ranks high on the scale with a rating of 5 out of 5 by Pragmatic Play. This means that while the game may present formidable challenges, it also holds the potential for substantial rewards, making it an ideal choice for thrill-seekers and players who enjoy high-risk, high-reward gameplay.
Stakes in Starlight Princess cater to a wide range of players, with bets starting as low as 0.20 $/€ and going up to $/€100.00 per spin. Whether you prefer to play conservatively or boldly, there is a suitable stake level to match your playing style.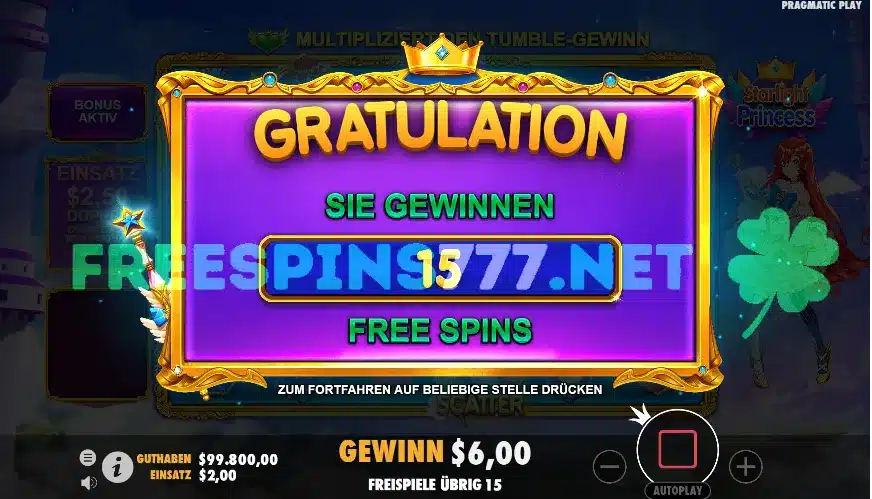 Starlight Princess Conclusion
In conclusion, StarlightPrincess offers a magical adventure set against an enchanting backdrop. While some may perceive it as a clone of the popular Gates of Olympus, it still holds its own appeal, especially for fans of shojo manga, princesses, and anime themes.
With its innovative gameplay mechanics, including scatter symbols, the tumble feature, multiplier symbols, and free spins, Starlight Princess immerses players in an engaging and rewarding experience. Moreover, the game's high volatility and the potential for substantial wins, capped at an impressive 5,000 times the bet, ensure an adrenaline-pumping journey for both newcomers and seasoned players.
So, why not embark on a fairytale adventure today? Let Starlight Princess transport you to a world where dreams come true, and riches await those who dare to embrace the magic!