The online gaming landscape teems with diverse offerings. Some glimmer with promise, others with glitz. It's essential to discern quality from mere dazzle. A fine example of a solid game that stands out is Starlight Princess 1000.
Starlight Princess 1000 Demo Slot free to play
Play Starlight Princess 1000 Slot for real money
The Distinctive Starlight Princess 1000
Starlight Princess 1000, a creation of Pragmatic Play, sparkles in the crowd. The game stands on a 6x5 reel platform. Its unique mechanic, scatter pays system, awards wins without payline restriction.
Return and Jackpot Evaluation
Starlight Princess 1000 impresses with its Return to Player (RTP) rate. This figure stands at a remarkable 96.5%. A highlight is the substantially larger maximum jackpot. Now at 15,000 times the stake, it's a robust 200% surge from the initial game.
The Masterstroke: Payout Mechanics
Such jackpot boost isn't just blind luck. Pragmatic Play achieved this feat without tampering with the symbol requirements. By merely extending reel strips' lengths, they've recalculated the combination odds in the player's favor.
Volatility and Bet Range
The Starlight Princess 1000 game prides itself on high volatility. Although wins may be scarce, they prove substantial when they do occur. A diverse bet range, spanning 0.20 to 125, adds to the game's allure.
Bonus Features: A Closer Look
This game isn't just about standard spins. It hosts an exciting bonus round. For those eager to dive in, a bonus buy feature facilitates direct bonus round entry.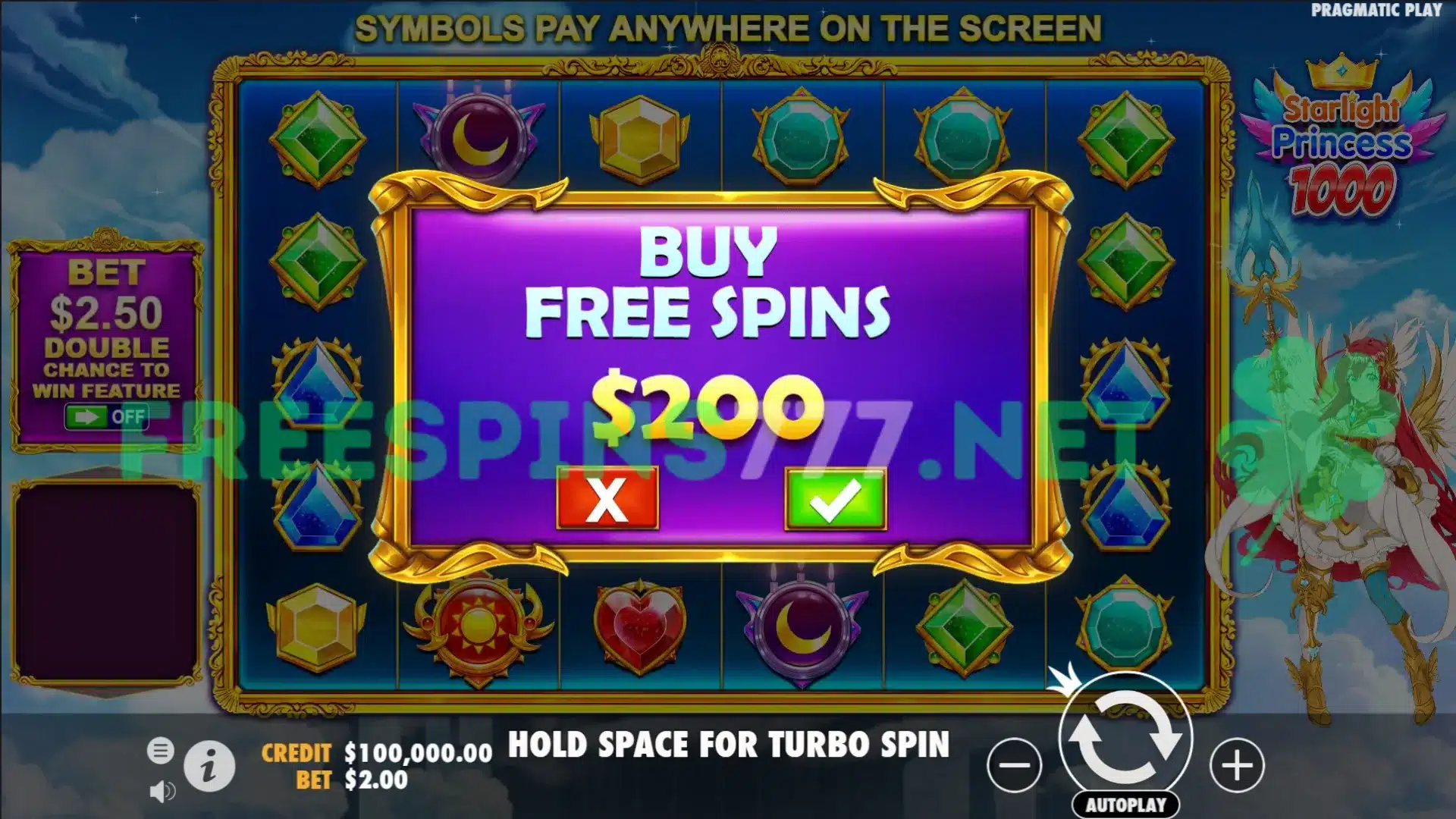 The Thrilling Tumble Feature
A pivotal feature of Starlight Princess 1000 is the Tumble Feature. This aspect transforms every spin into an adventure. When the reels stop, you might have a winning combination on the screen. But with the Tumble Feature, your journey doesn't end there.
After each spin, the winning combinations are evaluated, paid out, and then - they vanish. The remaining symbols on the screen drop down to the lower positions. The voids they leave are promptly filled with fresh symbols tumbling from above.
This tumbling action continues until the wins dry up. So, every spin could potentially unlock a chain reaction of wins. There's no cap on the number of possible tumbles - meaning, the winning possibilities are limitless.
At the end of a base spin and its resulting tumbles, all wins are tallied and added to the player's balance. With the Tumble Feature, each spin holds the potential of an unexpected windfall. It certainly takes the excitement of playing Starlight Princess 1000 to new heights.
Visually Mesmerizing
Starlight Princess 1000 isn't just technically sound; it's a visual delight. Its bright colors and engaging graphics lure players. The princess and starlight theme infuses a touch of fantasy, enriching the gaming experience.
Final Verdict
Starlight Princess 1000 is a gem among online slot games. Its unique features, coupled with large multipliers and high volatility, promise an exciting, potentially rewarding gaming journey.