Treasure Island (Pragmatic Play Live)
Treasure Island Live, a new game from Pragmatic Play Live Casino, invites players on a thrilling quest for hidden treasures. This game show experience centers around a massive 54-sector vertical money wheel, enriched with six enticing bonus games. The aim is simple: predict where the wheel stops. Each stop unveils a part of a treasure map, leading players through a mystical cave and a jungle pathway, where the ancient wheel mechanism lies. Hitting a special symbol on the wheel triggers one of several bonus games, boosting your chance for a significant win.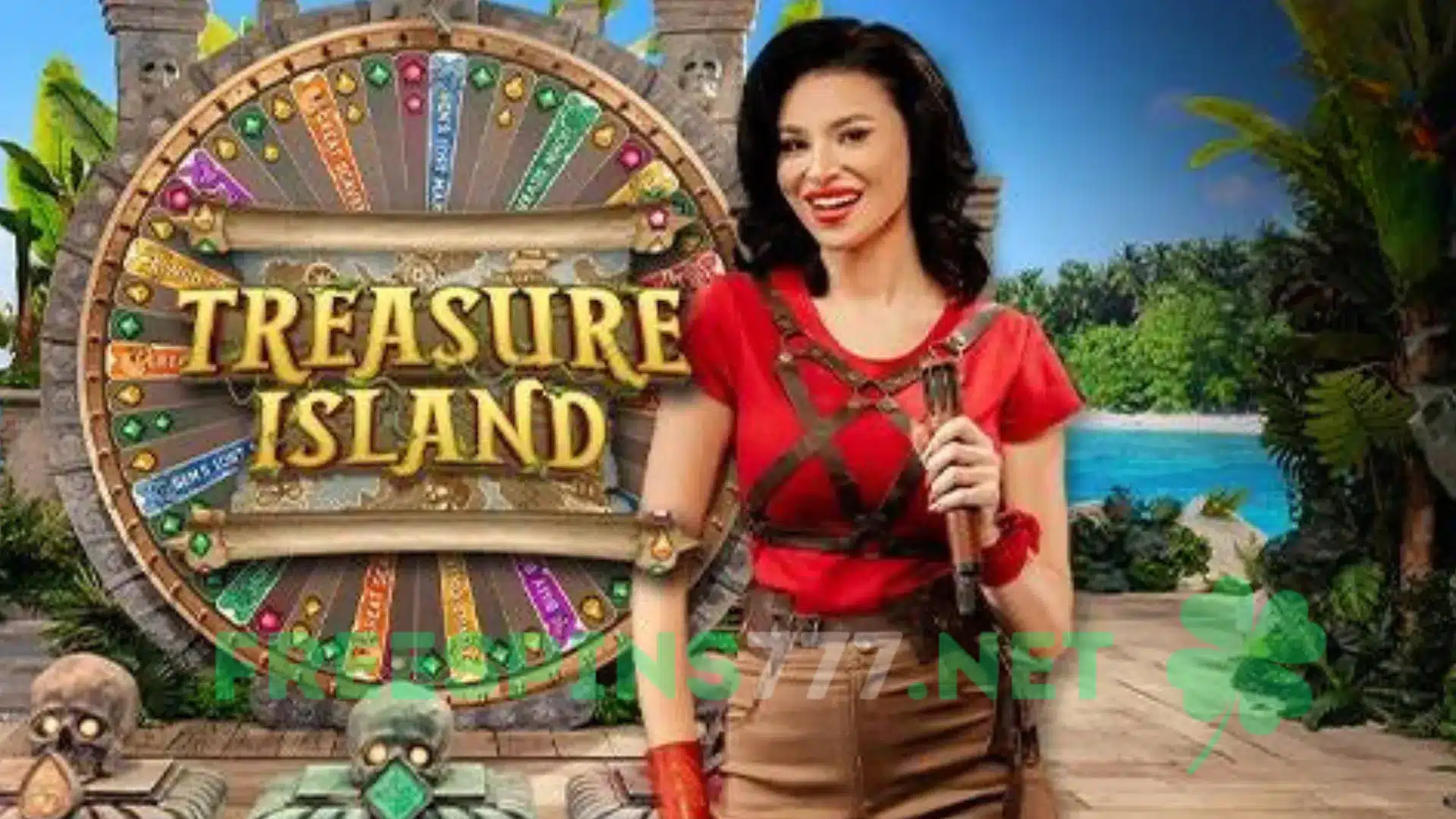 How to Play Treasure Island Live?
The Treasure Island Live wheel comprises 54 segments, each with gems, a Bonus feature, or a Bonus game. Players bet on where they think the wheel will stop. Bets can be placed on gemstones (Topaz, Emerald, Ruby), Wild Collector, Great Scavenger bonuses, and various bonus games. Gemstone multipliers are randomly determined each round. If the wheel lands on a segment with gemstones, payouts equal the number of gems times their multiplier, plus your initial bet.
Treasure Island is available at
Treasure Island Bonus Features
Treasure Island Live elevates the gaming experience with its engaging bonus features. These mini-games, seamlessly integrated into the main game, offer players additional opportunities to win and enhance the overall excitement.
Wild Collector:
In this feature, players have the chance to win all the gemstones in a highlighted area of the wheel.
Each gemstone won pays back the player's bet, multiplied by the gem's specific multiplier.
The size of the highlighted area varies with each game, adding an element of surprise and strategy.
Great Scavenger:
This feature focuses on collecting gemstones from illuminated mini slots.
Players aim to gather as many gemstones as possible, each contributing to their total winnings.
The gemstones' multipliers are applied to the bets, significantly increasing the potential payout.
The total winnings are conveniently displayed on the screen, allowing players to track their success in real-time.
Bonus Games
John Silver's Loot: Players have a chance to win big with a tumbling device filled with colored balls representing different gemstones. Balls drawn are multiplied by bet and gem multipliers.
Ben's Lost Marbles: This bonus uses a pachinko-style device where marbles falling into pockets turn into gemstones, with their value multiplied by bets and multipliers.
Billy Bones' Map: Players uncover hidden prizes on a treasure map, including a big treasure chest.
Captain Flint's Treasure: This bonus involves selecting barrels in an underground cave, with each gem collected being multiplied by the bet and its multiplier.
Treasure Island All Bonus Games
The Last Winning Combinations
This feature shows the most recent winning combinations at the bottom of the screen, providing players with insights into past game rounds.
Treasure Island Bets and Payouts
Treasure Island Live offers varied payouts depending on the bet type, with segments like Topaz, Emerald, and Ruby offering different odds. The game also features exciting bonuses like Wild Collector and Great Scavenger with higher payouts.
| Sector Name | Available | Payouts |
| --- | --- | --- |
| Topaz | 21 | 1-10:1 |
| Emerald | 14 | 1-40:1 |
| Ruby | 8 | 3-100:1 |
| Wild Collector | 3 | 2-900:1 |
| Great Scavenger | 4 | 3-450:1 |
| John Silver's Loot | 2 | 2-10,000:1 |
| Ben's Lost Marbles | 3 | 2-10,000:1 |
| Billy Bones' Map | 2 | 5-15,450:1 |
| Captain Flint's Treasure | 1 | 10-15,000:1 |

Treasure Island Return to Player
The theoretical Return to Player (RTP) for Treasure Island Live stands at an impressive 96.56%, varying slightly based on bet type.
| BET TYPE | RTP |
| --- | --- |
| Topaz | 96.52% |
| Emerald | 96.50% |
| Ruby | 96.50% |
| Wild Collector | 96.56% |
| Great Scavenger | 96.53% |
| John Silver's Loot | 96.54% |
| Ben's Lost Marbles | 96.39-96.54% |
| Billy Bones' Map | 96.55% |
| Captain Flint's Treasure | 96.52% |

Placing Bets
Players can easily view table limits and bet types. The game interface shows betting status, chip value selection, and total bet value. Players can also use features like Autoplay for repetitive betting.
Autoplay
This feature allows players to set a number of automatic game rounds, with additional settings depending on the casino's jurisdiction.
Game Result
Winning bets are highlighted, and winners' nicknames are displayed at the end of each game round.
Players can switch between games, chat with hosts and other players, adjust game settings, and view their gaming history for convenience.
Treasure Island Valid Spin Rule
A spin is valid if the wheel completes at least two rotations. Spins that do not meet these criteria are declared a "No Spin," and bets are refunded.
Game Inconveniences
In case of any game errors, the round is paused or cancelled, with bets refunded. Players are encouraged to contact Live Support for any game-related issues.
Disconnection Policy
The game operates over the Internet, and in case of disconnection, specific policies apply to ensure fairness and continuity.
This comprehensive guide to Treasure Island Live from Pragmatic Play Live Casino illustrates its immersive gameplay, varied features, and exciting opportunities for big wins, making it a must-try for casino enthusiasts.