Pirots 2 Slot Review
Pirots 2, developed by ELK Studios, is a sequel to the original Pirots slot game. This new edition transports players to a world where dinosaurs roam freely, and the Fearful Four birds embark on a new adventure. With a blend of old and new mechanics, Pirots 2 offers a unique gaming experience that's both familiar and fresh.
Pirots 2 Demo Slot 
Pirots 2 available at 

Pirots 2 Slot Design
The game's design is a fusion of prehistoric elements with modern twists. While dinosaurs dominate the landscape, there's also a roller coaster track weaving through the trees. The game's music, reminiscent of the iconic Jurassic Park score, adds to the atmosphere, creating a sense of suspense and excitement.
Pirots 2 Slot Features
The game boasts a dynamic 6x6 gaming grid that can expand to 8x8. Players will encounter four bird characters, each with its own color. These birds act as collector symbols, gathering amber pay symbols and feature symbols. The gameplay is enriched with various features, including:
Collection Meter: This meter monitors the collected amber and wild symbols. When full, it releases feature symbols, enhancing the gameplay.
Collection Meter Features:
Upgrade Symbols: Enhance the payout level of an amber symbol.
Upgrade All: Boosts the payout level of all amber symbols.
Coins: Offers its displayed value when collected.
Wild: Replaces any amber symbol at their current payout level.
Red Button: Initiates a meteor strike, expanding the game grid.
Egg: Hatches a dinosaur, scaring away the birds.
Popcorn: Fills gaps with popcorn, allowing birds to traverse empty spaces.
Mushroom: Transforms amber symbols adjacent to a bird.
Free Spins Bonus Game
Collecting three dino skull scatters triggers five free spins. The game retains the grid size and symbol collection meter progress during these spins. Additional free spins can be earned by collecting more scatter symbols.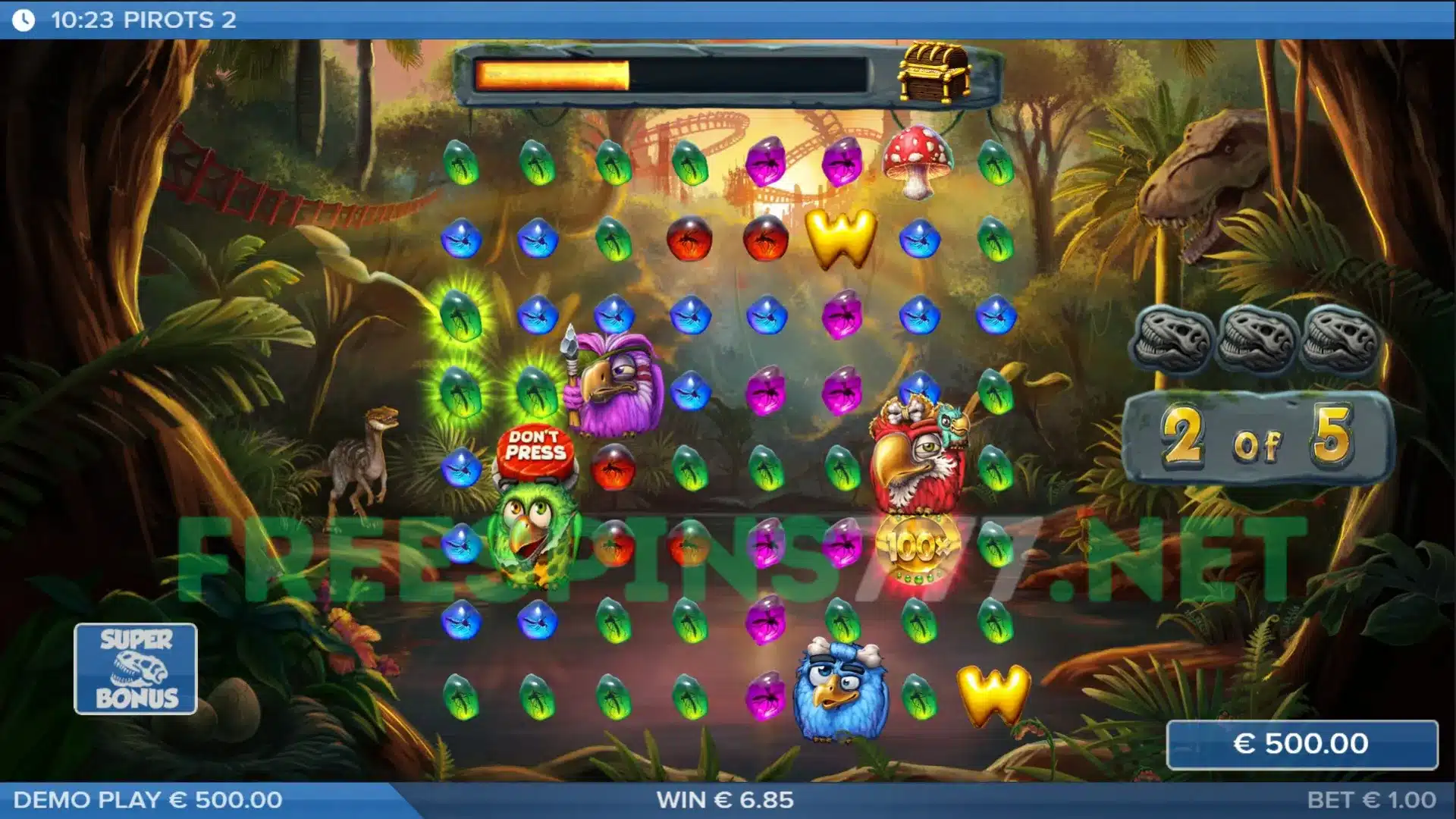 X-iter Modes and Their Costs
The Pirots 2 slot introduces an exciting feature known as the X-iter, which allows players to enhance their gameplay by activating specific modes. Each mode comes with its own cost, providing players with strategic choices to potentially boost their winnings:
Bonus Hunt: By wagering 3x the original bet, players can increase their chances of triggering the bonus game by fourfold. This mode offers a tantalizing opportunity for those looking to dive straight into the action.
Popcorn Fiesta: For those who enjoy the popcorn feature, a 10x bet allows them to activate the Popcorn Fiesta mode. This ensures that the popcorn feature is turned on, adding an extra layer of excitement to the game.
Maximum Grid Size: Players who prefer a larger playing field can opt for the Maximum Grid Size mode. By placing a bet 25x their original wager, they can play on the game's largest grid, maximizing their chances of landing winning combinations.
Bonus: If free spins are what you're after, the Bonus mode is for you. A 100x bet instantly buys you a round of free spins, bypassing the need to wait for scatter symbols.
Super Bonus: The ultimate mode for high rollers, the Super Bonus costs 500x the bet. In return, players are treated to a free spins round on the maximum grid size. Additionally, all upgrade symbols enhance every amber symbol, skyrocketing the potential for massive wins.
Incorporating the X-iter into your gameplay strategy can offer a tailored experience, allowing you to choose the mode that aligns best with your playing style and goals.
Pirots 2 Conclusion
Pirots 2 is a testament to ELK Studios' creativity and innovation. The game offers a unique blend of features, design, and gameplay, ensuring an engaging experience for players. Whether you're a fan of the original Pirots or new to the series, Pirots 2 promises a thrilling adventure with every spin.