3 Dancing Monkeys Slot Review
If you're searching for an enthralling online slot game, 3 Dancing Monkeys Demo Slot is a gem worth exploring. The game has gained popularity for its captivating mechanics and stunning artwork, promising an immersive experience. Set in an enchanting Asian-inspired backdrop, the game delights players with traditional symbols and vibrant visuals, taking them on a memorable journey.
3 Dancing Monkeys Demo Slot
Theme and Design:
Drawing inspiration from Chinese culture and the zodiac, "3 Dancing Monkeys" revolves around the significance of monkeys, one of the 12 zodiac signs. Embracing a cartoonish realm with a picturesque blue sky, rolling hills, and a subtle pagoda, the game's design evokes a sense of charm and liveliness. The three adorable titular monkeys, each associated with a unique modifier, infuse the game with a delightful ambiance.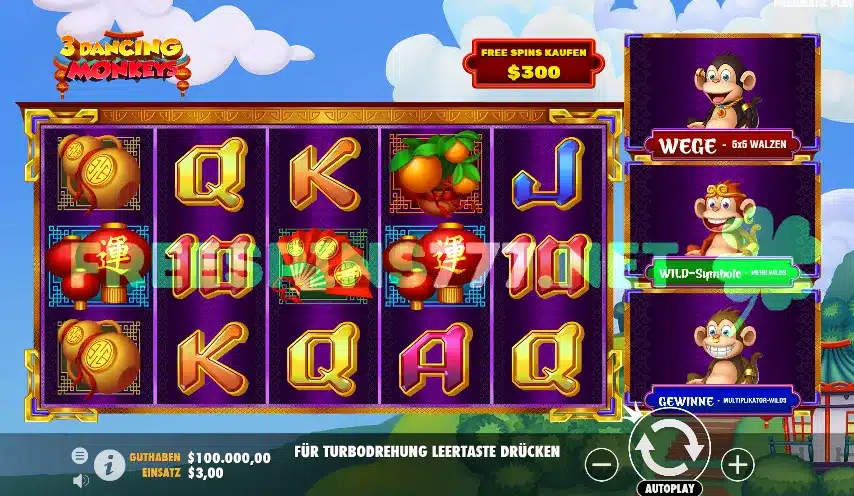 Gameplay
3 Dancing Monkeys" follows a 5x3 reel structure and employs an enticing 243-ways-to-win pay system. Players must match traditional symbols, such as oriental lamps, fans, and jars, to unlock thrilling wins. To keep things engaging, the game introduces three distinct gems, each capable of triggering a game-changing feature that will keep players on the edge of their seats.
Special Features
3 Dancing Monkeys takes the excitement to another level with its enticing special features, all centered around the three mesmerizing gems. Each gem corresponds to a unique modifier for the free spins phase:
The Red Gem expands the grid to an impressive 5x5 size, opening up more opportunities for winning combinations.
The Green Gem introduces additional wilds to reels 2, 3, and 4, boosting the potential for substantial payouts.
The Blue Gem introduces wilds with enticing multipliers of x2, x3, or x5, elevating the thrill of each spin.
During the free spins phase, landing a gem triggers its associated modifier and awards extra spins, keeping the adrenaline pumping. Moreover, the game introduces a Mystery symbol during free spins, which can transform into either extra spins or generous cash prizes, adding an element of mystery and surprise to the gameplay.
Bonus Buy Feature:
For players seeking instant action, "3 Dancing Monkeys" caters to their cravings with the "Buy Free Spins" feature. For a fee of 100x the bet, players can secure a combination of two Gems on the triggering spin, ensuring a more exhilarating and rewarding gaming experience from the get-go.
3 Dancing Monkeys Demo Slot Conclusion
In conclusion, 3 Dancing Monkeys by Pragmatic Play stands out as an exceptional online slot game that caters to both novices and veterans of the online casino gaming world. With its captivating theme, engaging gameplay mechanics, and a plethora of special features, this game promises an unforgettable adventure filled with excitement and opportunities for handsome rewards. So, what are you waiting for? Embark on a journey with these lively monkeys and spin your way to potential riches!