Hula Balua Slot Review
With a unique blend of tropical charm and exhilarating gaming mechanics, the Hula Balua Slot Demo is a captivating addition to the portfolio of online slot games. Developed by ELK Studios, this game transports players to a tropical paradise where rewarding experiences await.
Hula Balua Slot Demo free play
Hula Balua Slot available here
A Deep Dive into the Game Mechanics
Hula Balua is a scatter pay slot game featuring a 6x6 grid. The player is rewarded for landing eight or more identical symbols scattered anywhere on the grid. This medium/high volatility game, paired with a noteworthy RTP of 94,00%, promises enticing returns.
Power of the Big Symbols
An innovative aspect of Hula Balua is the introduction of big symbols. These bring in multipliers that correspond to the number of small symbols they cover. Winning combinations involving big symbols increase the global multiplier, which applies to all wins.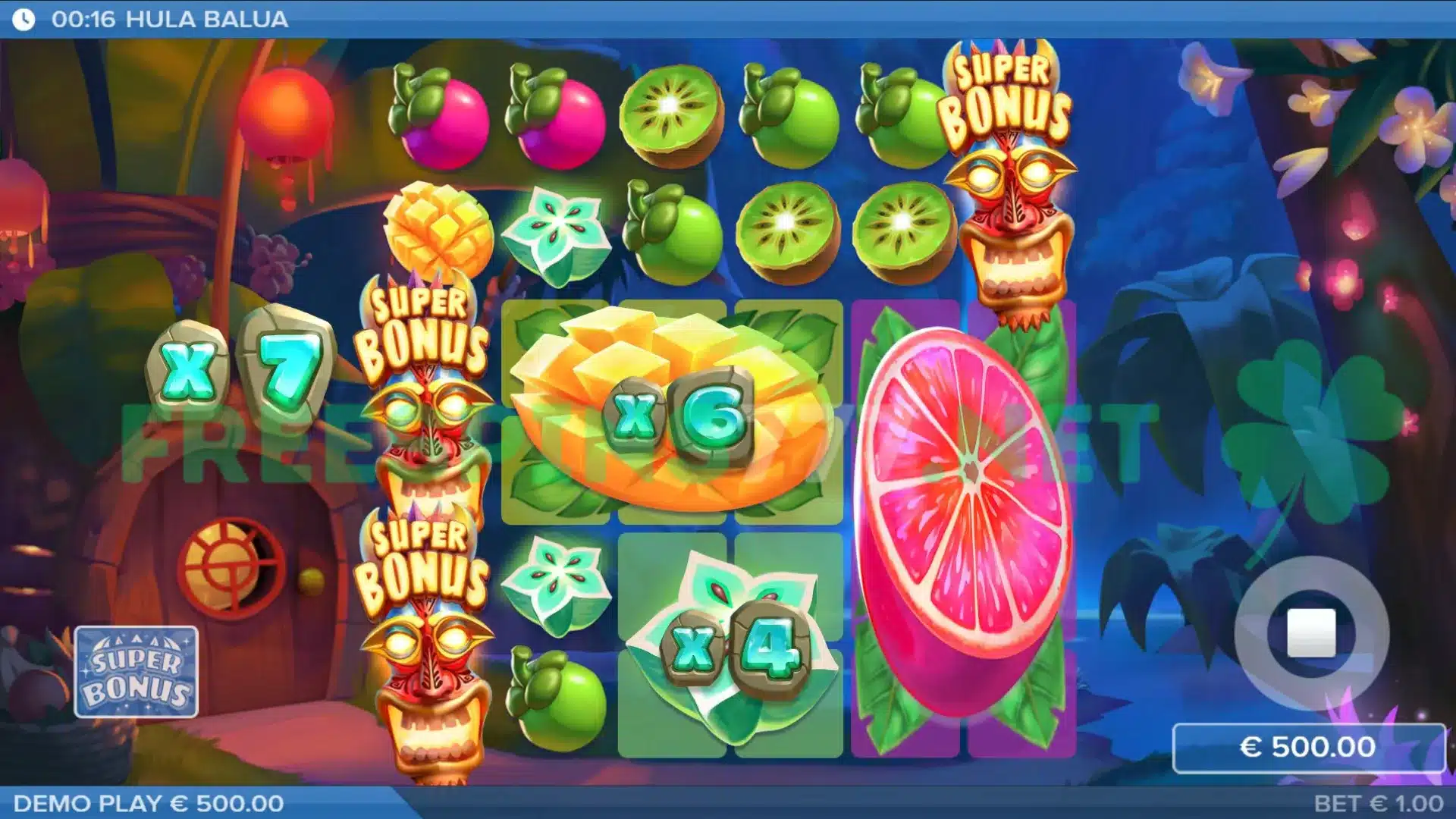 Hula Balua Slot Demo - Understanding Sticky Redrops
The Sticky Redrops feature adds another layer of excitement. It transforms a paying symbol into a sticky symbol, which remains on the grid during redrops, leading to additional payouts when no further matching symbols appear.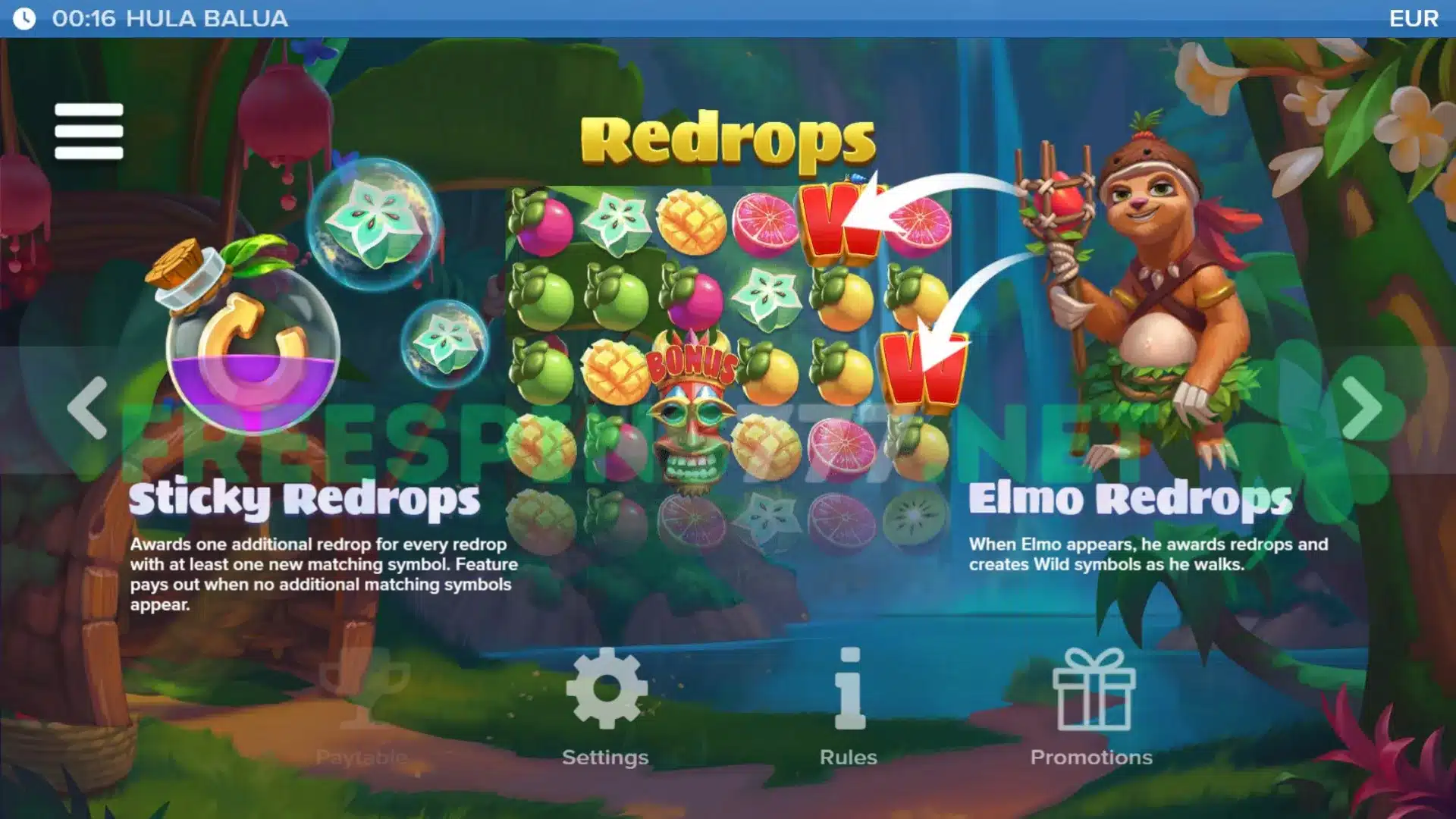 Meet Elmo, Your Wild Companion
The Elmo Wild Drops feature is another highlight. As Elmo moves one column to the left, he randomly places Wild symbols on the grid, increasing your chances of forming winning combinations.
Triggering the Free Drops Bonus Game
Landing three or more Bonus symbols triggers the Free Drops Bonus game, providing an exciting opportunity to multiply winnings. Bonus symbols can be upgraded to Super Bonus symbols, enhancing potential payouts even further.
The X-iter Feature for Enhanced Gameplay
The Hula Balua slot game also offers the X-iter feature, which gives players the option to buy into different game modes. Whether you choose Super Bonus, Buy Bonus, Sticky Redrops, Big Symbol, or Bonus Hunt, the X-iter feature ensures a diverse and thrilling gaming experience.
Aesthetics and Atmosphere
Beyond its rewarding gameplay, Hula Balua delights players with its vibrant graphics and engaging soundtrack. Its beautifully animated symbols and dynamic backdrop truly embody the tropical theme, immersing players in a cheerful and exciting environment.
Hula Balua Slot Demo Conclusion
Hula Balua is more than just a slot game; it's an adventure waiting to happen. Its innovative features like Sticky Redrops and Super Bonus, combined with its compelling visuals and soundtrack, make for an immersive and potentially rewarding gaming experience. With Hula Balula, get ready to immerse yourself in a world of tropical charm and rewarding slot gameplay.