Wheel Review (Hacksaw Gaming)
A New Spin on Classic Gaming: Wheel by Hacksaw Gaming
The online casino landscape is ever-evolving. Among the stars, Wheel by Hacksaw Gaming shines bright. This game is reinventing the classic game show experience we all know and love. Whether you're new to online gaming or a seasoned player, Wheel offers something special for everyone.
Wheel Demo free to play
Play Wheel by Hacksaw Gaming here:
Wheel's Unique Experience
In Wheel, players control their destiny. They set their desired risk level, place a bet, and spin the wheel. What's innovative is that choosing fewer active segments can lead to bigger wins. So, for thrill-seekers, pushing the boundaries might lead to greater rewards.
Notable Features of Wheel
Setting the Risk: With the flexibility to set risk from Low to High, players personalize their gaming experience. Choosing between 10 to 50 segments, they find the balance between risk and reward. The more segments you activate, the smaller each potential win becomes.
Classic vs. Modern Display: Wheel serves two aesthetics. The Classic mode evokes a nostalgic feeling. In contrast, Modern mode delivers a sleek appearance. But, the game's core remains untouched. Only the active segment positions differ.
Understanding Payouts: Brightly colored multipliers beneath the wheel guide players. When the arrow lands on an active segment, just multiply that value by your stake to calculate the win.
Enhanced Gaming Experience: Turbo mode is for those craving speed. It hastens the spinning process. For those who prefer a hands-off approach, the Autoplay feature comes in handy. The game spins, and the player observes, no manual input needed.
Safety First: Hacksaw Gaming prioritizes player well-being. Responsible gaming tools embedded in Wheel ensure players enjoy safely. With Autoplay, setting limits for wins and losses is possible under the 'Auto' tab.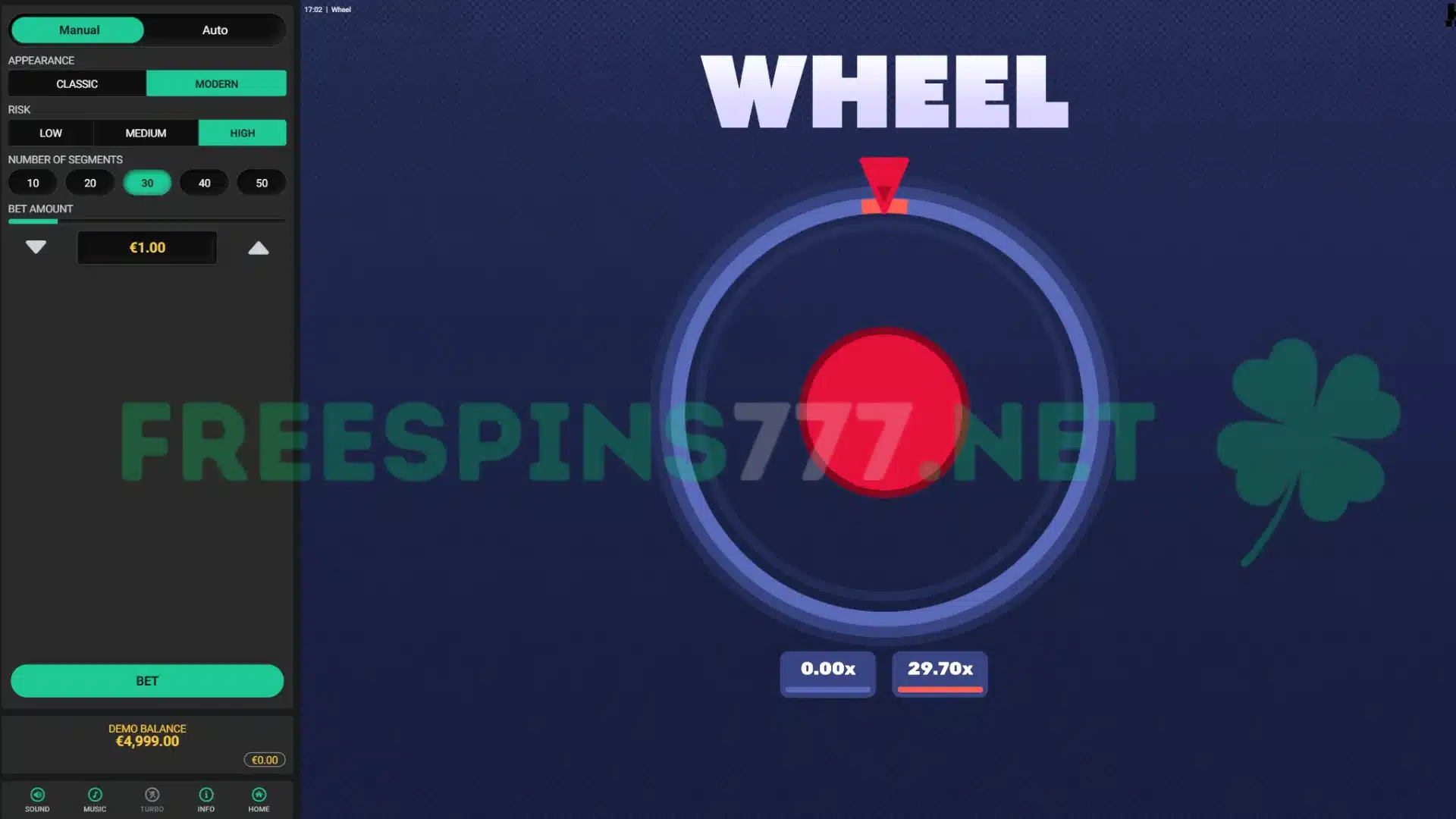 Digging Deeper: Wheel's Game Data
Volatility: Wheel's volatility is flexible. Players' choices sculpt the game's outcome.
Win Type: It's all about Instant Wins here. No waiting, just instant gratification.
Maximum Winning Potential: Players can secure up to 49.5 times their initial bet.
RTP Variability: Wheel boasts an array of RTP values. They include 99.00%, 98.00%, 97.00%, 96.00%, 94.00%, 92.00%, and a low of 88.00%. This flexibility lets players align with their gaming strategy.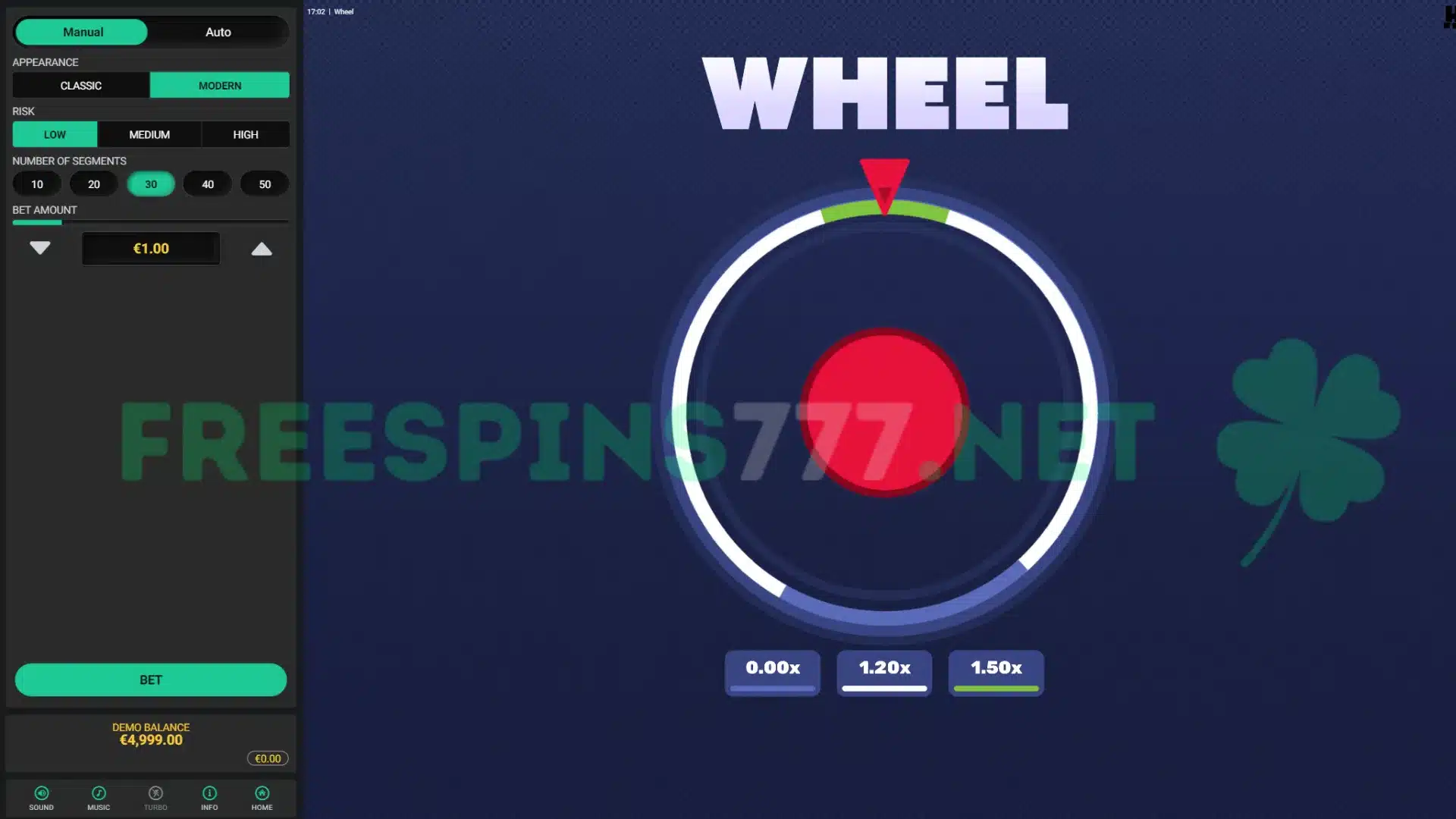 Wheel by Hacksaw Gaming
In conclusion, Wheel by Hacksaw Gaming isn't just another game. It's a testament to how online casino games can adapt, evolve, and cater to diverse player needs. Whether a novice or a veteran, this game promises an experience worth trying.