Boat Bonanza Colossal Catch (Play'n GO)
Unleashing the Thrill: An Insightful Review of Online Slot Games
The internet teems with online casino providers, each offering unique gaming experiences. Among the array of games, slot games have carved a niche for themselves. Known for their versatility, engaging themes, and enticing rewards, slot games like Boat Bonanza Colossal Catch lead the pack, offering unmatched excitement.
Boat Bonanza Colossal Catch Demo Slot Free Play
Play Boat Bonanza Colossal Catch Slot for real
Boat Bonanza Colossal Catch: A Sequel Par Excellence
Developed by Play'n GO, Boat Bonanza Colossal Catch is an exciting sequel. This 5x4 video slot game offers 12 paylines. It immerses players into a thrilling deep-sea fishing adventure, offering a blend of suspense and opportunity. With an RTP of up to 96.20%, the chances of significant wins are high.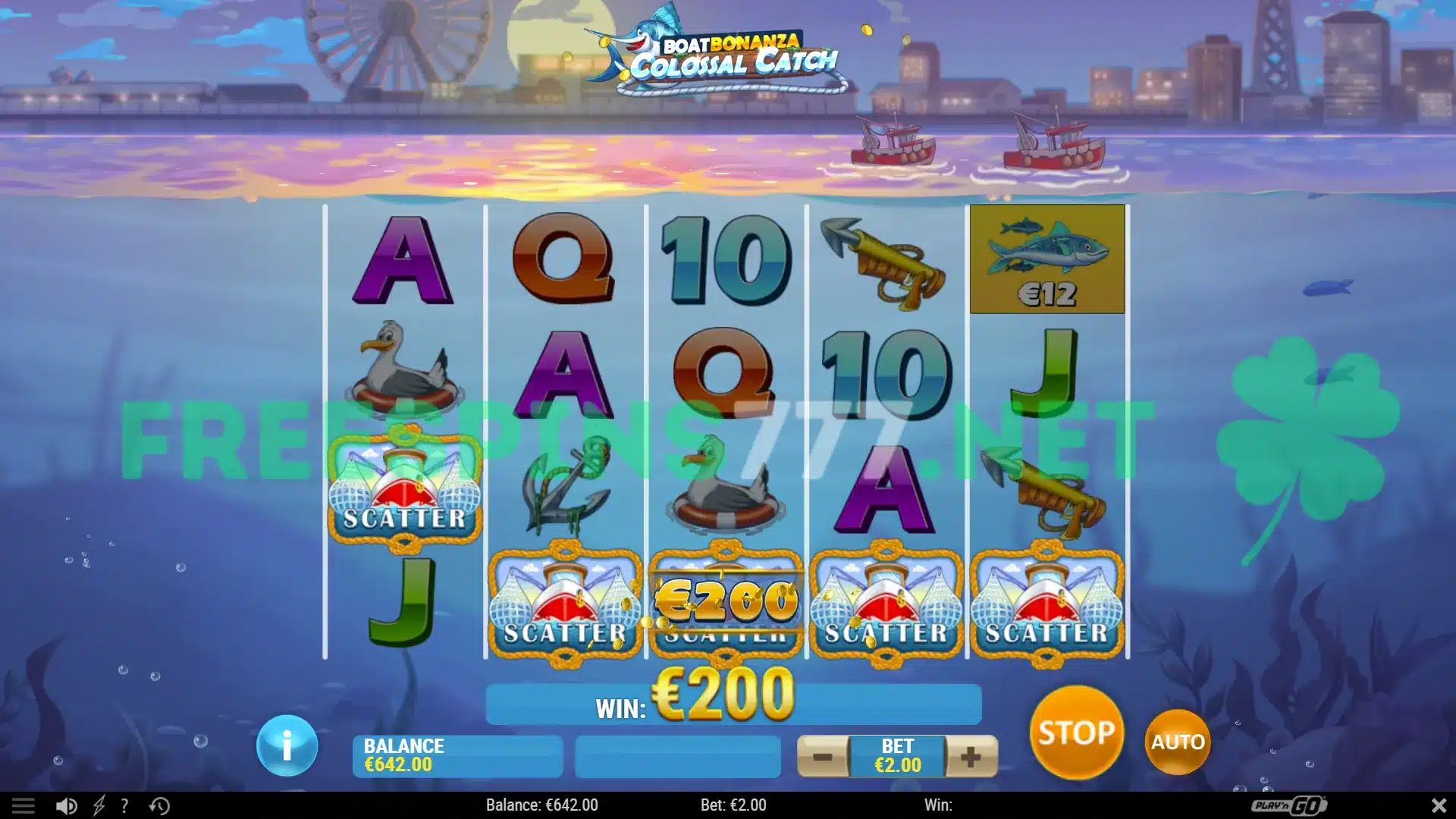 Engaging Features: Turning the Reels into a Hunting Ground
The game turns fishing into a captivating endeavor. Two fishing boats casting their nets from the top of the reels aim to earn Instant Win fish. The game also includes Free Spins and a Colossal Catch Multiplier. These features can significantly enhance the player's wins, keeping them engrossed and intrigued.
Reeling in Wins: Symbols and Game Dynamics
From seagulls, harpoons, and anchors, to the legendary Swordfish symbol, the game presents a vibrant marine world. Every catch hauled by the boats triggers an exciting animation, while scatter symbols and Instant Win Fish add to the thrill. The game backdrop - azure waves and a pleasant cityscape - sets the mood right.
Winning the Game: Decoding the Mechanics
When both boats land on the same reel, the Colossal Catch feature gets triggered, sweeping up all Instant Win fish symbols on the reels. A progressive Free Spins round unlocks when three or more Scatter symbols land, providing opportunities for big wins. The Colossal Catch feature can also be triggered, catching all symbols and adding to the round's total.
The Elusive Swordfish: Adding an Extra Spin to the Tale
Exclusive to the Free Spins round is the elusive Swordfish symbol. If caught by one of the boats, it raises the Colossal Catch Multiplier meter above the reels. This addition brings along multipliers and additional Free Spins, enhancing the prospects of a truly colossal catch!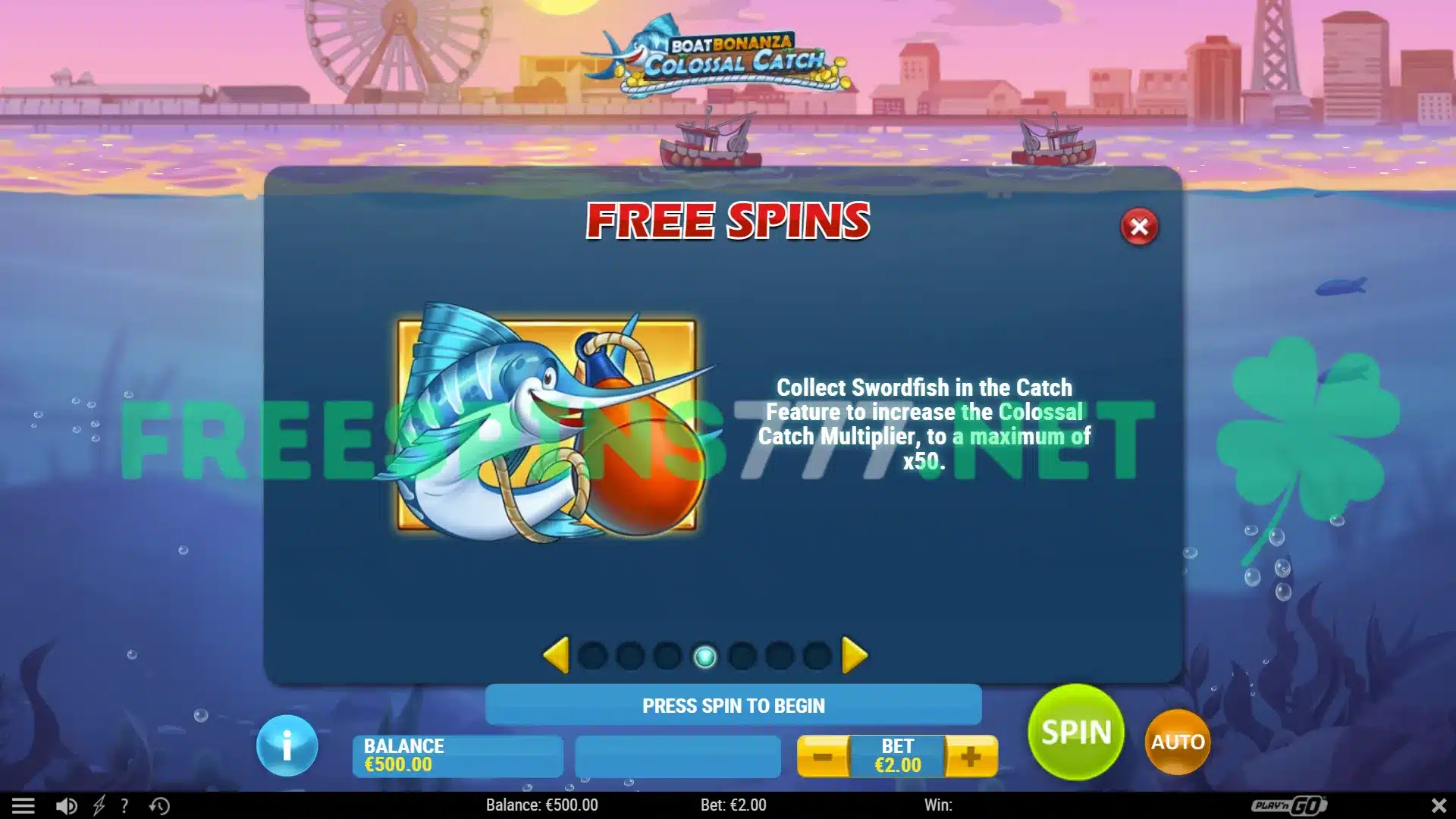 The Final Catch: What to Expect
Boat Bonanza Colossal Catch is a medium volatility game (5/10) and allows a min/max bet of 0.10/50.00. The max win probability stands at 1 in 70,000,000, with a max win of 3,000x. Set for release on August 24, 2023, this game is sure to make waves in the online slot gaming sphere.