A Deep Dive into DJ Psycho: The Next-Level Slot Game
For fans of dance music and gaming, the new DJ Psycho slot from Nolimit City is a must-try. A successor to The Rave, DJ Psycho blends beats and big wins seamlessly.
DJ Psycho Demo Slot free to play
Play DJ Psycho Slot for real money at
Understanding DJ Psycho: The Dance Music-Inspired Slot Sensation
With the digital age, online casinos have transformed the way we gamble. For both novices and veterans, games like DJ Psycho have changed the landscape. Nolimit City, a renowned casino software developer, has recently introduced this captivating slot game inspired by dance music's electrifying rhythms. Offering a unique blend of visuals and features, DJ Psycho stands apart from the rest.
Journey through the Game's Grid
The game captures players with its 4x4 slot grid. Here, wins materialize by landing clusters of three or more identical symbols. However, it isn't just about the regular symbols. This game houses a variety of special symbols, each capable of either triggering new features or upgrading those already on the board. If you've experienced Nolimit City's The Rave, DJ Psycho's ambiance is darker, giving players a fresh perspective on the dance music theme.
Dive into the Beat Bar's Rhythms
Central to the game is the Beat Bar. It's designed to trigger multipliers for the five different regular symbol colors. If luck is on your side and you achieve a 3X multiplier on any Beat Bar, the Free Spins feature starts its magic.
Innovative Slot Features
Cluster Payout: Matching three symbols triggers a win. Win clusters get replaced by fresh symbols, amplifying the excitement.
Break Symbols: Symbols can change, adding value. Medium symbols can evolve, and low ones can split, sometimes turning wild.
xKnob Symbols: With the xKnob symbol turning wild, multipliers increase, especially in Psycho Spins.
Additional Symbols: The Break, Bite, and Drop symbols bring more variability, transforming surrounding symbols in various patterns.
xBPM Symbols: The xBPM symbol, when landing, becomes wild and enhances the row's symbol size.
Beat Bar: The Beat Bar focuses on color-specific multipliers, with every win enhancing the respective color.
Boosted xBet: Players can enhance their experience with Boosted xBet which Increases the probability for triggering different features at a cost of an extra 335% of the base bet.
Gees! Spins 
Every spin is a potential party with the Geez Spins. When a particular color on the Beat Bar activates, so do these spins. Landing a 3X multiplier with an active color blesses players with five Geez Spins. But if you achieve a 3X multiplier with another colored symbol, an extra two spins join the dance.
Psycho Spinz 
For those chasing the ultimate thrill, Psycho Spins await. By securing a 5X multiplier for all color symbols during Geez Spins, players unlock the Psycho Spins. Seventeen spins come your way, accompanied by a sticky general multiplier. And, for the cherry on top, each win guarantees a Feature Symbol in the following avalanche.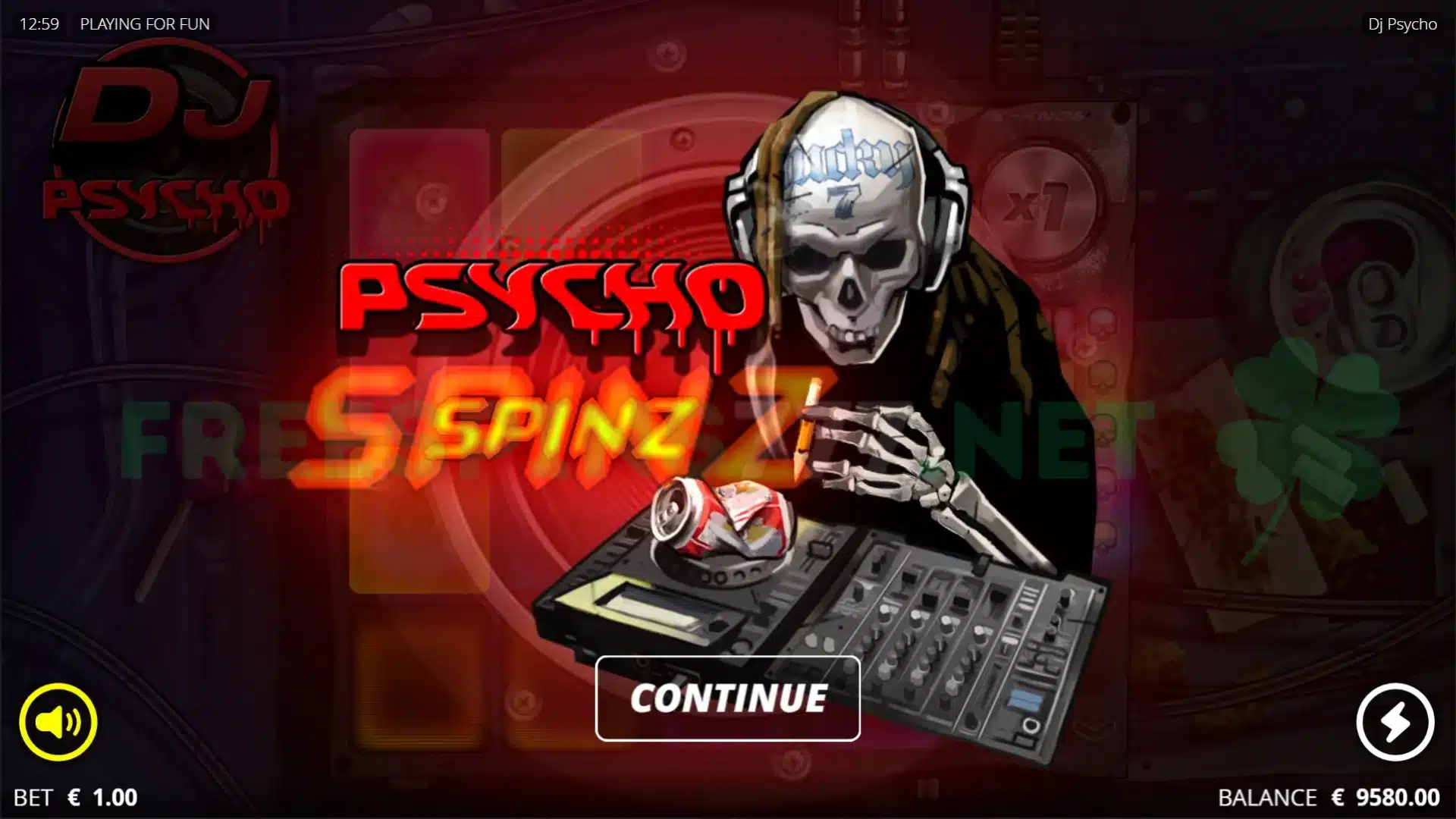 The Remixed Feature
One can't help but marvel at DJ Psycho's potential returns. Players can achieve payouts of up to 25,420 times their base bet. If your winnings exceed this, the game rewards you with the maximum payout, concluding the round with a bang.
The Nolimit Bonus Buy Extravaganza
While the game offers a thrilling experience on its own, players can elevate the excitement. How? By directly buying into various bonus features. These features range in cost from 68x to a whopping 400 times the base bet. Though it's worth noting, this feature might not be accessible everywhere. Choices like the Geez Spinz, Lucky Draw 1 and 2, and the Psycho Spinz can be bought at various rates, with maximum bets set at a generous €100.00.
Crucial Statistics
The RTP stands at 96.05% by default, but there are versions ranging from 87.04% to 94.09%. The most enticing aspect? Players can bag a whopping 25,420x their stake, albeit the odds are one in 37 million.
Closing Thoughts
Whether you're a seasoned gamer or just venturing into the casino world, DJ Psycho promises a thrilling ride. Its rich design, coupled with myriad features, guarantees hours of unmatched entertainment.