Fortunes of the Aztec (Pragmatic Play)
Unearthing the Magic: A Deep Dive into Fortunes of the Aztec
Venture into the heart of the Mesoamerican jungle with "Fortunes of the Aztec". This captivating slot draws players into a world of pyramids, ancient face masks, and untold treasures. Pragmatic Play, a renowned game developer, has seamlessly melded history with the thrill of modern gaming.
Play Fortunes of the Aztec Demo for free
Play Fortunes of the Aztec with real money at
The Aesthetics of Adventure
The game's design immediately captivates. It paints a vivid picture of an Aztec jungle, replete with mountains, cascading waterfalls, and looming pyramids. As if guiding players through a historical museum, the slot's grid is flanked by majestic brown pillars, while atop the reels sits a helpful win multiplier.
Unlocking the Game's Secrets
For veterans and novices alike, understanding the game's dynamics is key. With a 6-reel grid, "Fortunes of the Aztec" boasts an impressive 4,096 ways to win. And here's a twist: each win initiates a cascade, giving players multiple winning opportunities in just one spin. Clearing a reel? That activates an intriguing win multiplier for the next tumble.
Diving Deeper: Special Features
Among its many assets are the Wild Symbol, Tumble Feature, Win Multiplier, Free Spins, and the Bonus Buy. The multiplier, starting at 2X, increments every time a reel is emptied, applying to the entire win sequence. However, this resets post-Tumble.
Spinning for Free – The Magic of Free Spins
Scatter Symbols are your best friend here. During the base game, they can appear on any reel and on reels 2 to 6 during Free Spins. Landing multiple Scatter Symbols can trigger up to 25 free spins. And unlike other slots, the multiplier doesn't reset between spins during this feature. The maximum win here? A whopping 10,000x the bet.
For the Impatient – The Bonus Buy
Can't wait for Free Spins? You can buy your way in for 100x the bet. This guarantees between 3 and 6 Scatter Symbols with an RTP of 96.52%.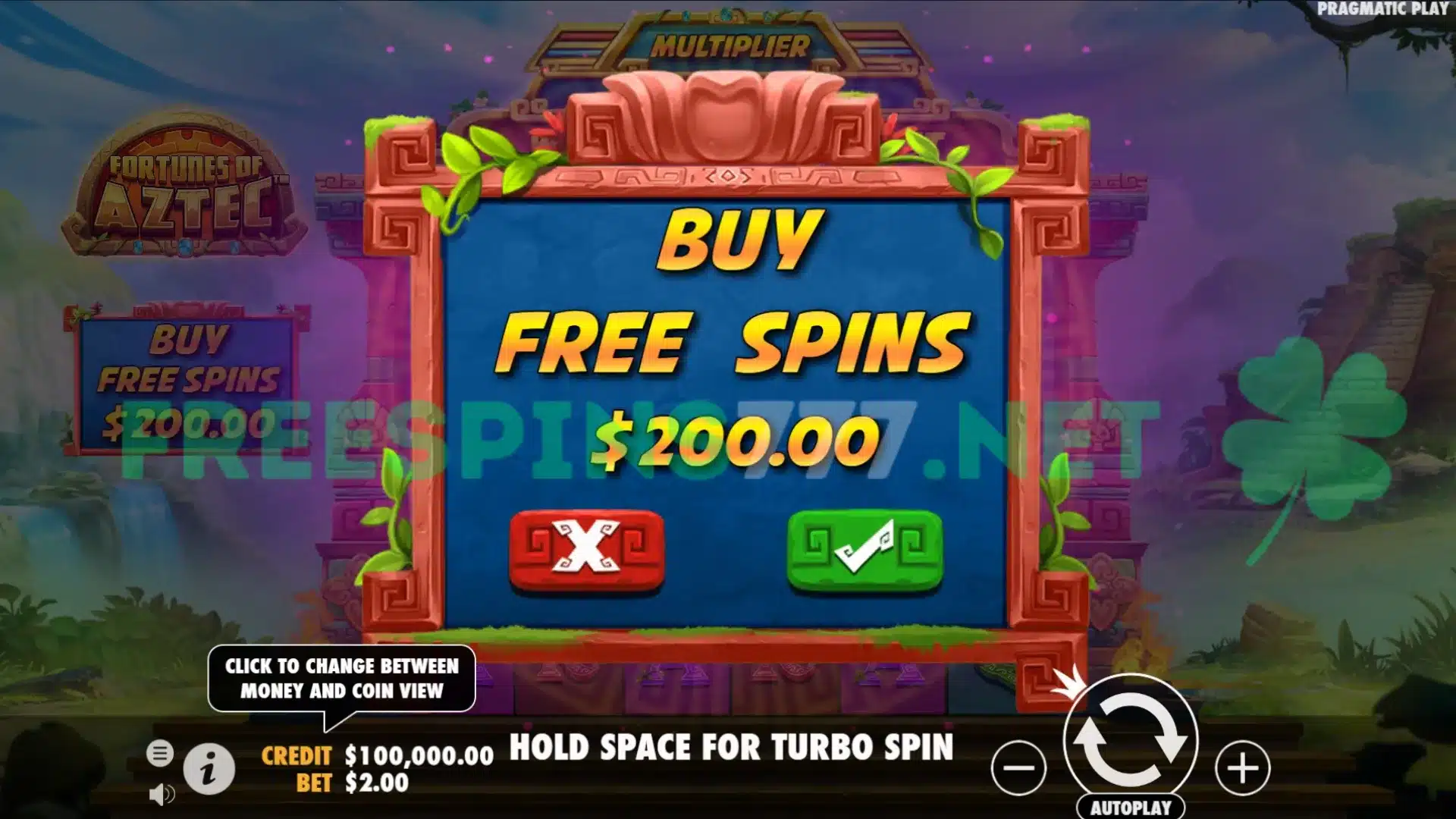 Crucial Numbers - RTP and Max Win
Players should note the game's default RTP stands at 96.42%, though other variations exist. And while the maximum win tantalizingly stands at 10,000x the bet, this jackpot hits once in 6.4 million spins. With a hit frequency of 33.33%, expect a win roughly every third spin.
In Conclusion
Fortunes of the Aztec, with its mesmerizing design and expansive features, is a game changer. Its potential for massive wins coupled with high volatility will surely appeal to slot aficionados everywhere.