The Rise of the Honey Rush 100
Join the hive of gamers anticipating the release of Honey Rush 100. Developed by Play'n GO, this slot game buzzes into the virtual casino scene on August 17, 2023. Drenched in honeyed hues, it lures players into an enchanted world designed around the intricate life of a beehive.
Honey Rush 100 Demo Slot Free Play
Play Honey Rush 100 Slot for real
The Unique Setup and Gameplay
The slot game takes a sweet deviation from traditional formats. Unlike standard 5-reel slots, Honey Rush 100 unfolds on a 7-reel grid, arranged in a 4-5-6-7-6-5-4 pattern. Winning involves connecting at least five matching symbols. With its high volatility and an RTP of approximately 96%, this game keeps players on their toes.
Engaging Features and Bonuses
Honey Rush 100's immersive gameplay incorporates a cascading wins system, a mechanism that lets winning symbols disappear, only to be replaced by new ones. As each symbol drops away, the Rush Meter fills. Upon reaching predetermined levels, players unlock Drone, Worker, and Queen Colony features. These levels create clusters of matching symbols, increasing the potential for sizable wins.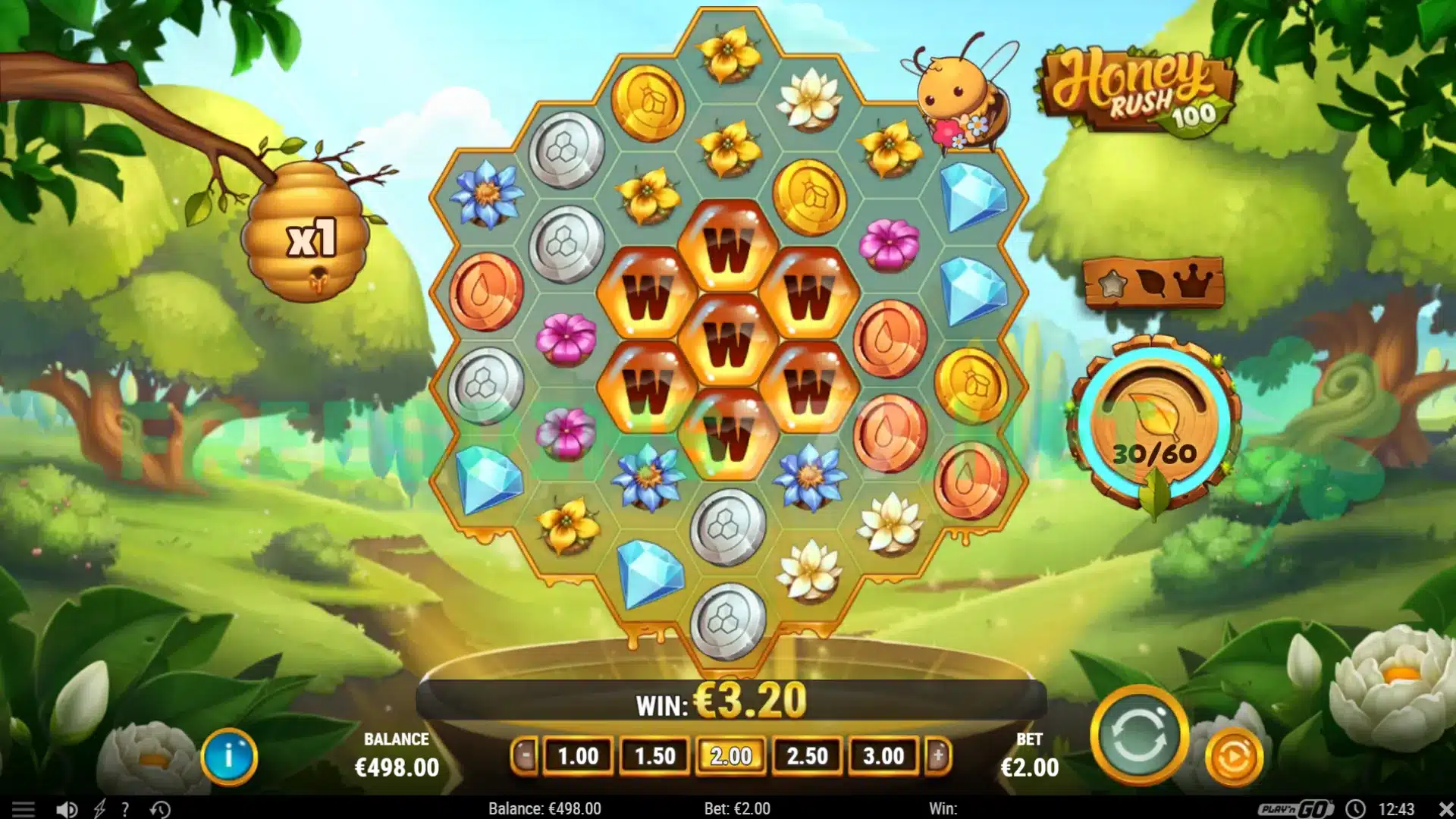 Wild Symbols and Multipliers
Honey Rush 100's Wild symbol stands in for all others, playing a key role in winning strategies. Once part of a winning cluster, sticky wilds move downwards, finally dropping into a honey pot, boosting the win multiplier by +1. If the grid fills entirely with wilds, players can anticipate a win 500 times their original bet.
Overcharge Mode and More
Adding to the excitement, Honey Rush 100 features an Overcharge mode. For every 15 extra symbols collected, the middle symbol upgrades, with the potential to raise the global multiplier by +3. Multipliers can also increase via the Drone Colony feature and the Worker and Queen Colony features, hitting a maximum of x100.
Accessibility and Fair Play
Ensuring fairness and flexibility, Honey Rush 100 is optimized for mobile and desktop play. Certified and designed to generate random outcomes, this game's wins are down to sheer luck. Whether you're a novice or a veteran, you'll find Honey Rush 100 a slot game that balances thrilling gameplay with immersive design elements.
Conclusion
In conclusion, Honey Rush 100 by Play'n GO is an undeniable buzz in the world of online slot gaming. With its intricate 7-reel honeycomb structure, high volatility, enticing bonuses, and a maximum multiplier that can skyrocket to a sweet x100, this game is set to keep players swarming in anticipation. Its engaging features and visually appealing design elements are not just about aesthetics but promise a thrilling gaming journey that's as unpredictable as it is rewarding. The game's advanced mobile and desktop compatibility guarantees a seamless gaming experience anytime, anywhere. In the vast garden of online slots, Honey Rush 100 blossoms as a unique and rewarding adventure. Get ready to bask in the golden glow of this hive and harvest the sweet rewards that Honey Rush 100 offers. Come, be part of this honeyed experience, because the rush is real, and it's time to catch the buzz with Play'n GO's Honey Rush 100!