J-POP Slot Review
Dive into the vibrant world of J-POP, a unique slot game from ELK Studios. This game transports players to the whimsical realm of Jellon, where intriguing rituals and dynamic gameplay await. With a plethora of features and a captivating backdrop, J-POP promises an unforgettable gaming experience.
J-POP Demo Slot 
J-POP available at 
J-POP: Slot Features
Big Symbols
Wild symbols and pay symbols can appear in Super 2x2, Mega 3x3, or Epic 4x4 sizes.
These symbols count as multiple 1x1 symbols.
Empty spaces beneath big symbols are filled with 1x1 symbols of the same kind, excluding walking wilds.
Symbols extending beyond the current row number grant a refill to their highest reached row, with a maximum of 8 rows.
Grid Flip Symbols
The grid flips when the Grid Flip symbol lands, switching columns 1 & 6, 2 & 5, and 3 & 4.
After the flip, Grid Flip symbols become wilds.
The Grid Flip activates when no more wins are present.
Big Drop Symbols
The Big Drop symbol releases large symbols that obliterate any 1x1 pay symbols, subsequently turning into a wild symbol.
Big Drops activate when no more wins are present.
If both Grid Flip and Big Drop symbols are on the reels, the Grid Flip activates first.
Free Spins
Landing 3, 4, 5, or 6 scatter symbols grants 10, 12, 15, or 20 free spins.
Walking wilds remain consistent during and between free spins.
The free spins commence with a safety level of 4 rows, dictating the height for subsequent symbol drops.
Each victorious spin boosts the safety level by one row, with a maximum of 8 rows. Walking wilds can elevate the safety level by multiple rows.
Free spins can be retriggered similarly to the base game.
X-iter
Access X-iter features from the base game, with costs displayed:
Bonus Hunt: 3x the bet for a round with a heightened bonus trigger chance.
Big Drop: 10x the bet for a round with a guaranteed Big Drop symbol.
Walking Wild: 25x the bet for a round with a guaranteed walking wild.
Bonus: 100x the bet to purchase the free spins game.
Super Bonus: 500x the bet to buy free spins with a guaranteed walking wild.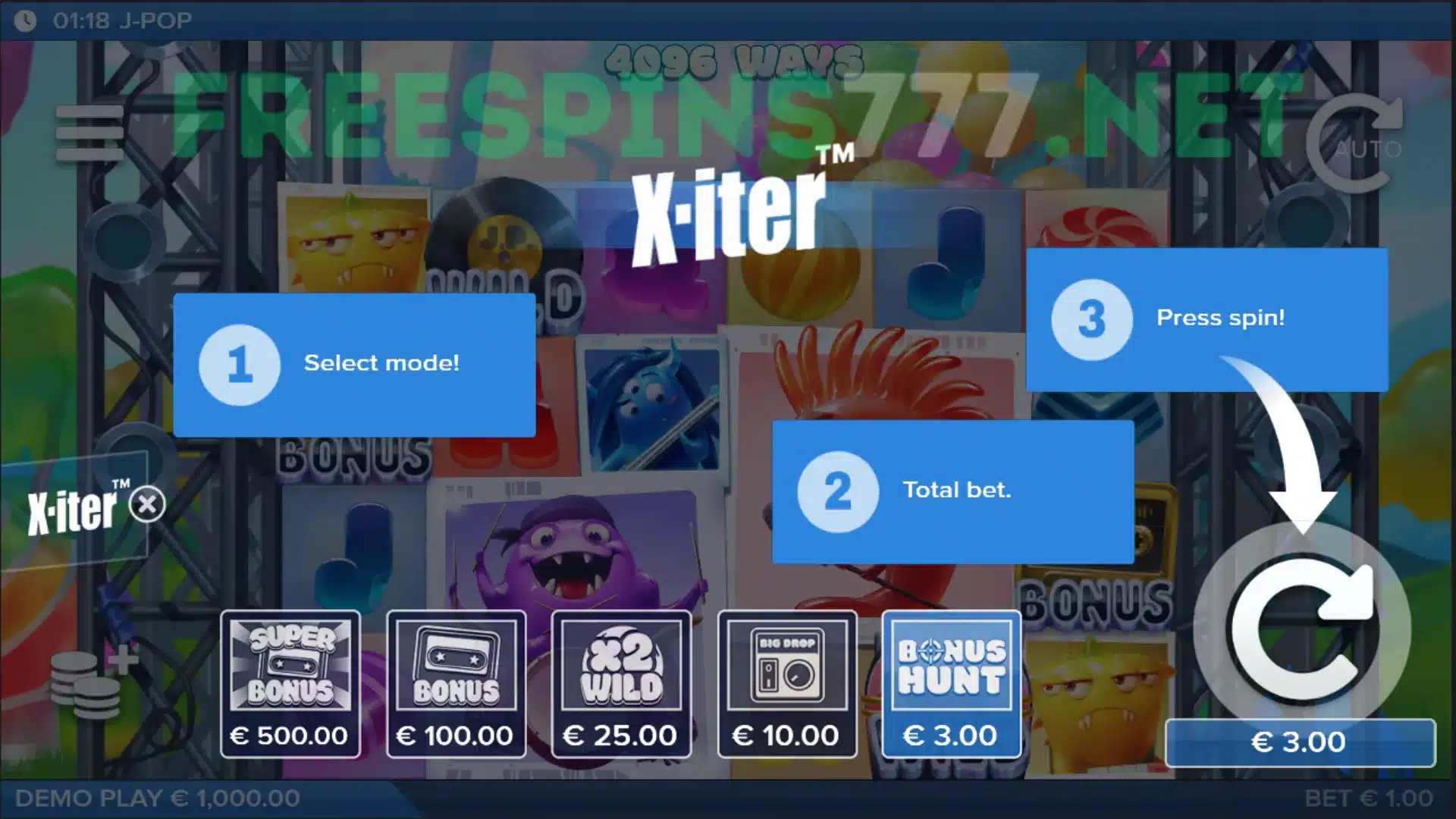 J-POP: Slot Review Conclusion
J-POP offers a refreshing blend of familiar mechanics and innovative features. Its vibrant theme, combined with a plethora of bonuses, ensures an engaging gaming session. Whether you're a seasoned slot enthusiast or a newcomer, J-POP promises a delightful experience, blending the best of both worlds. Dive in and let the rhythms of J-POP guide your spins!