The Enthralling World of Online Slots: A Review
In the expansive domain of online casinos, slot games hold a captivating charm. Some games stand out, like Lord Venom from Backseat Gaming, a fresh and inventive Hacksaw Gaming subsidiary.
Lord Venom Demo Slot Free Play with Bonus Buy
Play Lord Venom Slot for real
Unveiling the Mysteries of Lord Venom
Set within a dense, immersive jungle, this enticing slot game draws players into a world of mystery. Its intriguing 5x5 grid layout, featuring 19 paylines, promises an immersive gaming experience. The betting range begins at 0.10 $/€ and extends up to $/€100 per spin. A noteworthy aspect is the game's volatility, leaning towards the higher end of the spectrum.
Symbols of Intrigue: From Fruits to Fierce Beasts
Lord Venom's symbol assortment is as unique as its setting. Players encounter symbols ranging from chopped fruits like oranges, grapes, avocados, and dragon fruit, to high-paying jungle creatures. The wild symbol, a potentially venomous snake, aptly represents the game's title character.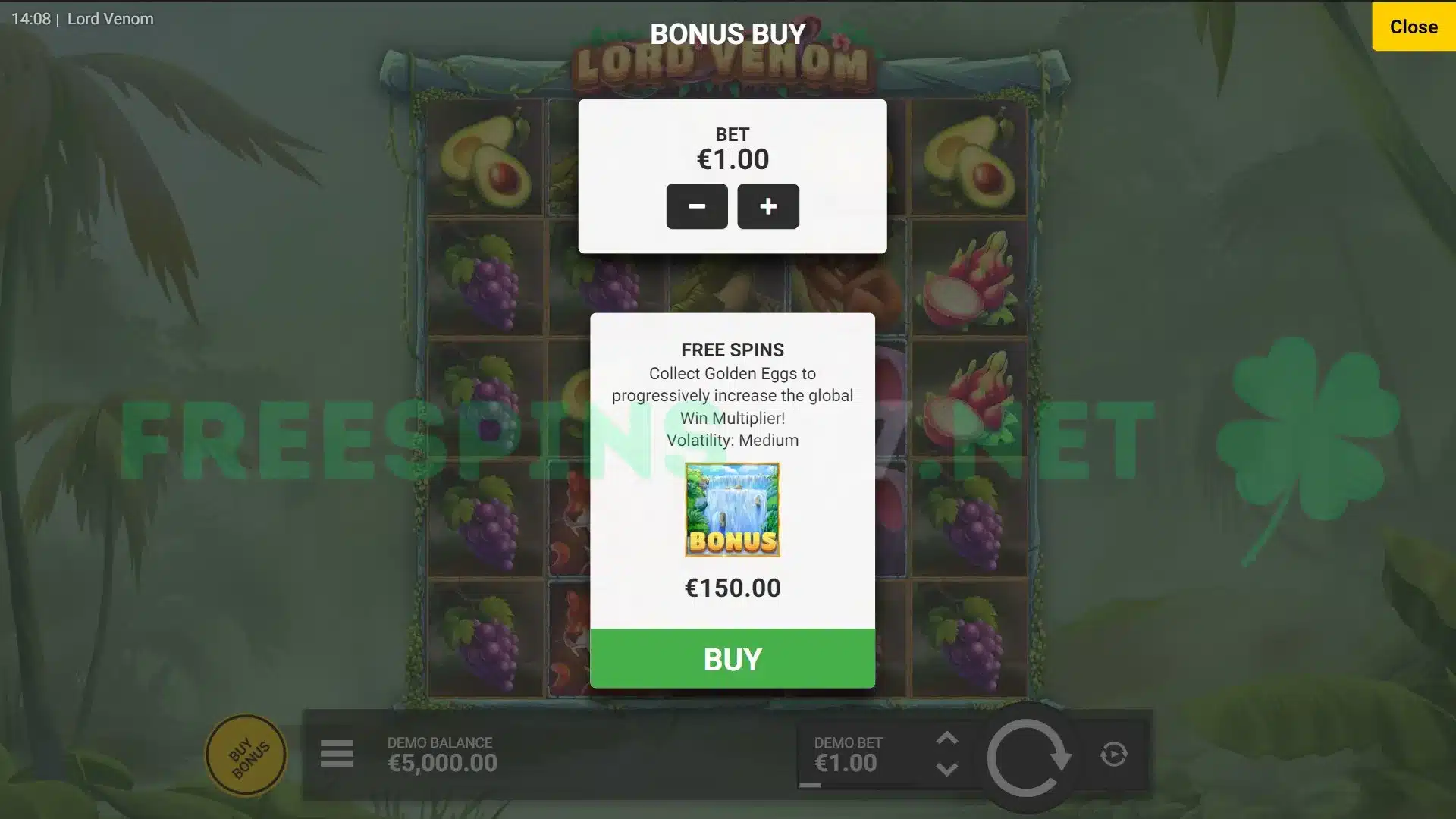 Bountiful Features and Bonus Rounds
Beyond its intricate symbol design, Lord Venom boasts a multitude of compelling features. One such element is the Jungle Bush mystery symbol. When these symbols land, they morph into one of the regular pay symbols, adding a thrilling twist. The game's Bonus feature, triggered by three or more scatter symbols, elevates the excitement with 12, 14, or 16 free spins.
The Golden Egg of Rewards
During the bonus round, the Jungle Bush mystery symbols may unveil a Golden Egg. Each Golden Egg carries a multiplier value ranging from x1 to x200. This value accumulates in a global Win Multiplier, amplifying the potential rewards. Notably, this Win Multiplier doesn't reset until the bonus round ends, multiplying all winnings in its path. An additional three scatter symbols during the bonus feature grants players an extra five free spins.
Potential Payout and Player Experience
Lord Venom, with its maximum win potential of x15000, provides players with both a sense of thrill and the prospect of substantial rewards. Since its launch on 31.05.2023, it has become a fixture in many online casino lobbies. The game's balanced math model, coupled with its high volatility, ensures players stay engaged. When wilds, scatters, or other special symbols appear, Lord Venom truly comes alive, offering a captivating blend of classic and unique gameplay elements.
In Conclusion: The Thrill of Lord Venom and More
Drawing the curtains on this riveting journey, it's clear that Backseat Gaming has carved a niche in the realm of online slot games. Offering a high RTP of 96.2% to 96.35%, Lord Venom stands as a testament to their innovative gaming solutions. But the excitement doesn't end here.
Be ready to plunge into the aquatic realm with Commander of Tridents or experience whimsical fun in Sleepy Grandpa. With Backseat Gaming, every spin is more than a game—it's an adventure. Explore these intriguing slots today and immerse yourself in the thrill of online casino gaming.