Embracing the Magic of Notre-Dame Tales
Are you a fan of breathtaking visuals and immersive gaming experiences? If so, step into the mesmerising world of Notre-Dame Tales, a video slot game developed by Yggdrasil Gaming. It's set against the backdrop of the iconic Notre-Dame cathedral, transporting players right to the heart of Paris.
Notre-Dame Tales Demo Slot free to play
Play Notre-Dame Tales Slot for real
Intriguing Gameplay and Design
Notre-Dame Tales is a captivating video slot boasting 6 reels and 4-6 rows. A total of 25-40 paylines run from left to right, creating multiple opportunities for wins. High-paying symbols grace the reels, along with 4 low-paying symbols presented as card ranks. The game's volatility is medium to high, resulting in a respectable RTP of 96,00%.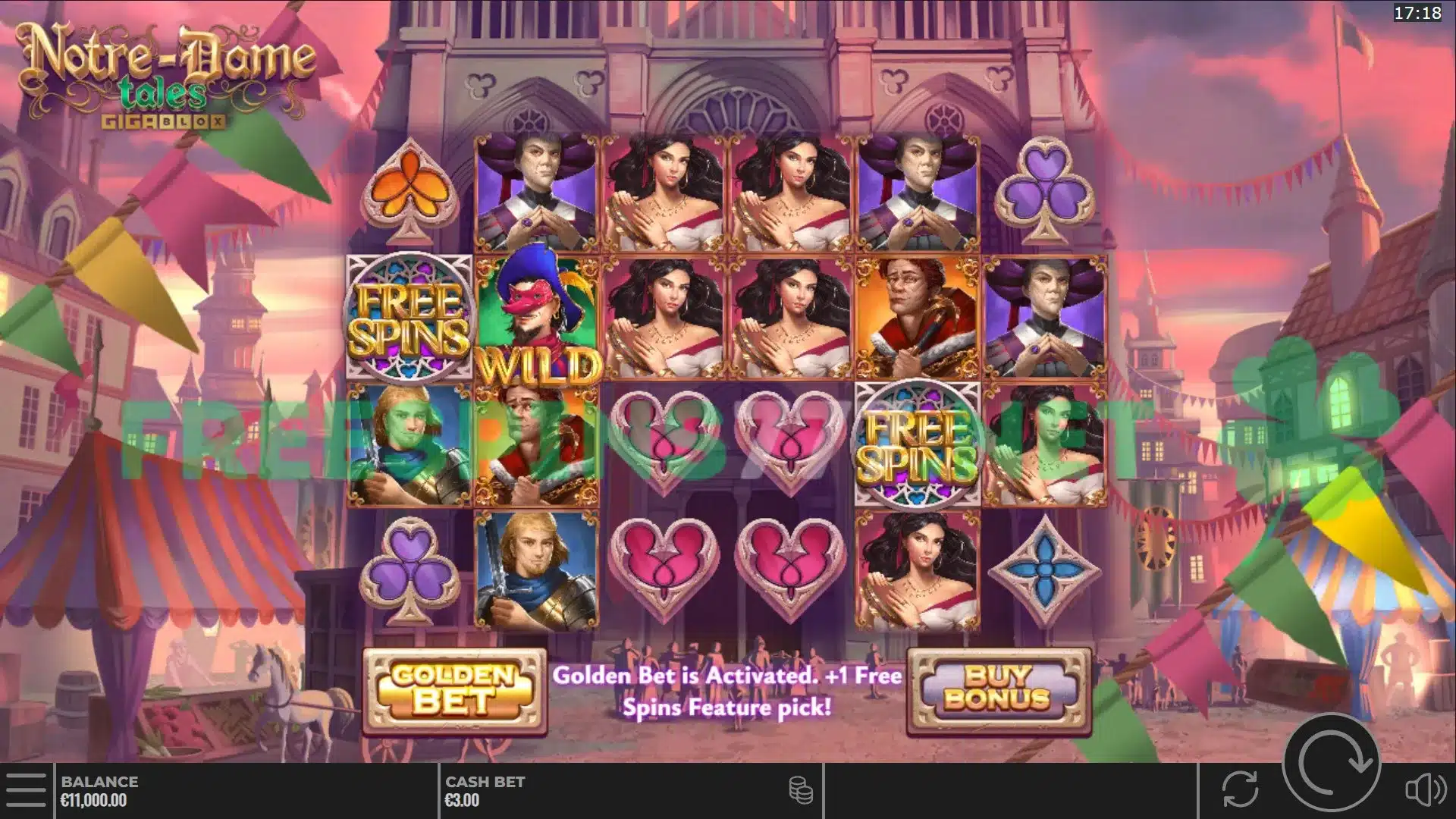 Captivating Features of Notre-Dame Tales
What sets this game apart is its plethora of features. One of the most enticing is the Free Spins mode. To activate it, players need to land 5 or more Free Spin symbols on the reels. The number of Free Spins corresponds to the number of Free Spin symbols triggered, leading to potentially lucrative gaming sessions.
Extra Thrills with Golden Bet
Notre-Dame Tales also offers a Golden Bet feature, allowing players to add an extra feature to their Free Spins for an additional bet of x0.20. This intriguing element offers players an opportunity to amplify their gameplay experience and potentially their wins.
Treasure Chest Rewards
Keep an eye out for the Treasure Chest symbol appearing on the last reel. In the base game, it can reward players with prizes from 2x to 500x their bet or award 5, 9, or 16 Free Spins. During Free Spins, the rewards become even more enticing, offering the chance to win 2x to 500x the bet or earn 1, 2, 3, or 5 extra Free Spins.
Unique GigaBlox Symbols
Notre-Dame Tales introduces GigaBlox symbols, larger than regular symbols, adding a fascinating dynamic to the gameplay. These symbols can range from 2x2 to 4x4 in size during the base game, and can expand to a massive 6x6 during Free Spins. Every symbol, including the Wild, Treasure Chest, and Free Spin symbols, can appear as a GigaBlox.
Immersive Visuals and Soundtrack
Complementing the engaging gameplay are intricate details of the Notre-Dame Cathedral. The beautifully crafted environment is bolstered by a captivating soundtrack, enriching the overall gaming experience.
Conclusion
Notre-Dame Tales is a treasure trove for fans of video slots. Its intriguing features like GigaBlox symbols, Free Spins, and the Golden Bet, coupled with a stunning design, make it a must-play. If you're seeking an immersive, rewarding, and enchanting gaming adventure, Notre-Dame Tales could be your next favourite slot game.