A Closer Look at Pub Kings Slot
The online casino landscape is ever-evolving, with fresh games being released constantly. A noteworthy addition is the upcoming Pub Kings Slot game. Crafted by the acclaimed Pragmatic Play, it introduces an unconventional Viking and beer-drinking theme.
Pub Kings Demo playable for free
Play Pub Kings for real
Layout and Betting Structure
Pub Kings Slot possesses a captivating structure. It's a 5-reel, 4-row game offering 20 active paylines. Betting limits vary, ranging from a paltry €0.20 to a huge €240.00 bet per spin. This variation caters to casual gamers and high-rollers alike. Furthermore, players can potentially win up to 5,000 times their stake, a prominent feature of Pragmatic Play's offerings.
Volatility and RTP Ratings
The game's volatility is high, rating 5/5. This indicates that although wins might not be frequent, when they do occur, they can be quite sizable. The game also offers a range of RTP options, the highest being 96.08%. However, beware of the presence of lower RTP variants as well.
Intriguing Game Features
Pub Kings Slot is infused with rich features such as wilds, scatters, and free spins. These add layers of complexity and thrill, giving players multiple avenues to secure victories. The game's release is anticipated in August 2023.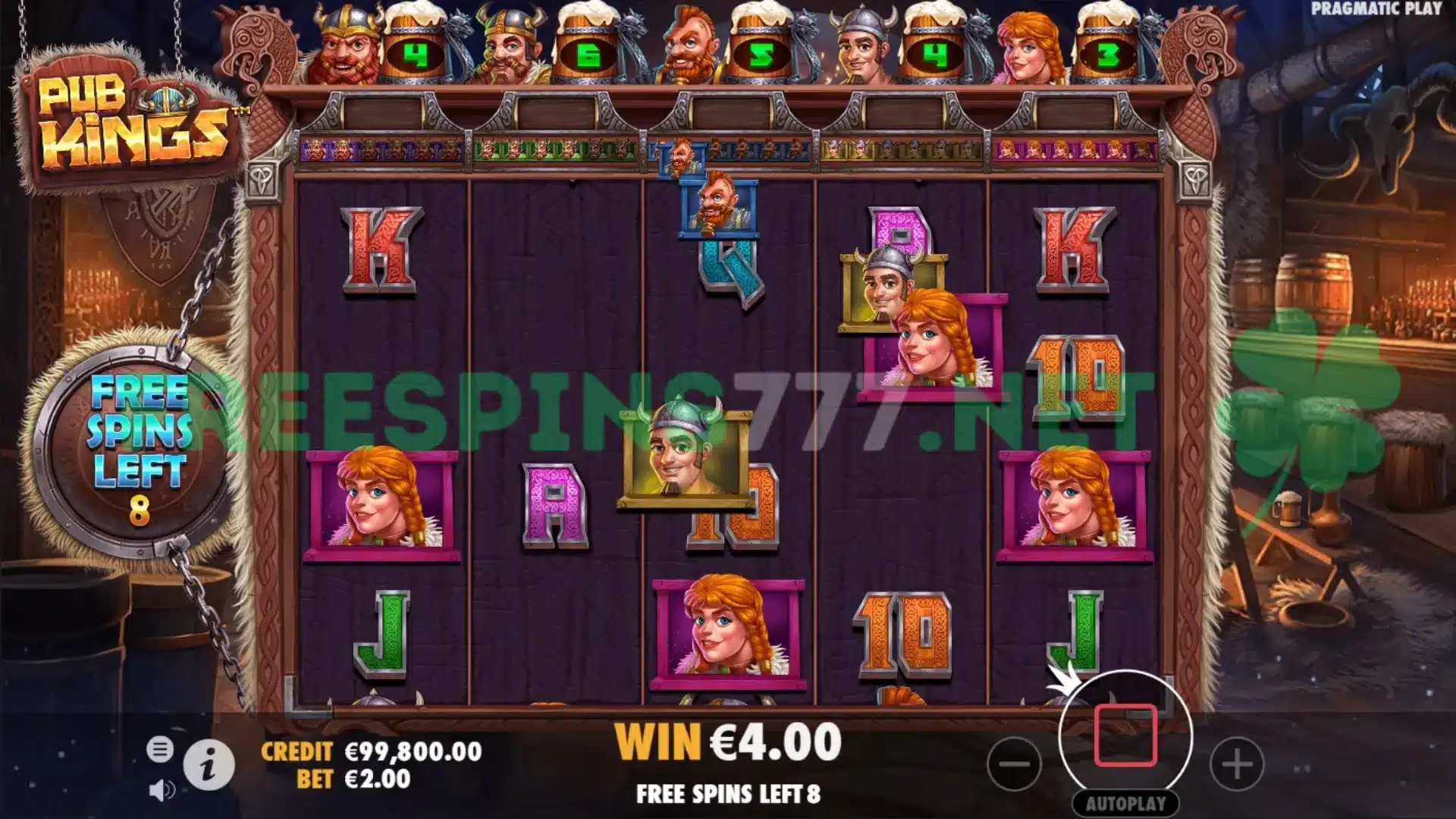 Stellar Theme and Design
The game's theme weaves around Vikings reveling in a pub, a break from their usual aggressive demeanor. Symbols include both male and female Vikings, seemingly merry with their beer. Certain symbols, including the Royals, are intricately bedecked with runes.
A Word of Caution
While the prospect of winning in Pub Kings Slot can be alluring, one must bear in mind the game's high volatility and varying RTPs. Like all casino games, it necessitates responsible play, keeping in mind one's limits.
Pub Kings Slot - Conclusion
Pub Kings Slot promises a unique blend of adventure and joviality, transporting players into a world where Vikings swap battlefields for beer mugs. Whether you're a casual player or a seasoned high-roller, this game offers an experience that is as refreshing as it is rewarding. So, brace yourself for an unforgettable journey to a Viking pub where fortunes are made and legends are born!