Rat King Slot Review
For gaming enthusiasts seeking new online slot adventures, the Rat King Slot offers a captivating experience. This game is the creation of Push Gaming, a renowned provider. With a 6x6 grid and a scatter pay system, it presents an intriguing gameplay setup.
Rat King Slot Demo free to play
Play Rat King Slot with real money at
Engaging Gameplay Mechanics
In the Rat King Slot, players are rewarded if they attain a minimum of seven matching pay symbols. The game's medium volatility pairs nicely with a fair RTP of 96.3%, striking a balance between risk and reward. It's the type of game that keeps both novices and veterans engaged.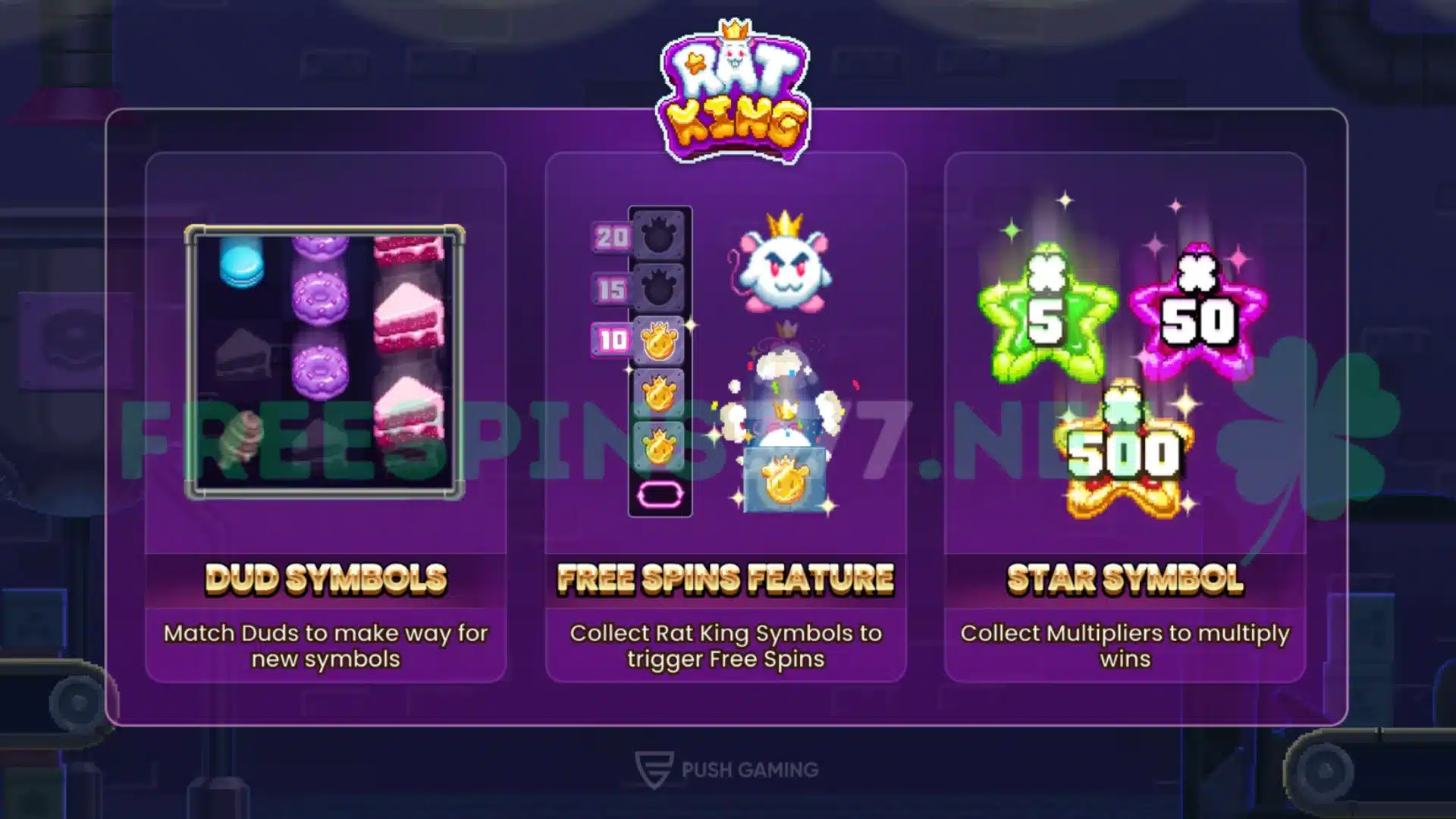 Intriguing Multiplier System
This slot is distinguished by its star symbols. These symbols function as multipliers, enhancing the potential winnings from x2 to a hefty x500. Each reel has a Collection Box below it, making the chase for stars an integral part of gameplay.
Star and Rat King Symbols
Star symbols descend to a Collection Box, each contributing its multiplier value. Simultaneously, Rat King symbols also find their place in the Collection Boxes. Collecting 3, 4, or 5 Rat Kings triggers generous rewards of 10, 15, or 20 free spins, respectively. This dynamic amplifies the excitement factor, and players can't help but anticipate the next Rat King drop.
Extra Features and Bonuses
The game also offers an additional +3 free spins whenever a Rat King symbol lands in a Collection Box during the free spins round. Adding to the allure, the collection of a Star symbol during a spin multiplies the overall winnings for that spin. The multiplier counter stays active, retaining the multiplier until another one is added. This feature sustains player engagement and excitement, making each spin potentially rewarding.
Instant Bonus Acquisition
For those seeking instant gratification, the Rat King Slot presents a Bonus Buy option. This feature enables players to instantly acquire the bonus at three different values. These bonuses can be quite substantial, with players being able to retrigger 3, 4, or 5 Rat King scatter symbols for 100x, 250x, or even 500x the initial bet, respectively.
Aesthetics and Additional Features
Aesthetically, the Rat King Slot is visually striking. It features an intricate design paired with an immersive soundtrack, enhancing the overall gaming experience. Besides, the game offers a maximum win of 10,000x your bet, and an additional "Push Bet" feature increases the chance of activating the free spins bonus game for an extra 20% of the bet size. This feature slightly increases the RTP to 96.34%.
The Rat King Slot: A Must-Play Game
In conclusion, the Rat King Slot is a compelling game for those seeking an exciting, rewarding online gaming adventure. With a scatter pay system, medium volatility, and the thrill of collecting Rat King and Star symbols, the game offers an engaging, unique gaming experience that keeps players hooked from start to finish.