Monkey Battle for the Scrolls (Play'n GO)
An Expert's Dive into the Return of The Green Knight Slot
The rich tapestry of Arthurian legends has, once again, inspired a slot game that promises both thrill and adventure. Return of The Green Knight, a brainchild of Play'n GO, continues the saga of previous renditions like The Sword & the Grail. Offering a sublime blend of chivalry and romance, players journey through medieval times with every spin.
Play Return of The Green Knight Demo
Play Return of The Green Knight Slot for real
Graphics & Ambience: Back to Camelot
Stationed on the edge of a mystical forest and adjacent to a bridge, the game design echoes Camelot's grandeur. And when it comes to free spins? Players find themselves amidst an environment steeped in verdant magic. The high-definition graphics foster a unique immersion, allowing a rendezvous with iconic figures like Merlin, King Arthur, and the chivalrous knights.
Mechanics & Gameplay: Understanding the Grid
Return of The Green Knight operates on a 5x3 grid, offering 20 intriguing paylines. Whether you're a newbie or a seasoned gambler, the game accommodates all, allowing bets from $/€0.10 to a lavish $/€100. Symbols vary, with low-pays like T through A, and high-pays boasting charismatic characters. Bagging five low-pays can multiply bets by 2-4 times, while high-pays can ramp up to 7.5 to 25 times for five in a row.
Wild Element: Boosting the Wins
All reels can house wild symbols, capable of substituting regular pay symbols, fostering a winning combination. But there's more to these wilds! They can amplify winnings through multipliers, which can range from x2 to a whopping x100. When a wild pairs with an active Wild Multiplier, the resulting win gets magnified accordingly. Yet, even if you land multiple multipliers, they don't stack on a single payline.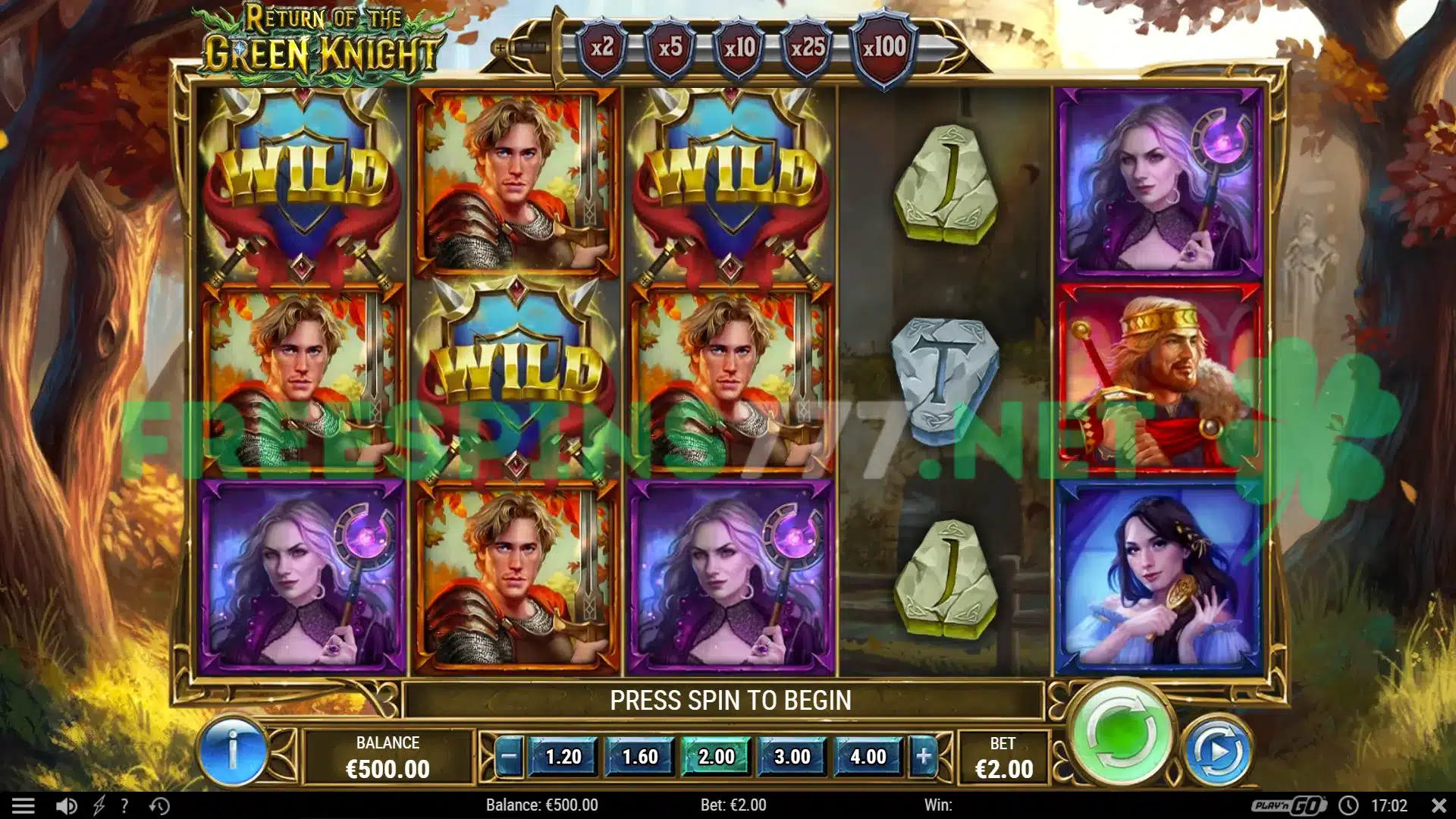 Unique Shield Spins: Power of Wilds
While engaging in free spins, if you spot 2 or more scatter symbols, brace yourself for 5 Shield Spins. During these spins, the Wild Multiplier from the initiating free spin remains constant. Additionally, any wild symbols that materialize stay put, complete with their respective Wild Multiplier.
Free Spin Extravaganza: Spin and Multiply
Three or more scatter symbols can yield payouts, ranging from 2x to 100x your bet, accompanied by 5 free spins. These spins hold the magic of the Wild Multiplier. With each spin, the multiplier inflates, commencing at x2 and escalating to x100.
Concluding Thoughts: An Unmissable Slot Experience
Return of The Green Knight is not just a slot; it's a ticket back in time. Play'n GO has masterfully intertwined Arthurian legends with contemporary slot mechanics. Its seamless marriage of story and gameplay ensures that both novices and veterans find their calling. The mystical backdrop, coupled with potent features, crafts an unmatched slot escapade.