Royal Potato 2 (Print Studios)
Introduction to Royal Potato 2
Online casinos have evolved rapidly, and as an expert, I've witnessed fascinating shifts in gaming dynamics. One game, in particular, that's capturing attention lately is the Royal Potato 2 slot, designed by Print Studios. With its intriguing features, it stands out even among seasoned players and newcomers alike.
Royal Potato 2 Demo Slot Free Play
Play Royal Potato 2 Slot for real
Game Layout and Technicalities
The Royal Potato 2 takes form on a 5-reel, 4-row grid, holding 30 paylines. High volatility defines the game, offering high-risk, high-reward thrills. Betting starts at 0.20, going up to 25, and players can relish in a potentially rewarding 96.26% RTP. For those seeking monumental wins, a staggering 40,000x your stake awaits.
Embarking on a Whimsical Journey
A delightful fusion of whimsy, reminiscent of Despicable Me's Minion universe, creates the game's aura. Royal Potato 2, however, has its own charm, blending humor with fantasy. It hosts a spectrum of vibrant flowers to various comical potato symbols. Whereas the soundtrack enriches this world, offering rhythmic beats that elevate your gaming experience.
The Potato Sack Feature in Royal Potato 2
Among the plethora of features in the Royal Potato 2 slot game, the Potato Sack stands out, offering a delightful layer of unpredictability and excitement. Appearing exclusively on reel 5 during the Spud Spins, this feature holds the potential to pivot the game in the player's favor.
Golden Spinner: Glittering Potential
Once activated, the Golden Spinner feature within the Potato Sack has the prowess to turn a random SuperSpinner golden. This transformation isn't merely cosmetic. Every spin on this golden SuperSpinner guarantees a multiplier value of at least 10x, making every rotation a potential windfall.
Extra Spins: Prolonging the Adventure
The allure of free spins in slot games is undeniable. With the Potato Sack's Extra Spins feature, players can be awarded between 3 to 6 additional spins. This extension not only provides more opportunities to win but also deepens the immersion into the game's whimsical universe.
Synced Reels: Harmonized Chances
Within the first three stages of the Potato Sack's features, the Synced Reels come into play. Players are granted an extra spin, during which reels 1 and 2 move in harmony, displaying identical symbols. This synchronization increases the chances of landing winning combinations, adding an element of strategy to the gameplay.
Symbol Activation: Unveiling Hidden Treasures
In the advanced stages, specifically 4 and 5, the Symbol Activation feature is triggered. Here, a random symbol from the game's panel is activated and brought to life, granting players an extra spin. This feature not only amplifies the potential for bigger wins but also introduces an unpredictable dynamism to each spin.
Bonus Buy: Enhance the Experience
For those willing to venture further:
Scatter Boost: For 1.5x the bet, it elevates chances of activating Spud Spins Bonus by 2.45.
Enhanced Scatter Boost: Doubling down with 2.5x the bet boosts the odds by 5.37.
Royal Levy: For 31.7x the stake, players can instantly trigger the Royal Levy feature.
Spud Spins & Super Spud Spins: Players can directly dive into the Spud Spins Bonus, with options ranging from 100x to 340x the bet, the latter bringing a Golden Spinner and Potato Sack on the inaugural spin.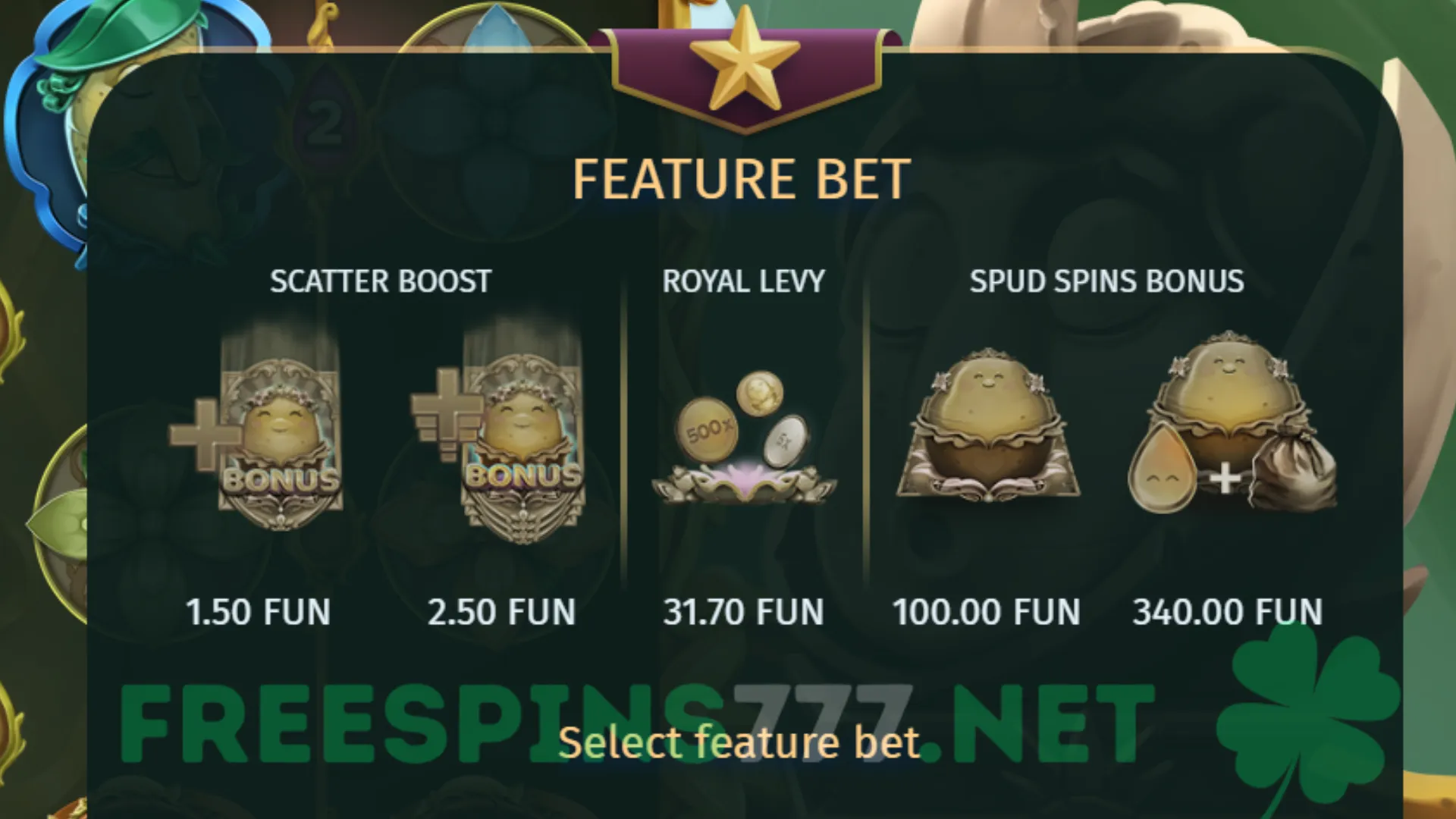 Royal Potato 2 Conclusion
Set to release on September 28, 2023, Royal Potato 2 promises an enchanting gaming experience, merging innovation with classic slot gameplay. Whether you're a novice or a veteran, this game, with its high volatility and extensive features, offers everyone a slice of exhilarating online casino entertainment.