Slot Sugar Rush Overview
Welcome to our comprehensive review of online casino providers, where we dive into the thrilling world of slot games. In this article, we'll be taking a closer look at the highly engaging Sugar Rush slot game. Developed by Pragmatic Play, Sugar Rush is a captivating online slot that combines the best elements of Sweet Bonanza and Fruit Party while adding its own unique candy-themed visuals.
Slot Sugar Rush Demo (FREE TO PLAY)
Play Sugar Rush Slot for real money at
Unveiling the Gameplay Mechanics
Sugar Rush operates on a 7x7 grid, introducing a cluster pays system that forms wins when matching symbols appear adjacent to each other. What sets this game apart is the tumble feature, triggered after each win. The tumble feature removes all relevant symbols, allowing new symbols to cascade from above and potentially form additional winning combinations. This exciting mechanic keeps the action flowing and provides ample opportunities for big wins.
Sweet Rewards: Free Spins Feature
The game's Free Spins feature is a treat for players, adding an extra layer of excitement to the gameplay. To activate this feature, you need to land 3, 4, 5, 6, or 7 scatter symbols during a tumble sequence in the base game. Each scatter symbol awards a specific number of free spins: 10, 12, 15, 20, or 30, respectively. Once triggered, the free spins round introduces highlighted positions and their multipliers, which remain on the reels throughout the bonus round. This allows for the potential increase in their values, leading to even more significant wins.
Instant Access: Buy Free Spins Feature
For those seeking immediate thrills, Sugar Rush offers a Buy Free Spins feature. This unique addition allows players to purchase free spins for 100 times their initial bet. By opting for this feature, you have a chance to randomly land 3, 4, 5, 6, or 7 scatter symbols, instantly activating the highly rewarding Free Spins feature. This option provides an alternative route to unlock the game's exciting bonus round, catering to players who prefer a more direct approach.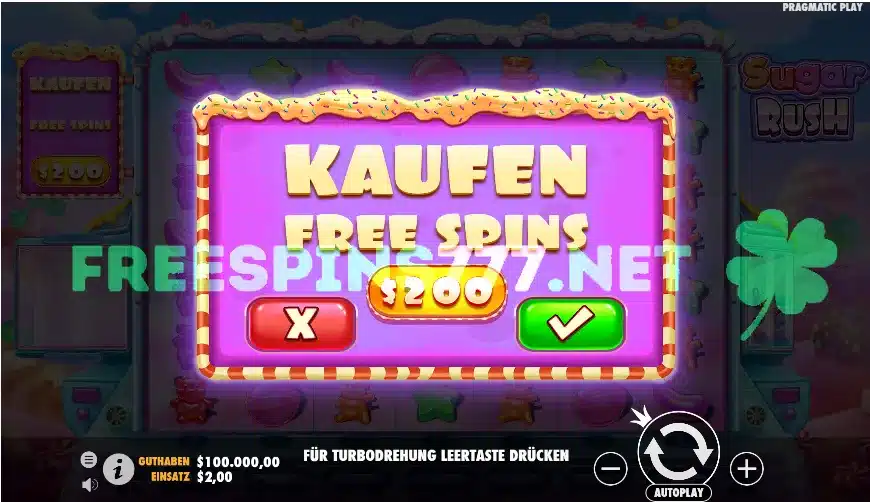 A Volatile Adventure with Delicious RTP
Sugar Rush is considered a highly volatile slot game, meaning that wins may be less frequent but can be substantial when they occur. With an impressive RTP (Return to Player) of 96.5%, players can expect a fair and rewarding gaming experience. Additionally, the maximum win in this game is capped at 5,000 times the initial bet, offering the potential for significant payouts that could leave players on a sugar-induced high.
A Unique Blend of Themes and Gameplay
While Sugar Rush may draw inspiration from the popular Sweet Bonanza and Fruit Party games, it manages to carve out its own distinct identity. The candy-themed visuals, engaging gameplay mechanics, and thrilling cluster pays system make Sugar Rush an excellent choice for both novices and veterans of online casino gaming. With its unique theme and the potential for substantial rewards, this game is sure to satisfy the cravings of slot enthusiasts everywhere.
Sugar Rush Slot Conclusion
After diving deep into the mechanics, features, and potential rewards of Sugar Rush, the game's appeal is undeniable. Its innovative gameplay, combined with the high volatility and tantalising RTP, offers players a high-energy gaming experience with the potential for sizeable rewards. The game's visual appeal and interactive features make it a crowd-pleaser, while the mechanics ensure a stimulating, engaging experience for both novices and seasoned players.