The Goonies Hey You Guys Slot Review
In the competitive terrain of online gaming, a remarkable standout emerges: The Goonies Hey You Guys. This dynamic slot game, a brainchild of Blueprint Gaming, transports players into an immersive universe, replete with characters and references from the 80's cult classic, The Goonies.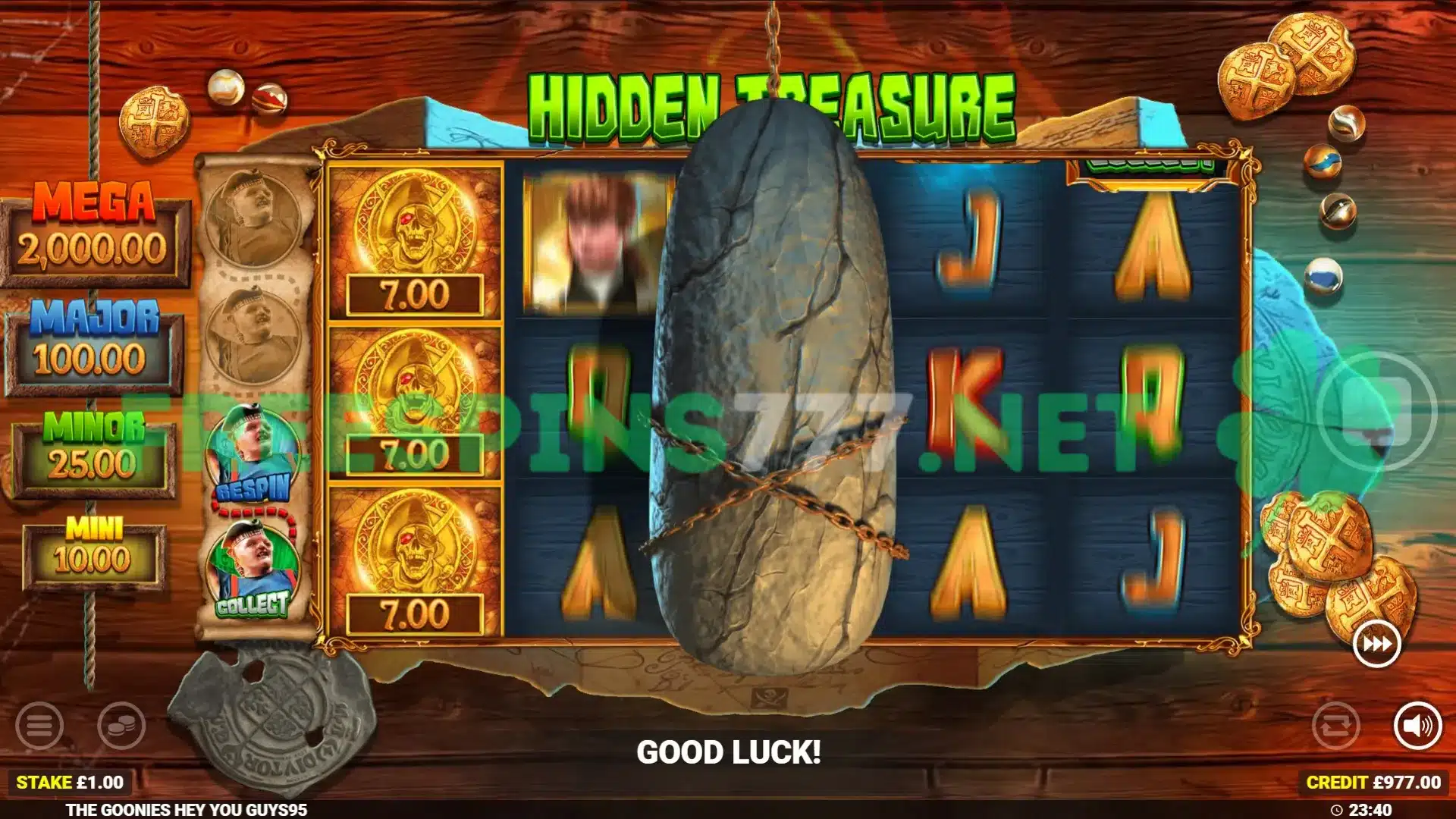 The Goonies Hey You Guys Demo Slot Free Play
Play The Goonies Hey You Guys Slot for real
A Rich Tapestry of Gameplay
On the virtual pirate ship deck, transitioning seamlessly to One-Eyed Willy's treasure room during free spins, this medium volatile game offers an engaging landscape. It boasts a 5-reel, 3-row reelset with 10 paylines, accessible to gamers who stake anything from 0.10 $/€ to $/€10 per spin. With an RTP of 95,00%, it deftly balances risk and reward.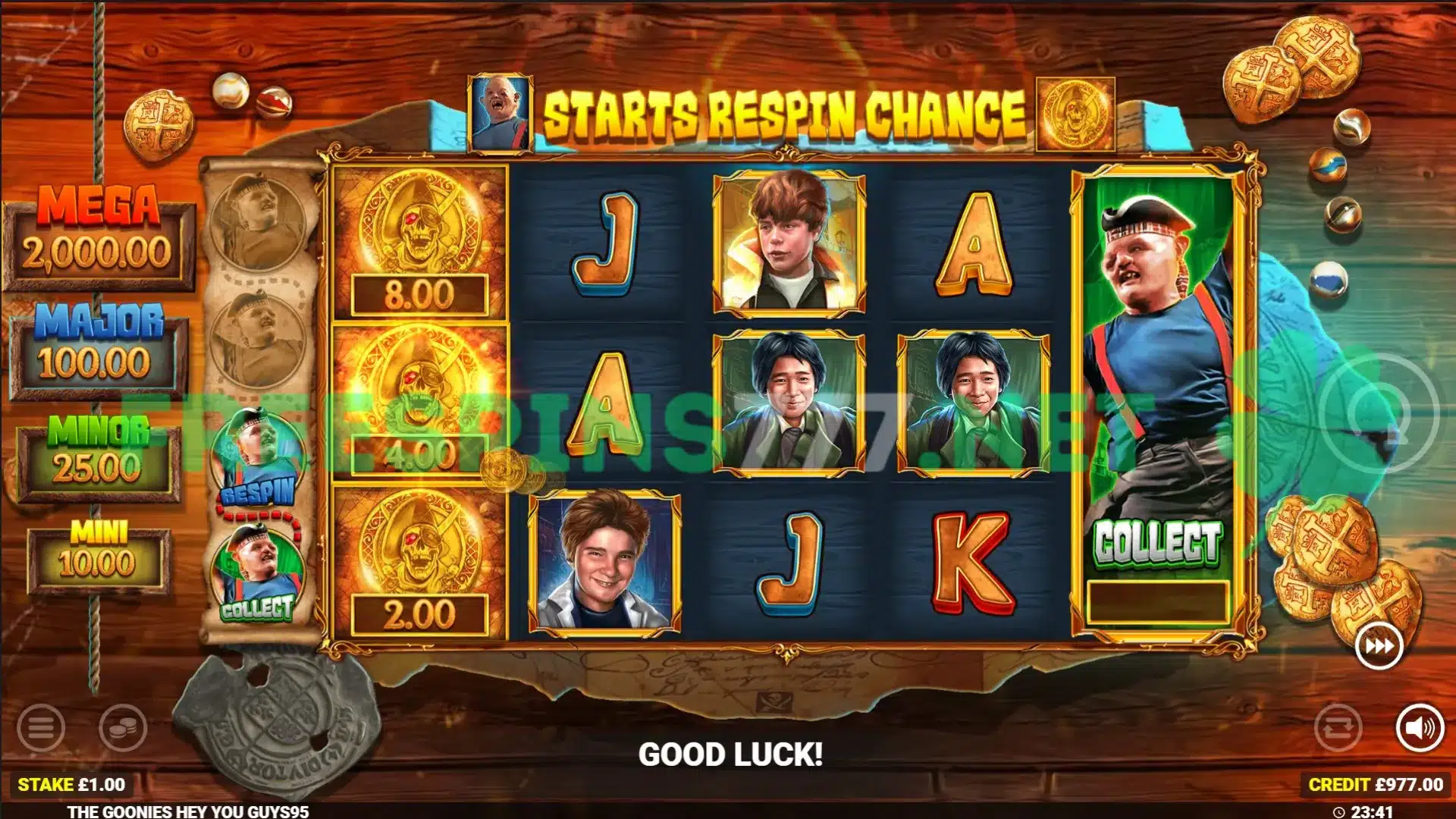 A Panoply of Symbols and Features
True to its source material, the game offers an array of symbols: low-paying J to A card ranks, high-paying characters like Data, Mouth, Mikey, and a pirate flag. The Wild symbol is the iconic coin with holes. But where it shines is the robust Cash Collect feature, the Sloth Free Spins, and the promise of unexpected jackpots.
Intricacies of the Cash Collect Feature
Active on reels 1 to 4, the Cash Collect feature offers chances to amass wins. When a Sloth Collect symbol appears on reel 5 amidst Cash symbols, it expands, covering all positions on the reel, and collects the cash symbol values. This interactive, layered feature keeps players engrossed, teasing the thrill of the next big win.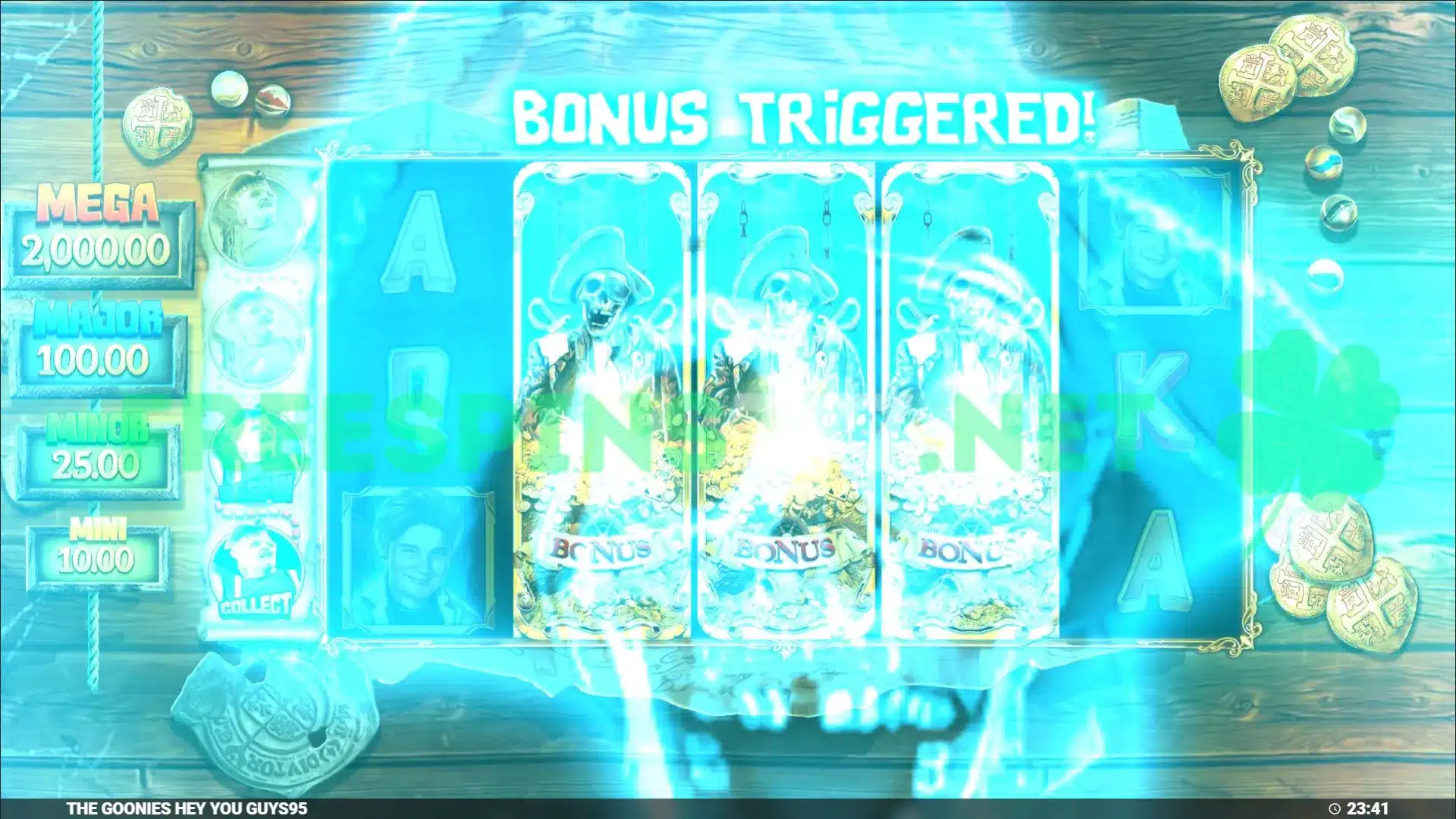 Sloth Free Spins and Beyond
Sloth Free Spins, triggered by landing 3 scatter symbols on reels 2, 3, and 4, award 10 free spins. With the Sloth symbols contributing to multipliers and extra free spins, the game keeps the anticipation high. Sloth may even surprise with random modifiers, adding wild symbols or unveiling the Hidden Treasure, making each spin a thrilling exploration.
Promises of Jackpots
The promise of four jackpot-style prizes - Mini, Minor, Major, and Mega, valued at 10x, 25x, 100x, or 2,000x the bet - injects additional excitement. With a maximum win of 250,000 units of currency or 50,000x the bet, The Goonies Hey You Guys ensures that your quest for riches is never over.
Conclusion
In conclusion, The Goonies Hey You Guys developed by Blueprint Gaming is an exciting venture into the world of slots that promises not just a game, but an adventure. With its impressive RTP of 95,00% and a treasure trove of features, it's a thrilling ride into nostalgia, ensuring every spin is a step closer to striking digital gold. There's never been a better time to embark on your own Goonies adventure and say, "Hey you guys!" to a world of potential winnings.