8 Golden Dragon Challenge (Pragmatic Play)
Introducing the 8 Golden Dragon Challenge Slot
For lovers of Asian-themed slots, the 8 Golden Dragon Challenge unveils a compelling mix of tradition and innovation. Created through a collaboration of Pragmatic Play and Reel Kingdom, it epitomizes Chinese cultural reverence for dragons and prosperity, with the number "8" playing a pivotal role.
Play 8 Golden Dragon Challenge Demo for free
Play 8 Golden Dragon Challenge with real money at
Traditional Meets Modern in Design
Ensconced in a serene pagoda setting, the ambience is heightened by pink flowered trees, alluring mountains, and iconic square-cut coins. And while the visuals evoke a timeless elegance, the classical soundtrack wraps players in an auditory embrace reminiscent of ancient China.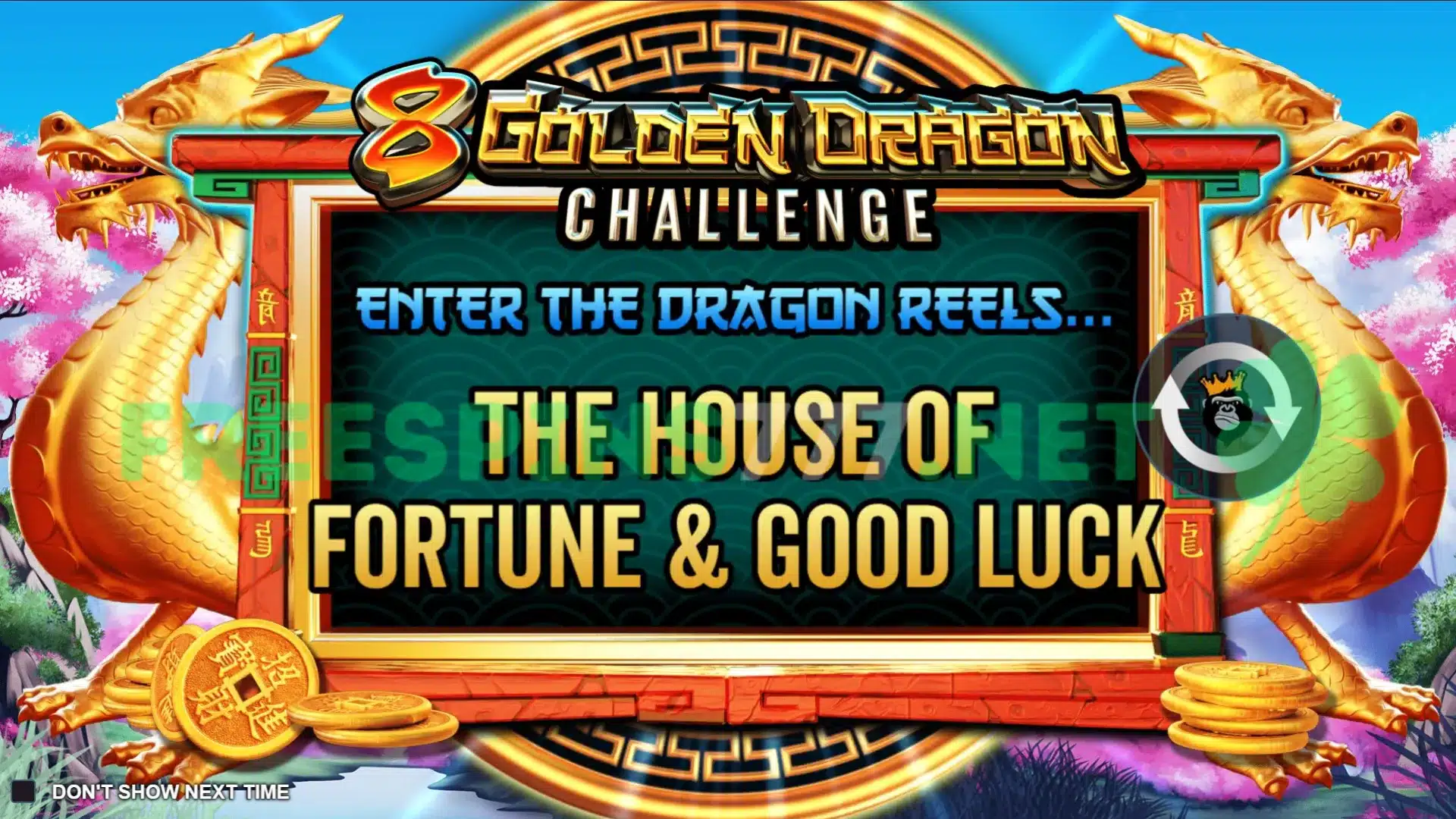 Mechanics and Features – What to Expect
Newbies and pros alike will find the 5x3 grid with 10 paylines familiar. Payouts adhere to the conventional 'left to right' rule, starting from reel one. Interestingly, wild symbols are absent, but there's a scatter waiting on reels 1, 3, and 5.
Dive into the Mini Slot Machine Bonus
Trigger this feature with three scatter symbols, and the main grid morphs into a 3x3 play zone, boasting eight mini slots showcasing dragons or blanks. Playing in rounds, the bonus session concludes when all mini slots lock.
Unravel the Envelope Bonus
Achieve a full dragon symbol win, and the Envelope Bonus unfolds. Each victorious mini slot with a full dragon ramps up a multiplier for this bonus. As eight envelopes unfurl, they divulge random prizes, magnified by the total multiplier, spanning between 2x to 10x the wager.
Mastering the Extra Bet and Bonus Buy
Players navigate their journey in three modes: the conventional bet, the Ante Bet which amplifies the wager by 50% for heightened bonus chances, or an immediate feature purchase for a steep 100x the bet.
Understanding RTP and Max Wins
Whether you're an RTP aficionado or just curious, the "8 Golden Dragon Challenge" maintains a fairly consistent rate. Regular mode boasts 96.01%, the Ante Bet nudges it to 96.02%, and buying the bonus steadies it at 96.01%. For the ambitious, the game offers a tantalizing 8,800x max win.
Concluding Thoughts
Launching on 18.09.2023, this slot might echo traditional themes, but it's far from mundane. The 8 Golden Dragon stands out, particularly with its Mini Slot Machine Bonus, distinguishing itself in the sea of Asian-themed slots.