Joker Blast Bonanza (Pragmatic Play)
Discover the Excitement of Joker Blast Bonanza
Pragmatic Play, a respected game developer, has introduced the captivating Joker Blast Bonanza Slot. Launched in June 2023, this game combines the nostalgia of classic slot symbols with a state-of-the-art Scatter Pays engine, delivering an exhilarating gaming experience.
Joker Blast Bonanza Demo free to play
Play Joker Blast Bonanza with real money at
Understanding the Game Layout
The 6x5 reel layout provides players with a multitude of possibilities for forming winning combinations. As long as matching symbols occupy at least 8 positions, a winning combination forms. With a high volatility rating and a return to player (RTP) rate of 96.40%, it offers both exciting risks and rewarding returns.
Betting Limits and Winnings
Joker Blast Bonanza offers betting ranges from €0.20 to €100 per round. The tantalizing maximum payout of up to 10,000 times the stake makes it an enticing option for thrill-seekers. It's the blend of high-risk, high-reward gameplay that gives this game its magnetism.
Classic Symbols in a Modern Game
The game flaunts a variety of symbols, including classics such as Diamonds, Sevens, Bells, and various fruits. The Joker, the game's protagonist, doubles as the scatter symbol and triggers the free spins, bringing an additional layer of excitement.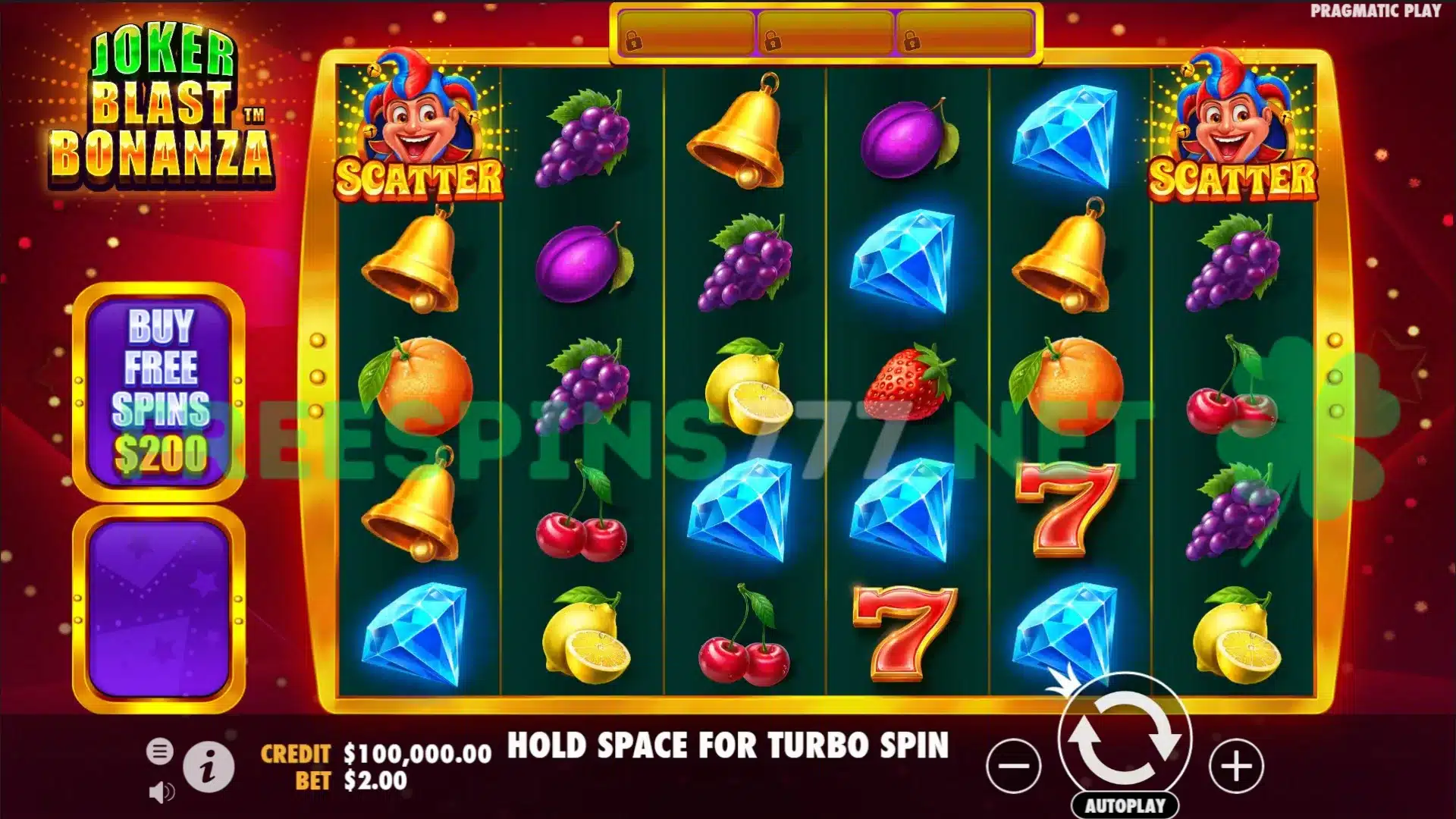 Impressive Features of the Game
One remarkable feature is the tumbling reels, which replace winning symbols, potentially leading to extra wins. An engaging multiplier system augments winnings substantially. As you gather symbols, three stages of multipliers are unlocked, going up to a thrilling 15x.
Free Spins and Jackpot Potential
The main attraction is the free spins feature, triggered when 4 or more scatter symbols land. During these spins, six multiplier levels come into play. A jackpot of 10,000x awaits those who skillfully combine the 20x win with a 500x multiplier.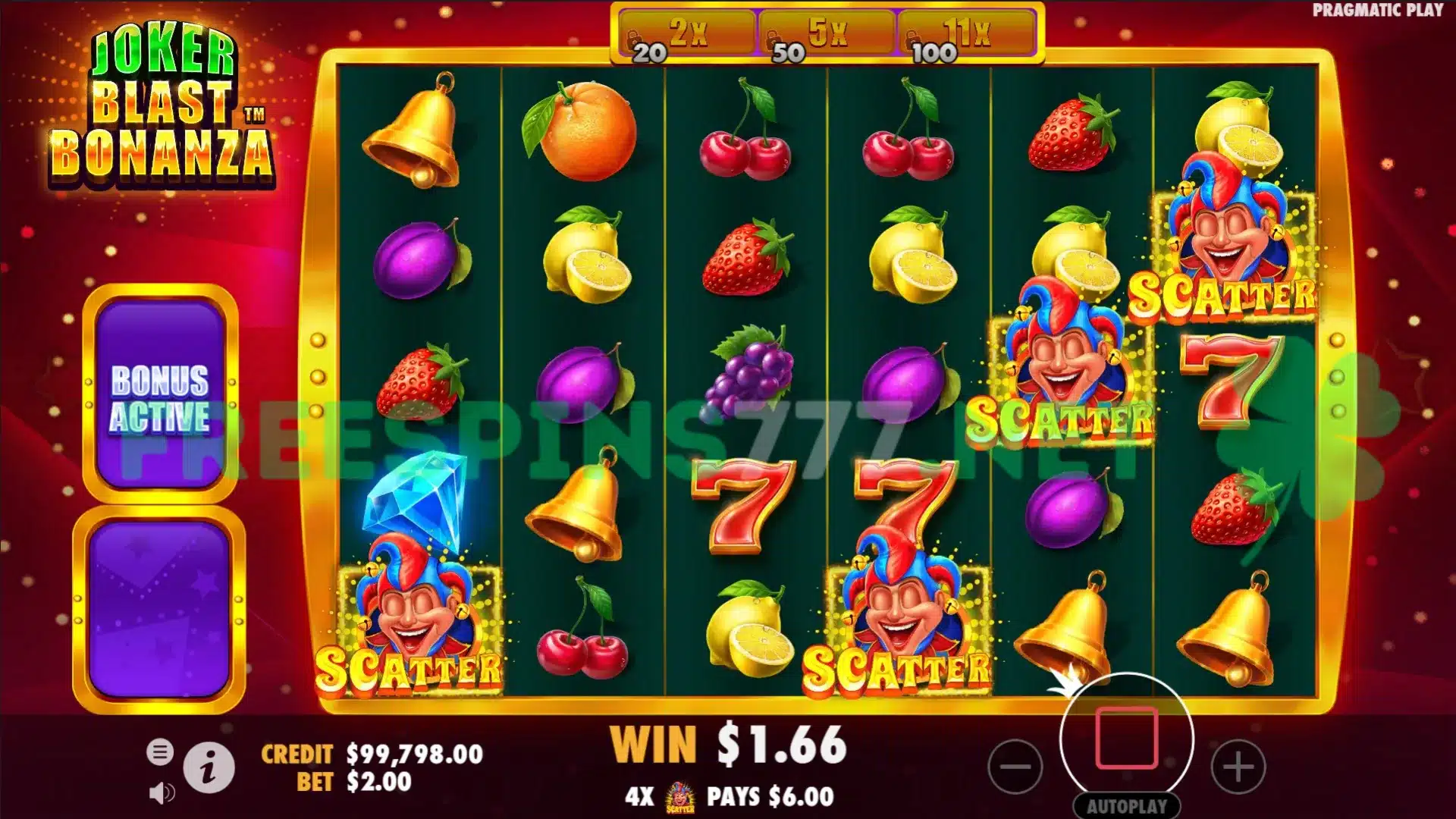 Bomb Symbols and Their Impact
Unique to this game, Bomb symbols explode to remove positions in certain directions. This can trigger tumbles, potentially leading to additional wins. However, these explosive elements only detonate if a tumble has previously occurred.
A Unique Blend of Tradition and Innovation
Despite its traditional symbols, Joker Blast Bonanza stands out among modern slot games. Its innovative mechanics coupled with its high winning potential make this Pragmatic Play slot a worthwhile exploration for gaming enthusiasts.
Seize Your Gaming Destiny
In conclusion, Joker Blast Bonanza is the perfect blend of nostalgia and innovation, where classic meets modern in a pulse-pounding slot gaming experience. It's not just a game, it's a journey filled with vibrant symbols, electrifying features, and tantalizing wins. So why wait? Take a spin and seize your gaming destiny with Joker Blast Bonanza today!