Money Train 4 (Relax Gaming)
Pros
nice graphics and smooth gameplay
great bonus buys features to get big wins
nice atmosphere
Money Train 4 Slot Review
Money Train 4, the prodigious brainchild of Relax Gaming, brings a fresh wave of exhilaration to the world of online casinos. As the series' grand finale, its much-anticipated release on September 20th, 2023, holds promise for both newcomers and seasoned gamers.
Play Money Train 4 Demo for free
Play Money Train 4 at exclusive Casinos
Money Train 4 Slot Design
Money Train 4's design masterfully blends elements of futurism and dystopia. With a backdrop that echoes iconic films like Terminator 2, players are taken on a journey from a radiant base game to a dramatic, rain-soaked bonus round. The game's immersive graphics and sound transport players to a realm where gaming and cinema intersect.
Diving into Slot Features
Navigated on a 6x6 grid, Money Train 4 stands apart with its scatter pays system. The game proudly showcases 8 symbols, divided between four card ranks and four distinct character symbols. In lieu of a wild symbol, it offers an array of other captivating icons to keep players hooked.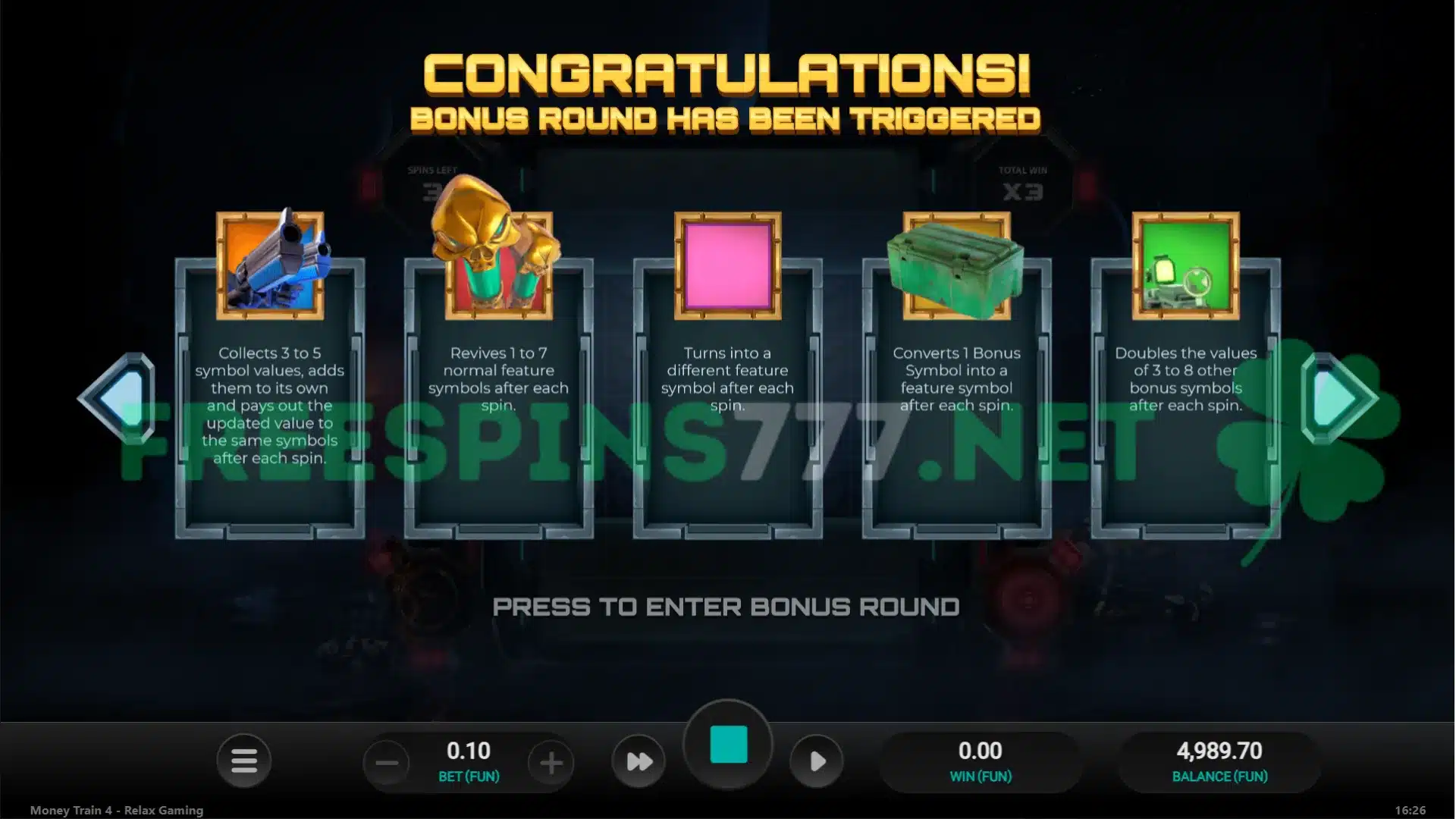 The Thrill of Respins
Unique in its mechanics, a respin feature can awaken post any spin. The dominant symbol holds its ground, sticking to the reels. Players are granted a respin, where they might encounter blanks, multipliers, or even more of the chosen symbol. The beauty lies in the multipliers that collectively boost the final triumph. The sequence concludes when new symbols cease to emerge.
Diving Deeper: The Money Train 4 Bonus Round
Securing 3 or more scatter symbols in the foundational game activates the Money Cart Bonus Round. This round commences on a 6x4 grid, which can expand to accommodate 4 additional rows. Players are treated to an array of specialty symbols, with the likes of Collector, Payer, and Sniper leading the charge.
Taking Charge with the Bonus Buy Feature
For the fearless, MT4 offers an enticing Bonus Buy Feature. Gamers have two choices:
Spend 100x the bet to activate the feature.
Or, for the truly daring, 500x the bet initiates the feature with an additional Persistent Symbol.
Key Figures and Winning Potentials
MoneyTrain 4 boasts an impressive RTP of 96.10%, which elevates to 96.5% when opting for the bonus buy. The crowning jewel is the possibility of a staggering win, reaching up to 150,000x the original bet.
Conclusion: All Aboard the Money Train
For both the novices and the old hands of the casino realm, MT 4 promises an unparalleled journey. With its mix of cinematic allure and the thrill of potential rewards, it's clear why it's one of 2023's most awaited online slot releases.