Welcome to the Delectable World of Oishii Bonanza
In the cornucopia of online slots, Oishii Bonanza stands apart. This Japanese cuisine-themed slot game is a rejuvenation of the Pragmatic Play classic, Sweet Bonanza. You'll find yourself immersed in a quirky cartoon universe, replete with food and animal elements creatively amalgamated.
Oishii Bonanza Playable Demo for free
Play Oishii Bonanza for real
Spinning the Gameplay
At its core, Oishii Bonanza operates as a scatter paying slot. The rule here is simple, yet exciting: as long as 12 matching symbols are visible anywhere on the board, you win. The game is set on a 6-reel, 5-row grid matrix, complemented by a tumble feature. Winning symbols disappear, making room for new ones cascading from above.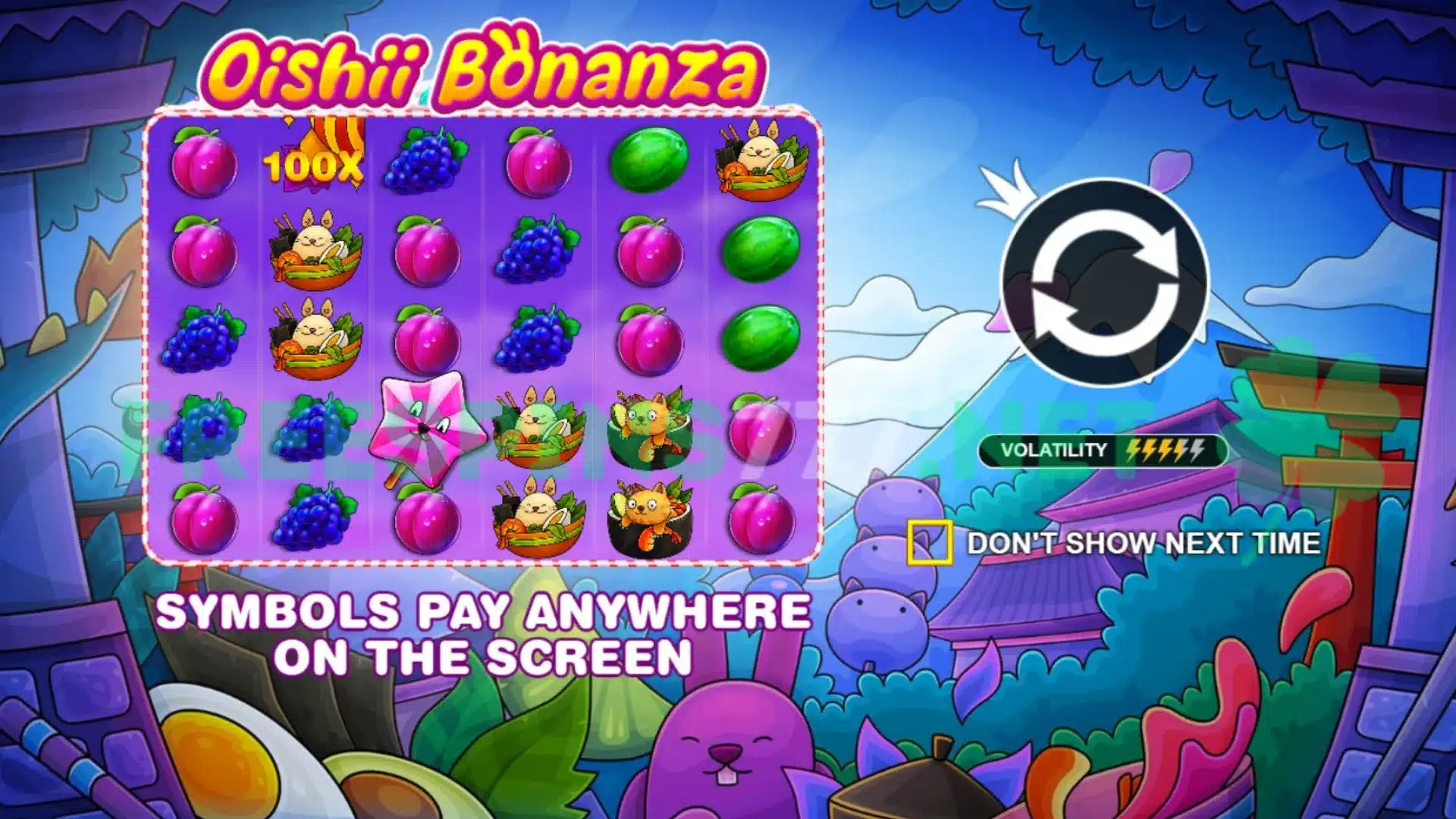 A Journey through the Math Model
Oishii Bonanza's math model presents a medium-high volatile experience, with a rating of 3.5 out of 5. The game's RTP oscillates between a minimum of 96.49% and a maximum of 96.6%. Players can establish a base bet ranging from 0.20 $/€ to $/€100. An interesting twist is the Ante Bet, giving players the option to enhance the stake by 25%, in exchange for an increased scatter occurrence on the reels, effectively doubling the chance of securing free spins.
Meet the Symbols
Oishii Bonanza's symbols are a playful mix of the old and the new. Low pay symbols feature common fruits, such as bananas, grapes, watermelons, plums, and apples. High pay symbols, on the other hand, boast a fun combination of food and animals. Although wilds are absent, the game includes a scatter symbol for free spins and a multiplier symbol.
Unlock Free Spins and Multipliers
The charm of Oishii Bonanza is heightened by free spins and multipliers. Land 4, 5, or 6 lollipop scatter symbols to unlock 10 free spins, coupled with payouts of 3, 5, or 100 times the bet, respectively. Multiplier symbols could appear during free spins, ranging from x2 to x100. These multipliers persist on screen until the tumble sequence concludes, whereupon their values are added up and applied to the total win.
Step into the Buy Feature
The game also features a buy option for those eager to kickstart the free spins bonus round. This feature comes at a price - 100 times the bet.
The Winning Finale
Players are invited to chase a lucrative maximum win, which caps at 21,100 times the bet. This feature truly establishes Oishii Bonanza as a promising addition to the online casino landscape.
Oishii Bonanza - Similar Games
Sweet Bonanza
Sweet Bonanza Xmas
Roo Bonanza