Raiders of the Lost Book: A Mystical Slot Odyssey
The online casino realm is vast, but few games evoke intrigue like "Raiders of the Lost Book". Launched by GameArt on 12/09/2023, it beckons players to join the audacious explorers, Mr. Johns and Professor Lola. Together, they traverse the Egyptian sands, hunting the Golden Egyptian Ankh, the Eye of Horus, and the fabled Golden Book of Secrets.
Raiders of the Lost Book Demo free play
Play Raiders of the Lost Book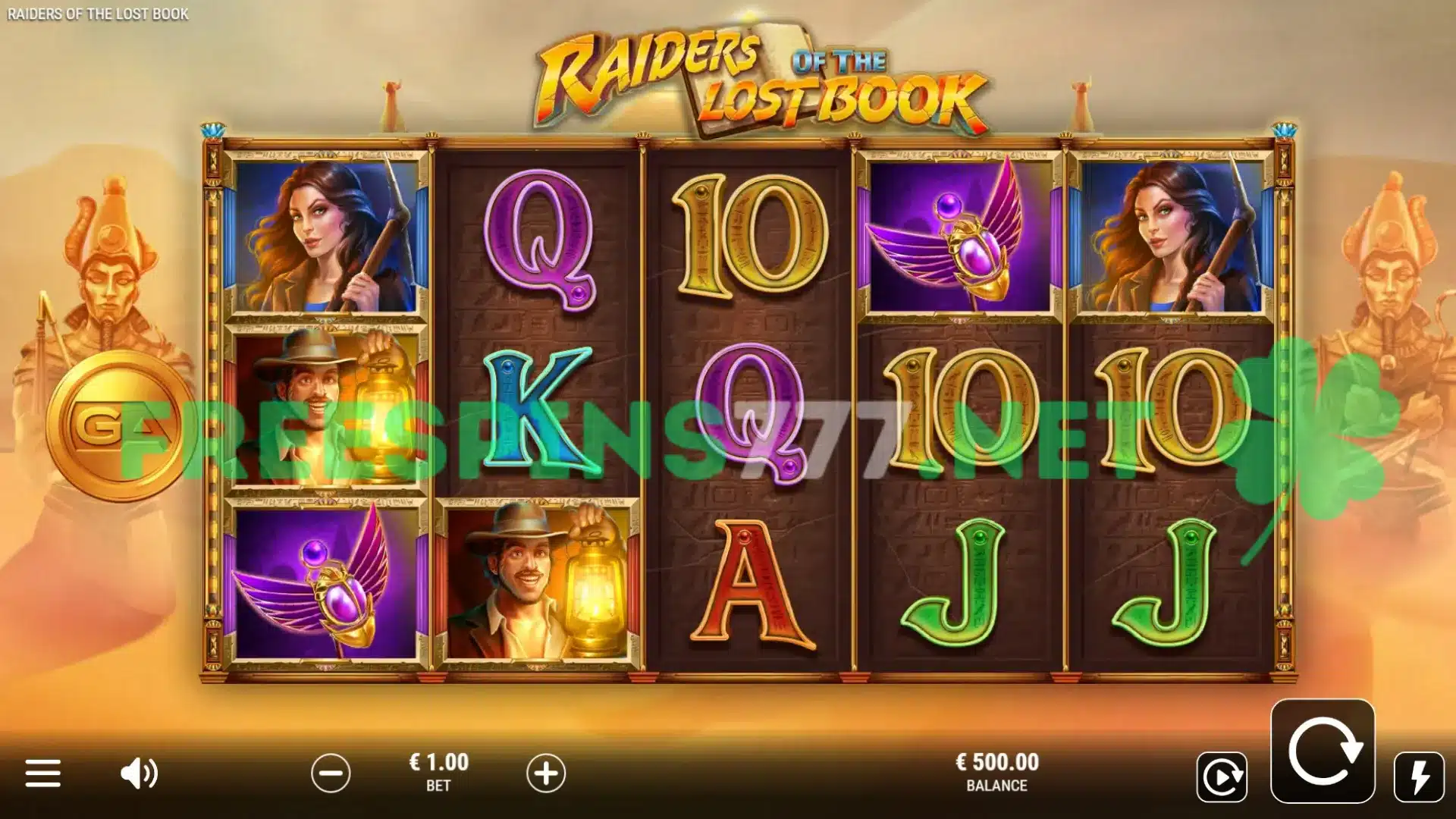 Design Dynamics: Journey through Time
Against a backdrop of pyramids and ancient scripts, the game unfurls its Egyptian narrative. Players are teleported to the land of pharaohs as they spin the reels. Mr. Johns and Professor Lola, the intrepid duo, come alive, guiding one on this treasure-laden quest.
Slot Splendors: Unveiling the Mechanics
Featuring a conventional 5x3-reel matrix, the game offers 10 lucrative paylines. The Golden Book, not just a relic, doubles as a SCATTER. Landing three ignites the Bonus Game, propelling players deeper into the Egyptian enigma. Upon the Bonus Game's inception, an Expanding Mystery Symbol is revealed. This symbol, during Free Spins, can stretch across reels, magnifying win prospects. Should fortune favor, and wins accumulate, players can gamble their rewards, amplifying their bounty.
A Whirlwind of Free Spins: The Real Magic
The allure of the Golden Book isn't limited to lore. Procuring three or more unveils 10 Free Spins, with the Expanding Mystery Symbol taking center stage. Its expansion augments win opportunities, and if fortune smiles again with three or more Scatters, another 10 Free Spins grace the player. For those impatient souls, a Buy Bonus feature is integrated, offering direct entry into the Free Spins spectacle.
Epilogue: The Verdict on the Sands
Conclusively, Raiders of the Lost Book is a thrilling addition to the world of online slots. Seamlessly blending age-old Egyptian allure with innovative slot mechanics, it stands as a beacon for both newcomers and seasoned gamblers. Its rich narrative, coupled with features like the Expanding Mystery Symbol and Buy Bonus, ensures it's more than just a game – it's an adventure.