Story of Jarptitsa Slot Review (Spinomenal)
Story of Jarptitsa Slot Review
In the vast realm of online gaming, few slots captivate as "Story of Jarptitsa" does. It sweeps players into an enthralling fairy-tale, dominated by the majestic Firebird. This slot effortlessly marries wonder with potential winnings, leaving gamers in awe. But its allure doesn't stop at the narrative. The slot's graphics exude enchantment. Every spin whisks players away, ensuring an unforgettable journey in a magical forest.
Play Story of Jarptitsa Demo
Play Story of Jarptitsa at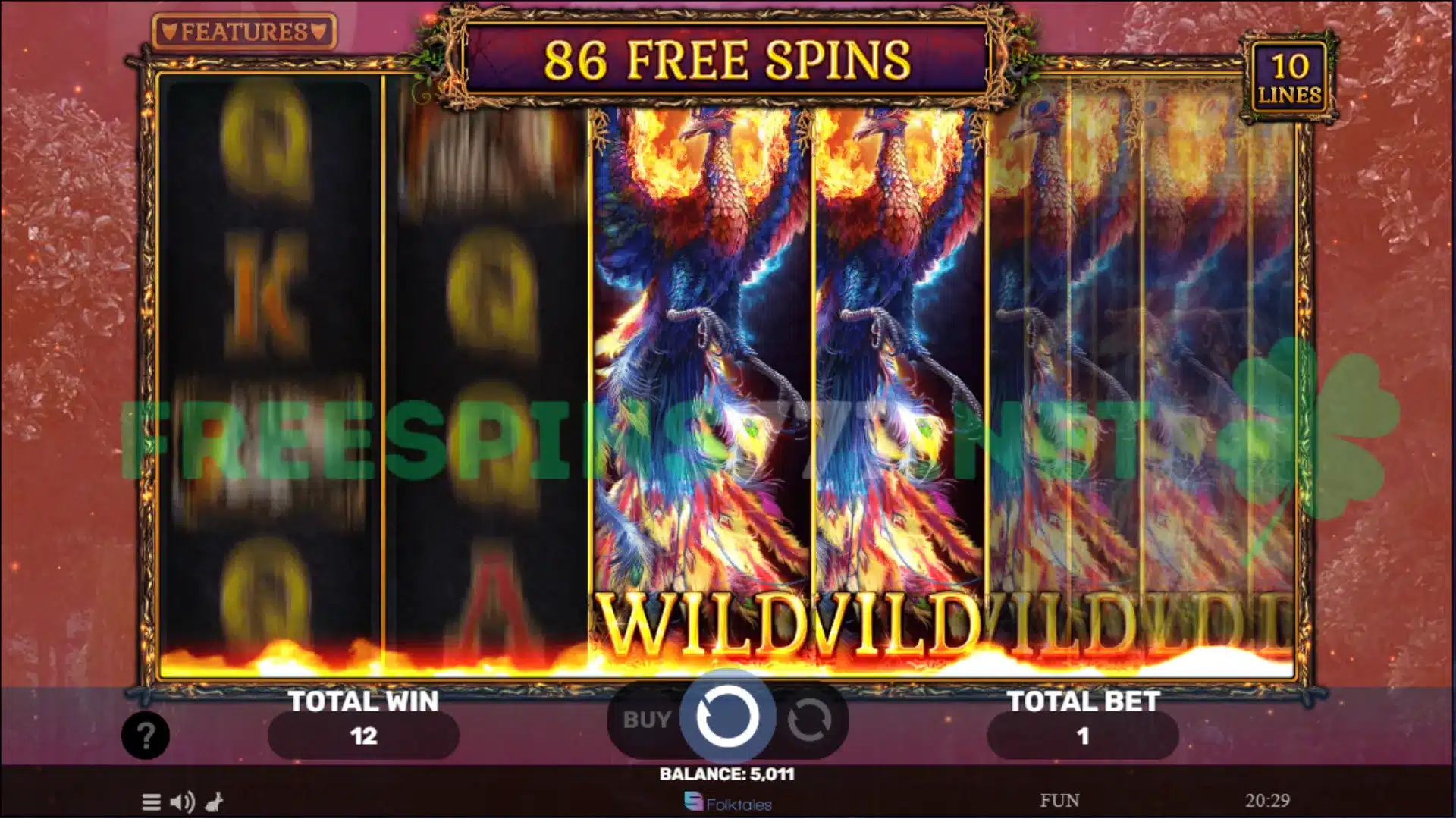 Key Features at a Glance
Before delving deeper, it's crucial to understand the game's structure. Here's a concise rundown:
Layout: A 5x4 grid, both expansive and engaging.
Paylines: With 100 paylines, opportunities abound.
Potential Win: Players can net up to 3000 times their stake, promising thrilling outcomes.
Thematic Essence: Rooted in fantasy, it's a treat for dreamers.
RTP & Volatility: Sitting at 96.04%, with a medium-high volatility, it strikes a balance between risk and reward.
Hit Frequency: A respectable 22%, keeping players on their toes.
Special Symbols – The Catalysts
The wild symbol is the game changer. Acting as a chameleon, it can substitute for most symbols, bar the Free Spins. Secure 5 wild symbols on a win line? You're looking at a windfall of bet per line multiplied by 3,000.
Dive into the Free Spins
These aren't just any spins; they're gateways to greater winnings.
Landing 3 symbols gifts you 10 Free Spins.
Secure 4, and you're looking at 25.
A dazzling 5 or more? A whopping 100 Free Spins await.
But there's a twist. During these spins, one reel, chosen randomly, will be graced with a stacked wild.
Tempted by the Bonus Buy?
It's not for everyone, but the 'BUY FEATURE' is intriguing. Those impatient for the Free Spins can simply buy their way in. The cost is shaped by factors like the bet, the chosen lines, and the coveted number of free spins.
A Few More Tidbits
For those who crave speed, Turbo Mode is your ally. Toggle the 'rabbit' icon or delve into the settings on mobile, and watch the game pace shift.
It's essential to remember the mastermind behind this masterpiece: Spinomenal. They've created a cocktail of stunning graphics and tempting bonuses, ensuring that both novices and veterans remain hooked.
Story of Jarptitsa Final Thoughts
Story of Jarptitsa" isn't merely a slot. It's a mesmerizing experience, one that beckons players to return, time and time again. Whether you're a newbie or a seasoned gamer, this slot promises an unforgettable journey.