Super Sundae Slot Review
Super Sundae is a delicious slot game by OctoPlay, revolving around the globally cherished delight - ice cream. The game plunges players into a realm brimming with ice cream mountains, enabling them to revisit their childhood dreams. A sundae, a renowned frozen dessert from the USA, typically comprises ice cream scoops embellished with toppings like sprinkles, syrup, and whipped cream. This slot game guarantees tons of ice cream along with thrilling features such as "Cherry on Top" and "Free Spins."
Super Sundae Demo Slot
Super Sundae available at
Design
The game's design draws inspiration from the ice cream theme, exhibiting a background of a valley encircled by mountains composed entirely of ice cream sundaes. The sky is speckled with vibrant balloons, and the ground, mimicking green grass, has ice cream cones and scoops blossoming like flowers. The game's icons encompass various cones and toppings, enhancing the overall theme.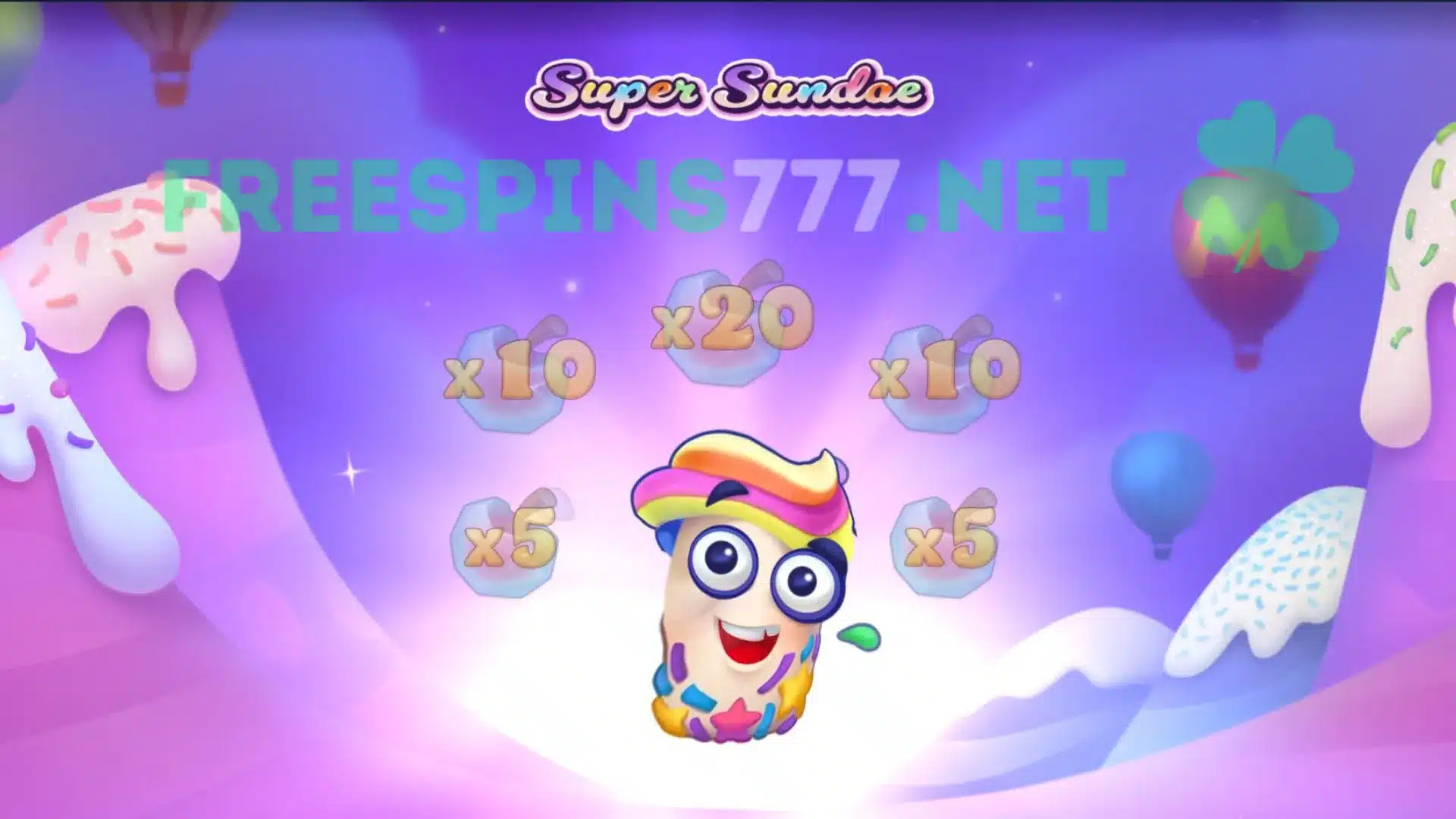 Slot Features
Super Sundae operates on a 5-reel setup with variable rows ranging from 3 to 9. Each spin can randomly showcase between 3 to 9 symbols on the reels. Wins are created by landing 8 or more matching symbols anywhere on the reels, courtesy of the Scatter Pays Mechanic. Players can modify their bets from a minimum of €0.10 to a maximum of €45.00. The game provides two RTP values: the default RTP is 95.79%, while another version offers an RTP of 92.82%. During the Free Spins feature, when utilizing the Bonus Buy, the RTP is 95.83%. The game features medium to high volatility and provides a maximum win potential of 11,000 times the bet. The game's features encompass Cascade, Blaze Symbols, Extra Drops, Cherry on Top, Free Spins, and Bonus Buy.
Free Spins
Triggering 10 Free Spins requires landing 3 Scatter symbols. Players can obtain additional Free Spins based on the number of Scatters landed, with the potential to secure up to 25 Free Spins. If players succeed in unfreezing all 5 cherries on the multiplier during the Free Spins, the multiplier value doubles, and they receive 5 extra Free Spins.
Bonus Buy Feature
Players can directly access the Free Spins feature by utilizing the Bonus Buy option. Two available choices include: 200X the bet to activate the Free Spins feature.
Additional Features
Cascade: Removing winning symbols allows new symbols to fall from above, enabling consecutive wins. Blaze Symbols: Paying symbols can carry red or blue blaze multipliers. Wins involving these symbols receive a boost of 5X (red) or 10X (blue). Cherry on Top: Activation occurs when a reel is filled with 9 symbols. The multiplier at the top of the current reel is activated, and every time this feature is triggered, a cherry unfreezes and remains active for the round. The active multiplier applies to every win, with multiplier levels being X5, X10, and X20.
Super Sundae Conclusion
In conclusion, Super Sundae offers a delightful gaming experience, combining the allure of ice creams with captivating slot mechanics. The array of features guarantees that players have multiple opportunities to land substantial wins, making it a must-try for slot enthusiasts.