Titan Strike Slot Review (Relax Gaming)
Titan Strike Slot Review
Dive deep into the mythological mists of ancient Greece. Titan Strike from Relax Gaming, an ode to the mighty Titans, stands tall. Its backdrop? Timeless Greek vistas. Columned structures, ivy, and imposing mountains paint a vivid picture. And the Parthenon-inspired game grid? It's breathtakingly majestic.
Play Titan Strike Demo for free
Play Titan Strike at exclusive Casinos
Artistry at its Peak
A landscape reminiscent of Hellenistic dreams awaits. The visuals? Imagine an oil painting springing to life. Every spin takes you closer to Mount Olympus, while the detailed 5x3 grid beckons.
Intricate Gameplay Mechanics
With 15 paylines in play, opportunities abound. Match symbols, find your fortune. And those Greek letters? While they might seem cryptic, they hold the key. The mythical characters? They bring forth blessings. The wild symbols, omnipresent and mighty, ensure even the smallest spins can bear fruit.
Struck by Lightning
Chance upon lightning strike symbols? Await a storm of rewards. The possibilities range from humble rewards to staggering 2,000x payouts. Indeed, Zeus himself might envy such fortune.
The Dance of Free Spins
Three scatters unlock a realm of free spins. Here, lightning doesn't just strike - it lingers, multiplying chances. More scatters? More spins. But for those craving more, 'Super Free Spins' takes things up a notch. The stakes rise, and with every spin, the highest lightning strike rewards beckon.
Collect, Ascend, Triumph!
Each lightning strike symbol fuels your ascent. Rise through the collection stages, and rewards unfold. Finish all five? Super free spins await. For the impatient, a direct path exists. Buy your way to free spins, if you dare.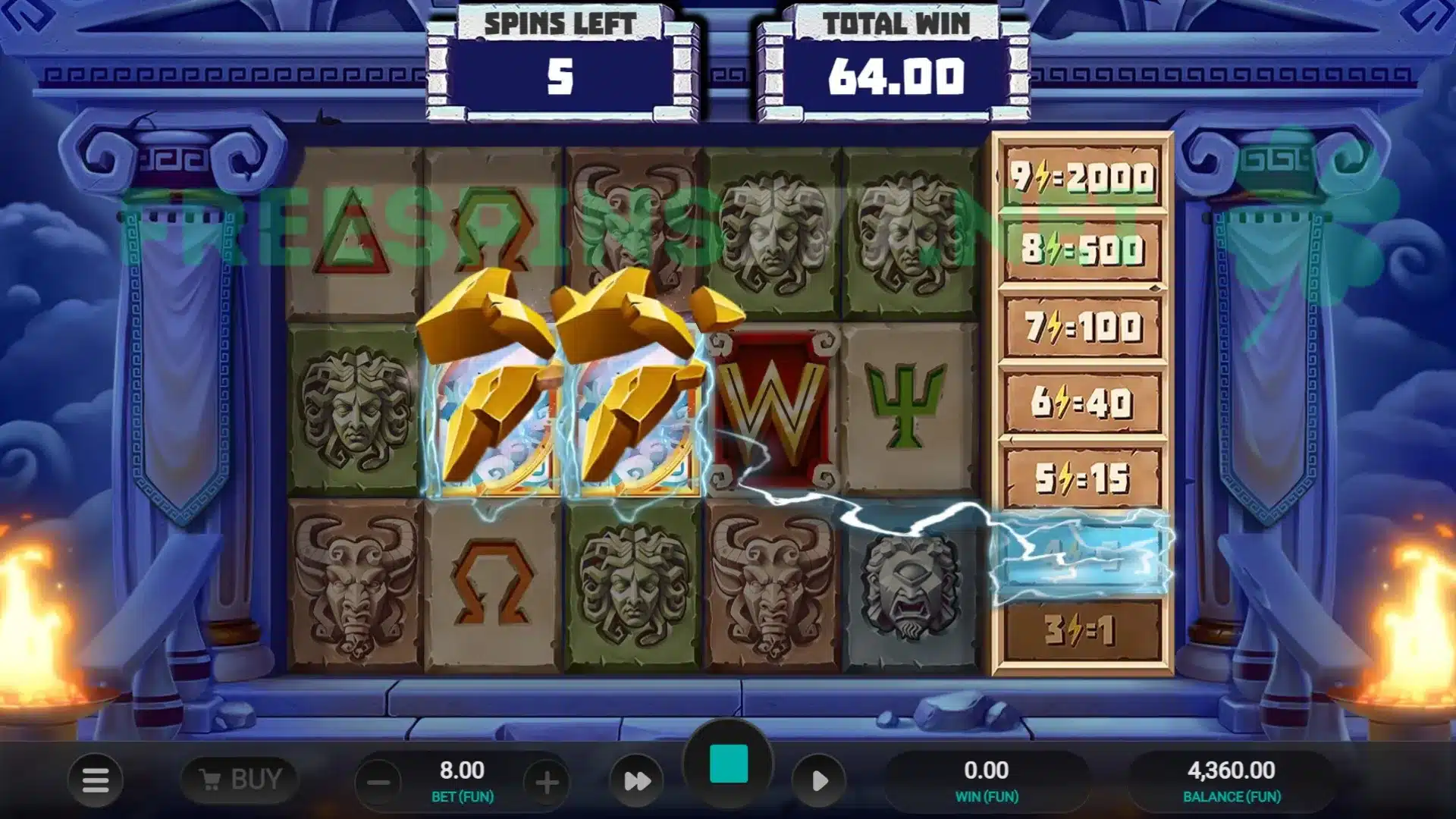 To Play or Not to Play?
With its blend of arresting visuals and gameplay quirks, 'Titan Strike' is more than just another slot. Whether you're a newcomer to the casino realm or a seasoned gamer, it promises a riveting journey. So, if myths, Titans, and fortunes entice, 'Titan Strike' is where your odyssey begins.