Twilight Princess Slot Review (Pragmatic Play)
Introduction to the Twilight World of Slots
For novices stepping into the enchanting realm of online casinos, or for veterans who've seen it all, the world of slot games offers boundless excitement. Among the recent releases, Pragmatic Play's Twilight Princess stands out, slated to be launched on 02.10.2023. If you're thinking of Bella Swan, think again. This game, closely tied to Starlight Princess, delves into a dreamy manga-inspired cartoon universe, presided over by a leggy femme protagonist.
Play Twilight Princess Demo for free
Play Twilight Princess with real money at
Mystical Manga Design Elements
Floating amidst ethereal clouds, our animated heroine occupies a special place beside the game's grid. This atmospheric setup, though manga-inspired, isn't just about comics. As players unlock free spins, twilight descends, with a gilded sun grazing fluffy clouds, painting the screen with its amber hues. However, the somewhat plain visuals paired with an unexpected Western twang might leave some scratching their heads.
Unraveling the Slot Mechanics
Upon closer inspection, the "Twilight Princess" isn't just another grid slot. Here, wins materialize when five or more identical symbols cluster either horizontally or vertically. Interestingly, this game skips the common tumble feature. With a high volatility model in play, the RTP hovers around 96.08%. As for stakes, players can wade in from 20 p/c, scaling up to £/€240 on the 5x5 grid. The paytable spans a spectrum: from geometric shapes for the low-tier payouts to thematic icons like shields, bells, and the titular princess at the higher end.
Harnessing the Power of Wild Multipliers
At the heart of the game's potential is a shimmering pink orb, the wild symbol, emblazoned with a 'W'. This isn't just any wild; it's a game-changer. While it can morph into any symbol (bar the scatter), it arrives with a multiplier surprise. As these wilds land, they bear multipliers ranging from x2 to x10, intensifying any win they're part of. And if, by chance, several wilds cluster in a winning combo, their multipliers unite, amplifying the victory.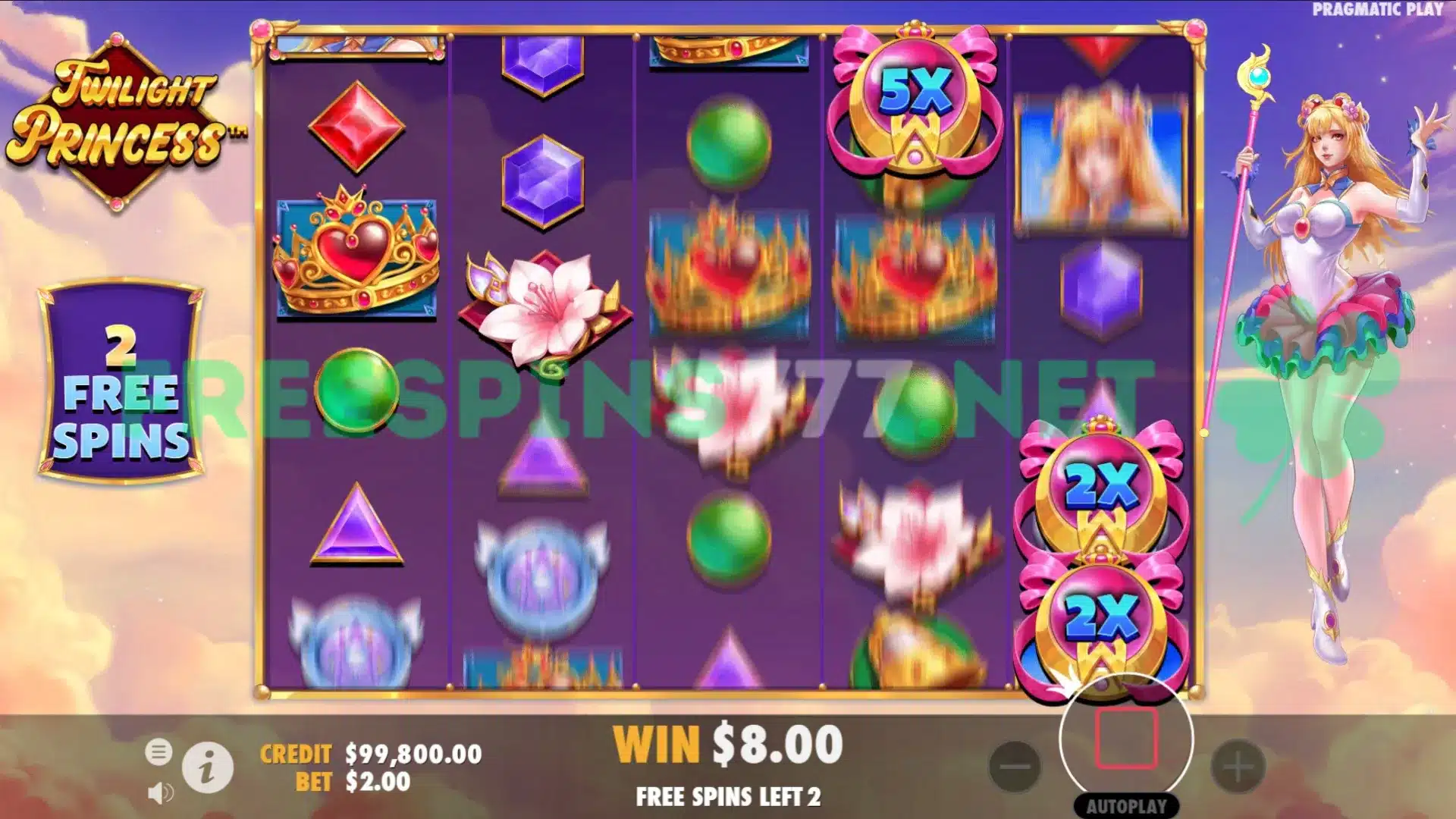 Chasing the Golden Orbs: The Free Spins Feature
Gold orbs, acting as scatters, can appear on every reel. Landing a trio or more not only rewards payouts but also gifts players with 10 spins for free. A unique twist emerges here: any wild gracing the reels remains stuck throughout the free spins. And, for those hungry for more, additional free spins lurk, ready to be triggered.
Instant Gratification: The Bonus Buy Feature
For those impatient souls, or those who trust their luck, the game offers a shortcut. By parting with 100 times their bet, players can immediately beckon free spins. Here, between 3 to 5 scatters are bound to emerge, assuring a rewarding experience.
Twilight Princess Slot Conclusion
Twilight Princess stands as a testament to Pragmatic Play's prowess in merging captivating design with rewarding game mechanics. It's an immersive journey into a dreamy realm, where every spin holds promise. Yet, the universe of Pragmatic Play is vast and filled with other treasures. For players seeking new adventures, titles like Gates of Olympus beckon with divine chances, Starlight Princess offers a celestial gaming experience, and Wisdom of Athena imparts mythological mysteries with every play. Together, these games showcase the depth and variety of Pragmatic Play's portfolio, ensuring that every player's taste is catered to, and every spin tells a different tale.