Wild Spells: Unleash the Magic of Online Casino Gaming
In the vast realm of online casino gaming, Wild Spells Demo Slot emerges as a captivating slot game that takes players on a mystical journey into the world of magic and fortune-telling. Embracing the arcane arts, this enchanting game holds the promise of generous rewards and thrilling experiences for both novices and seasoned players alike.
Wild Spells Demo (FREE TO PLAY)
Theme and Design
Step into a world where magic, wealth, and good fortune converge seamlessly. "Wild Spells" enchants players with its mesmerizing design, featuring a backdrop of mesmerizing purple and blue hues that transport players to a magical realm. The animated stars twinkling above add a touch of ethereal wonder. Each symbol on the reels, from the three fortune teller representations to the magic book of spells, the potion, and the eerie candle, contributes to the spellbinding atmosphere. Even traditional playing card symbols take on a mystical allure.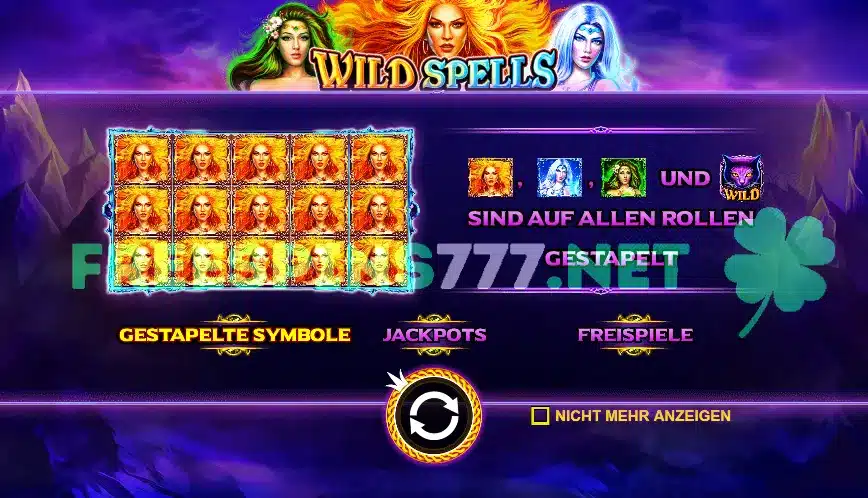 Wild Spells Demo Gameplay
Embarking on this mystical journey is effortless with "Wild Spells." The game offers five reels and an impressive 25 different ways to win, ensuring players never run short of opportunities to claim their fortunes. Betting ranges from a mere 0.25 to a high-rolling 125, providing flexibility for players of all preferences. Furthermore, with no downloads required, players can dive right into the enchantment and indulge in both free play and real money wagering. The grand prize tantalizingly awaits, offering a staggering 312,500.
Slot Feature
"Wild Spells" introduces an array of symbols that significantly enhance the potential for rewarding wins. Central to the gameplay are the three fortune teller symbols, each adorned with distinct colors (orange, blue, green) to add a dash of mystique. Alongside them, the magic book of spells, the potion, and the candle bring more magical elements into play. Players only need to align three or more identical symbols to unlock varying payouts and unravel the mysteries of fortune.
Special Features
To further augment the magical journey, "Wild Spells" employs both wild and scatter symbols. The wild symbol becomes a player's ally, capable of substituting for the highest paying symbol to elevate the chances of substantial rewards. However, the wild symbol cannot replace the scatter symbol. The scatter symbol, a unique and essential feature, presents players with three intriguing options. The choices they make determine the number of wilds that materialize on the screen and the allocation of free spins, injecting an extra dose of excitement into the gameplay.
Wild Spells Demo with Bonus Buy Feature
Wild Spells Demo Conclusion
In conclusion, "Wild Spells" stands as a captivating masterpiece crafted by a renowned game provider. With its enchanting theme, user-friendly gameplay, and a plethora of special features, this slot game immerses players into a realm of magic, fortune-telling, and endless excitement. As an experienced authority in the field of online gaming, I can confidently attest to the game's potential to thrill both novices and veterans of online casino gaming.
The game provider's commitment to delivering top-notch entertainment is evident in every aspect of "Wild Spells." From its captivating design to the array of rewarding symbols, this slot guarantees a spellbinding experience for all players. Moreover, the game's generous RTP (Return to Player) ensures that the magic of winning is never far from reach.
So, if you seek an unforgettable adventure in the mystical world of online casino gaming, look no further than "Wild Spells." Unleash your inner fortune-teller, and let the magic of this exceptional game lead you to bountiful treasures and untold wonders. Embrace the enchantment and let the reels of fate spin in your favor!