Zeus vs Hades Slot Review + Demo (Pragmatic Play)
Zeus vs Hades Slot Demo
Zeus vs Hades Gods of War Slot Demo, a captivating slot game developed by Pragmatic Play, transports players to the legendary battleground where two mighty gods of ancient times clash. This thrilling online slot gives players the unique opportunity to immerse themselves in the epic conflict between Zeus and Hades, set against the backdrop of Classical Greek mythology. Pragmatic Play, a reputable gaming developer, has masterfully designed this game to offer players two distinct modes, each delivering a one-of-a-kind gaming experience.
Zeus vs Hades Slot Demo with Bonus Buy
Theme and Design
Drawing inspiration from the rich tapestry of Classical Greek mythology, Zeus vs Hades Gods of War creates a visually stunning world for players to explore. The game's aesthetics shift based on the chosen mode. In the Olympus mode, players are greeted with the serene blues of the heavens, while the Hades mode submerges them in the fiery oranges and reds of the underworld. This attention to detail in design adds to the immersive experience, making the game a fresh take on the widely explored theme of Greek gods.

Gameplay
As players embark on their mythical journey, they are presented with two modes: Olympus and Hades. Each mode offers a distinct gaming environment and opportunities for different types of wins. In Olympus mode, triggering free spins occurs more frequently, but the average win from these spins tends to be lower. Conversely, the Hades mode provides a lower chance of activating free spins but offers the promise of higher average wins. The 5x5 grid and 15 fixed bet ways ensure a dynamic and engaging gameplay experience, while adjustable bet options cater to players with varying budgets.
Slot Feature
Zeus vs Hades Gods of War introduces players to a diverse array of symbols, each playing a pivotal role in the game's mechanics. Half of these symbols are low-paying and represent card ranks, while the other half are high-paying and centered around the theme of the ancient gods. It's worth noting that the value of these symbols changes depending on the chosen mode. Furthermore, regular wild symbols, appearing on all reels, have the power to substitute for any regular pay symbol, increasing players' chances of securing wins.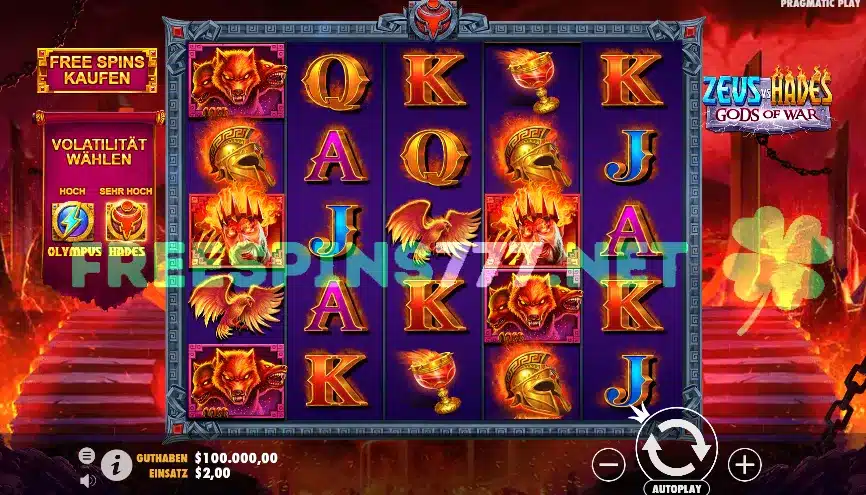 Special Features
Expanding Wilds with Multipliers: The excitement reaches new heights with the appearance of Expanding Wild symbols, which can occur in both the base game and the bonus round. When an Expanding Wild lands on a reel, it expands to cover all positions on that reel. As Zeus and Hades lock horns, a multiplier ranging from x2 to x100 is determined, enhancing the payout potential of the Expanding Wild. If multiple Expanding Wilds contribute to a win, their multipliers are combined, leading to even more substantial rewards.
Free Spins: Scatter symbols are key to unlocking the coveted free spins feature. Landing three scatters on reels 1, 3, and 5 triggers 10 free spins. During this bonus round, any Expanding Wild that appears remains sticky until the end of the feature. Additionally, these wilds come with multipliers ranging from x2 to x100, making each spin an opportunity for impressive wins. Unfortunately, free spins cannot be retriggered, adding an element of suspense to the gameplay.
Bonus Buy Feature
Zeus vs Hades Gods of War caters to players seeking instant action through its Bonus Buy feature. For a price, players can purchase free spins with varying features depending on the chosen mode. For example, standard Olympus mode free spins are available for 75x the bet, while Hades mode free spins come at a cost of 150x the bet. Players looking for an even more thrilling experience can opt for free spins from either mode with a guaranteed Expanding Wild symbol on the first spin, available for 300x the bet.
Zeus vs Hades Slot Demo Conclusion
In conclusion, Zeus vs Hades Gods of War is a remarkable online slot game that skillfully combines familiar themes with innovative gameplay mechanics. Pragmatic Play's dual-mode feature grants players a level of control and strategy rarely seen in the online casino world. This, combined with the game's high volatility and potential for significant wins, ensures that Zeus vs Hades Gods of War appeals to both novices and veterans of online casino gaming. The captivating visuals, engaging gameplay, and rich features make this slot game a top choice for those seeking an immersive and rewarding gaming experience.
In the thrilling realm of online casino gaming, Zeus vs Hades Gods of War stands tall as a testament to Pragmatic Play's prowess in crafting captivating slot experiences. With its visually stunning design, dual-mode feature, and innovative gameplay mechanics, this game immerses players in an epic battle of mythical proportions. The potential for significant wins, complemented by the game's high RTP (Return to Player) rate, solidifies Zeus vs Hades Gods of War as a top choice for both the seasoned slot enthusiast and the daring newcomer. So, brace yourself for an adrenaline-pumping adventure and let the mighty gods guide you to glorious victories!