Gonzo's Treasure Hunt Live Review (Evolution Gaming)
Gonzo's Treasure Hunt Live Review
Gonzo's Treasure Hunt by Evolution Gaming, an innovative online casino game, has garnered significant attention. It's unique, fusing elements of live games with the thrill of slots. This game boasts an adventurous theme, with Gonzo, a friendly Spanish explorer, seeking hidden treasures. Please check also the brand new game Gonzo's Treasure Map Live!
Play Gonzo's Treasure Hunt Live for real
Gaming Environment
Its setting draws players into an ancient world, the backdrop being a massive 70-stone wall. The mission: locating El Dorado's lost riches. Gonzo, in an exciting twist, materializes via augmented reality, assisting you in your treasure hunt.
Game Mechanics
Playing Gonzo's Treasure Hunt involves strategic betting on stones. Find the wagered treasure to gain a cash prize. Winnings depend on your stake, the stone you choose, plus any multipliers or bonuses encountered.
Choosing Your Stones
The journey commences with the selection of stones. Six differently colored stones, each with varying payout values (1x, 2x, 4x, 20x, and 65x), are on offer. High-value stones are rarer but promise larger payouts if located.
Buying Picks
Next comes the buying of picks. Depending on your budget, you can purchase between 1 and 20 chances to discover your treasure. More picks increase your odds, but also the cost of your adventure.
The Exciting Treasure Hunt
Once picks are purchased, the hunt begins! The stone wall shuffles, concealing all values. As per the number of picks bought, you can select stones. If time runs out before you've chosen, the system randomly allocates your picks.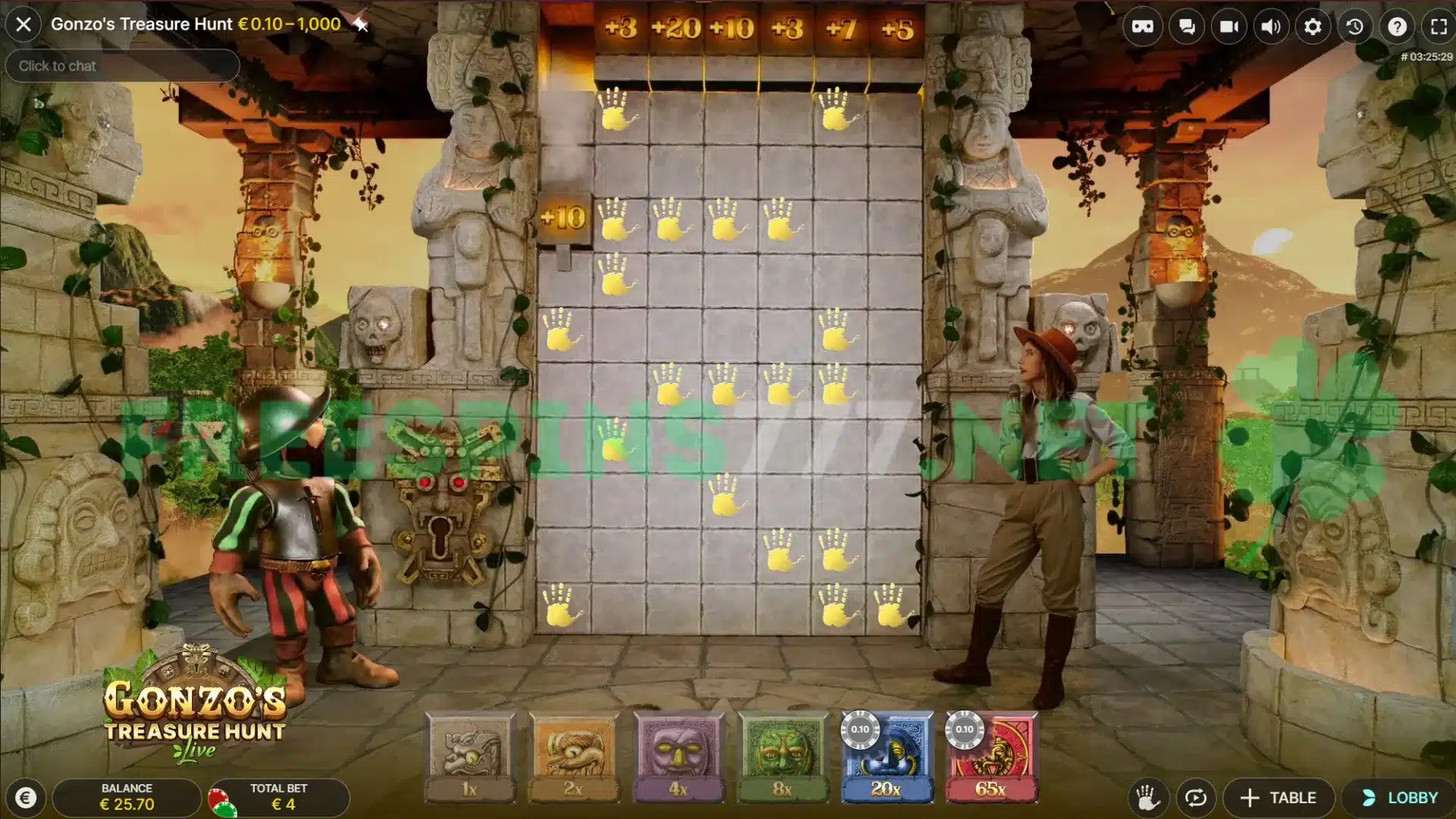 The Prize Drop
Gonzo initiates the prize drop, a suspenseful event involving up to seven prizes descending onto randomly chosen stones. Prizes, including bonuses, multipliers, or re-drops, can escalate a stone's value up to 20,000x.
The Big Reveal
After the prize drop, suspense reaches its peak as the wall overturns, revealing the stones' values. For each matching stone, you gain the related cash prize. Discovering a bonus-bearing stone boosts your payout even further.
Strategy and Gameplay
Successful Gonzo's Treasure Hunt play involves striking a balance between the stone value and the number of picks. More of either enhances winning chances, but demands a larger bet. The game may initially intimidate beginners with its complexity, yet its multifaceted nature offers rewarding gameplay once understood.
The Uniqueness of Gonzo's Treasure Hunt
The game's structure ensures a personalized experience. The choice of stones, number of picks purchased, and the dig location impact each game, making each stone wall unique. This customization aspect significantly contributes to the game's appeal, promising an exclusive experience with every play.