Venturing into the Wild with Peter Hunter Slot by Peter & Sons
Navigating the vast realm of online slots, few manage to truly stand out. Yet, Peter Hunter Demo Slot by Peter & Sons has crafted a niche, offering a hunting odyssey with a twist, set against the untamed backdrop of Siberia.
Peter Hunter Demo free play
Peter Hunter Slot availabe at
Peter Hunter Demo Design
This game doesn't just offer spinning reels. It transports players to Siberia's expansive lands, where every spin feels like a hunt. Siberia is portrayed as a dense woodland teeming with game. The graphics, cartoon-like yet intricate, showcase a dedicated hunter beside the grid. Complementing the visual feast is the audio, echoing Siberia's wild aura.
Unique Features: More than Just Spins
The game boasts a 5x3 grid, typical but perfected. Bet ranges are flexible, allowing stakes from 20 p/c to a whopping £/€100 per spin. The innovation lies in its Cash Collect feature. When a scatter appears, high-value symbols morph into Cash symbols. These then gravitate towards the scatter, bestowing a bet multiplier in their wake. Additionally, Wilds grace every reel, equating in value to the highest paying symbol.
Cash Collect: The Heart of the Adventure
In this exhilarating feature, Cash symbols, birthed from high-pay symbols, approach the scatter. As they traverse the grid, they drop bet multipliers. Reaching the scatter triggers our hunter into action. He aims, he shoots, he collects!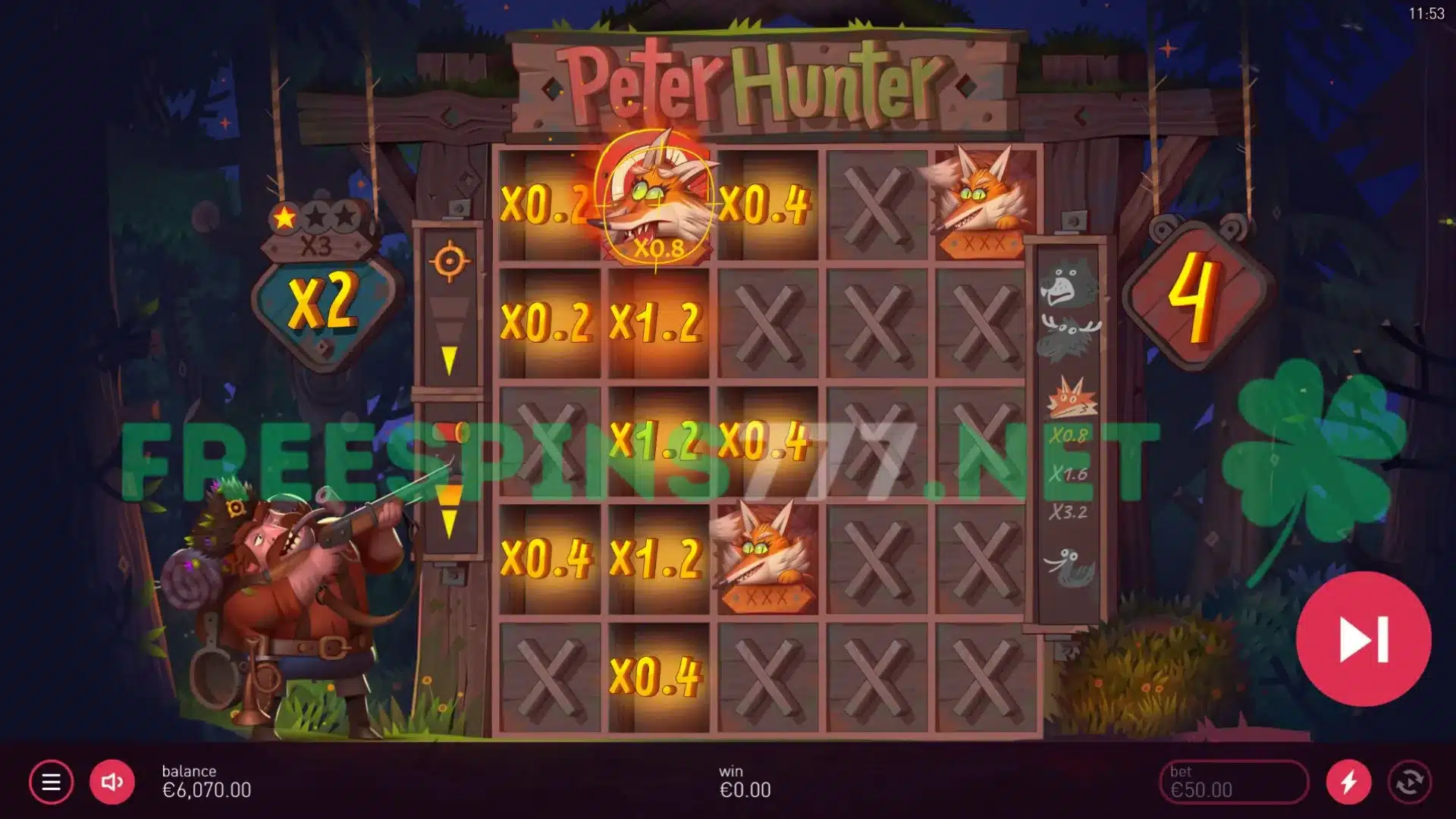 Free Spins: A New Hunting Ground
Scatters don't just bring cash. They fill a meter atop the reels. Accumulate seven, and you're gifted three free spins. This isn't the usual grid; it expands into a 5x5 field. With every spin, a scatter emerges alongside random high-pay symbols. They journey towards the scatter, shedding multipliers. The hunter's skill is tested as he shoots; successful shots amplify the values, while misses scatter symbols randomly.
Bonus Buy Feature: Shortcut to Adventure
For the impatient or the thrill-seekers, Peter & Sons offer a shortcut. At 80 times the bet, players can purchase the free spins round. But there's a twist! Buying the bonus gifts three spins, as opposed to the five earned naturally.
Conclusion: The Final Shot
Peter Hunter Slot by Peter & Sons isn't just another slot. It's an adventure, a journey, a hunt. With its immersive design and innovative features like Cash Collect, it's a breath of fresh Siberian air in the world of online slots. And with the potential of a 10,000x win, it's a hunt worth embarking on, whether you're a seasoned gamer or just looking for a fresh spin.