Tiki Tiki Boom Slot Review
Online gaming aficionados, brace yourselves! Tiki Tiki Boom Slot, with its tropical charm, is making waves in the virtual casino realm. Whether you're a newbie or a seasoned player, this review is crafted just for you.
Tiki Tiki Boom Demo
Play Tiki Tiki Boom at
Tiki Tiki's Design Aesthetics
Upon launching Tiki Tiki Boom, players are instantly whisked away to a paradisiacal beach. The grinning face masks, in a burst of colors, add intrigue. Combine these and big wins await. But, what catches the eye is an explosive barrel. This barrel, if luck sides, showers a player with up to 15 Wild Symbols. If that's not exhilarating enough, the Tiki Tiki Spins beckons. This bonus game, sprinkled with symbols, promises increased coin values. And while the golden sands and shimmering waters paint a calm picture, the barrel underneath the palm tree suggests otherwise. Anticipation, excitement, and suspense - Tiki Tiki Boom offers it all.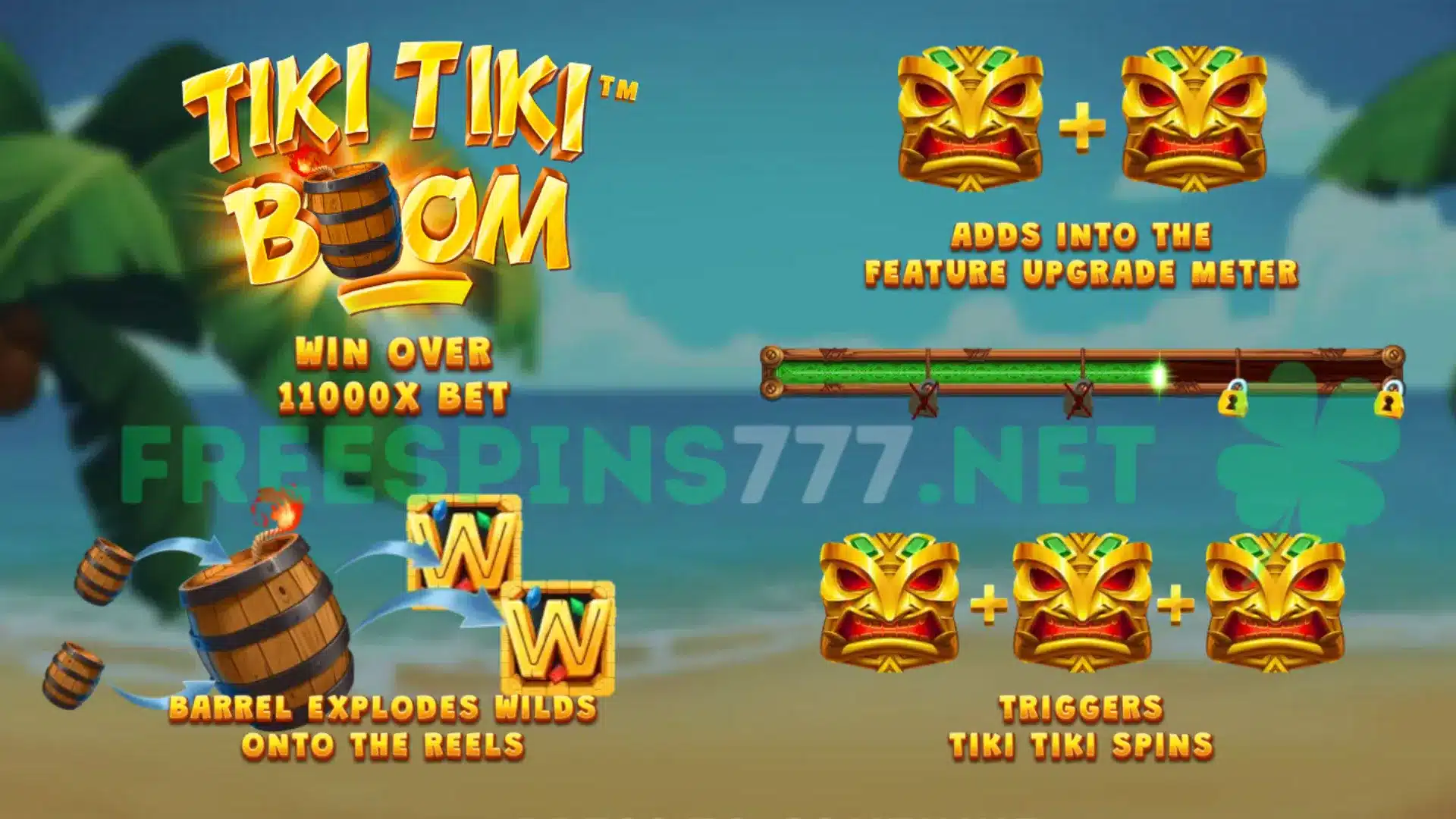 Decoding Slot Features
Wild Symbol: This acts as a stand-in for regular symbols, aiding winning combinations. Scatter Symbols, however, remain untouched.
Wild Boom: In any base game spin, mini barrel tokens might emerge. These tokens, when collected in a wild barrel, bring explosive results. With luck, up to 15 symbols turn into Wilds.
Feature Upgrade: Above the reels lies an upgrade meter. Two Scatter Symbols on a spin contribute a token to this meter. Gather 10 tokens, and a row for Tiki Tiki Spins unveils. With a total of 40 tokens, players can unlock four rows. This meter, though, resets post the Tiki Tiki Spins.
Tiki Tiki Spins: This is where the magic happens. Triggered with three Scatter Symbols, it introduces players to an extended grid. Symbols and blanks have equal chances to appear. Each symbol appearance resets spins to three. And the range of symbols? Each has unique benefits. From Coin Symbols and Tiki Bomb to Doubler, the variety is mesmerizing. And the cherry on top? Filling all positions gives an additional 2,500X on the bet.
Upsizer: Before delving into Tiki Tiki Spins, players have an ace up their sleeves. The Upsizer Menu allows one to buy features, thus enhancing winning probabilities.
About Free Spins
The Tiki Tiki Spins, a respin feature on an expansive grid, is the game's free spins equivalent. Landing three Scatter Symbols activates it.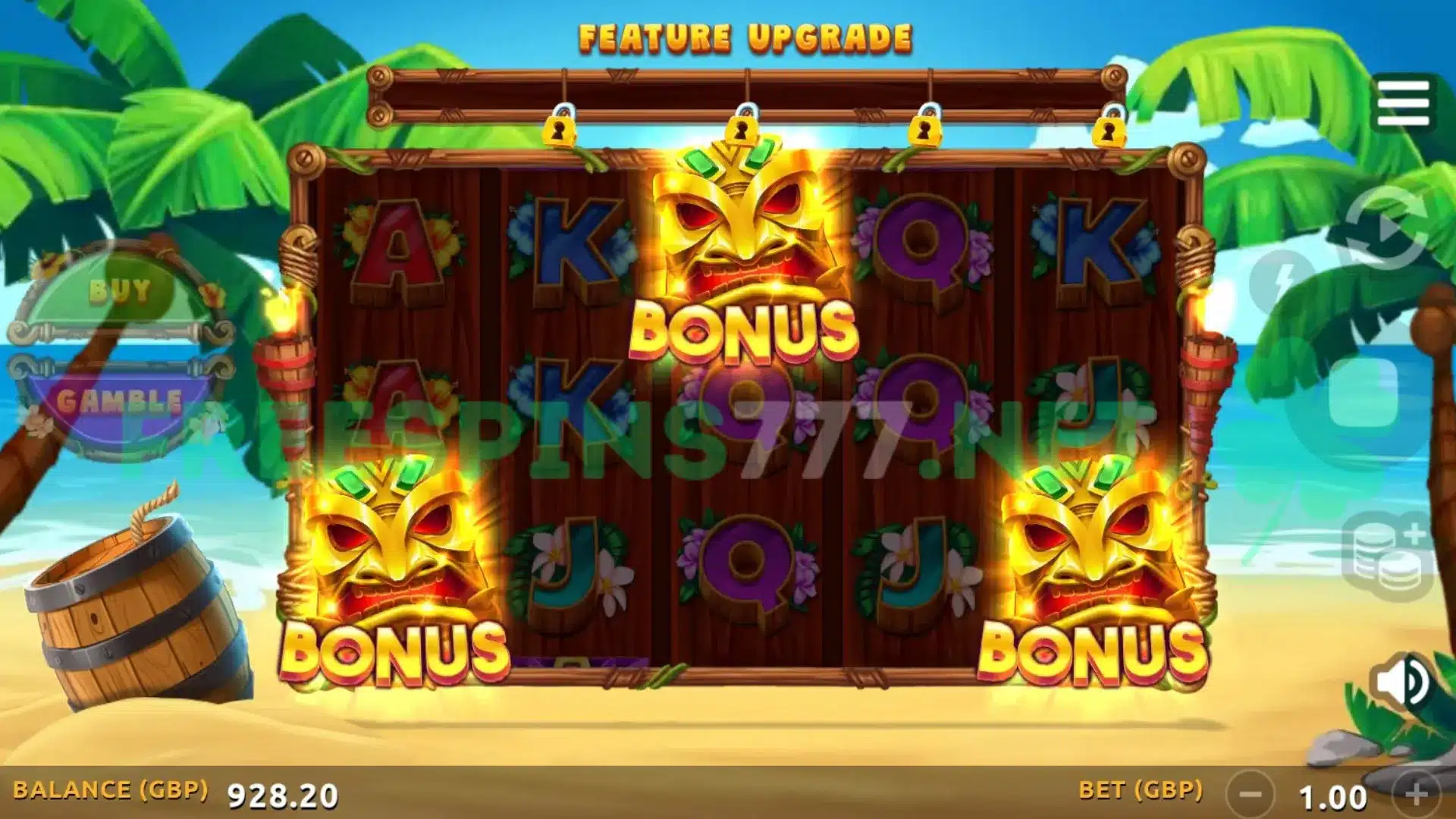 Bonus Buy Feature and More
Impatient players, rejoice! One can purchase the Tiki Tiki Spins bonus at 71.80X the bet. A gamble option exists within the Bonus Buy feature. While risks vary between 10% to 90%, rewards increase proportionately.
Tiki Tiki Boom Slot Verdict
Tiki Tiki Boom is not just another slot game. It's an experience. It's a journey to a tropical paradise with promises of grand wins. With a commendable RTP of 96.09% and the potential max win of 11,000X the bet, it strikes a balance between fun and rewards. Thanks to Northern Lights Gaming, Tiki Tiki Boom stands as a testament to their excellence in online slot design.