Vending Machine Slot Review (Hacksaw Gaming)
Vending Machine Slot Review (Hacksaw Gaming)
Welcome to our Vending Machine Slot Review at freespins777.net!
Opening the world of online gaming, we come across a unique gem, the Vending Machine Slot. Hacksaw Gaming, a notable provider, has put forth this engaging game, well-crafted with a 5-reel, 5-row layout and 35 paylines. The game holds potential, offering a chance to win up to 5,000 times your bet.
Vending Machine Slot Demo free to play
Play the Vending Machine Slot with real money
Game Mechanics and Volatility
With a default RTP of 96.28%, Vending Machine Slot leans towards medium volatility. Hence, it strikes a balance between risk and reward. Players find this appealing because it brings a blend of frequent, smaller wins and larger, infrequent jackpots.
Key Features: Multiplier Lights
The Multiplier Lights feature sets this game apart. The game grid, divided into rows, has an inactive multiplier displayed to the left. Before every spin, each row's multiplier is assigned a random value. When a winning combination hits, the multipliers of rows containing the win symbols increase, adding a strategic twist.
Unique Features: Lo-Fi Spins and Spin and Chill
Two distinctive bonus rounds, the "Lo-Fi Spins" and "Spin and Chill," come into play when landing three or four Free Spin symbols simultaneously in the base game. This intriguing element makes the game dynamic and appealing, keeping players engrossed in the gameplay.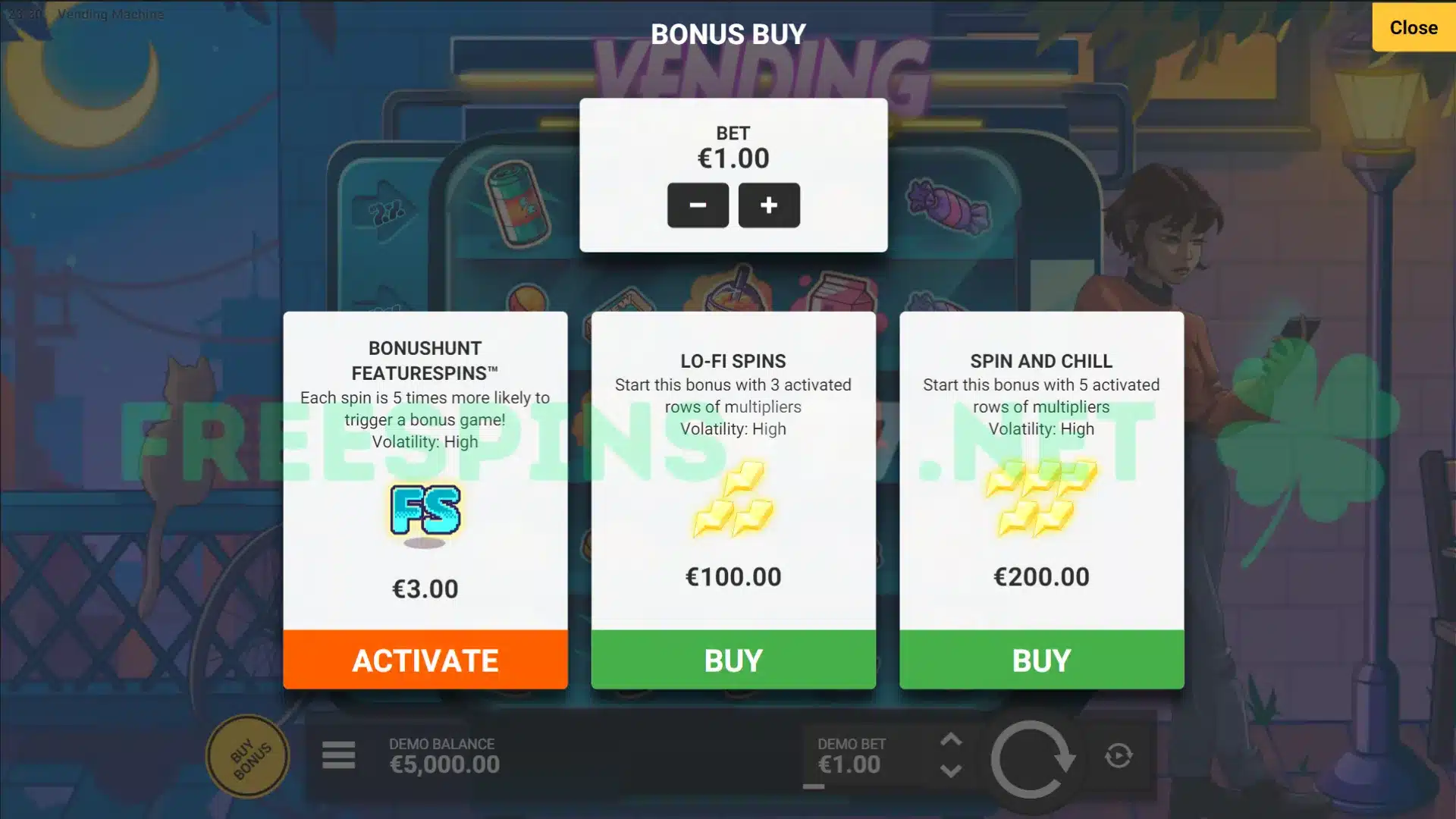 The Bonus Buy Options
Bonus Buy options are another enticing feature of the Vending Machine slot. One such option, the BonusHunt FeatureSpins™, amplifies each spin's likelihood to trigger bonus games, albeit at three times the bet cost. These options cater to seasoned players who prefer a higher risk for higher reward gameplay.
Visual Appeal and Game Design
The Vending Machine slot stands out in its visual charm. Its design is saturated in a low-fi, pastel-colored theme, strikingly different from the usual flashy designs. The soft, relaxed audiovisual feel gives it a unique charm, complemented by a mellow, hypnotic soundtrack.
Vending Machine Slot Review Conclusion
To conclude, the Vending Machine slot offers a distinct gaming experience. Its innovative features, such as increasing multipliers and unique bonus rounds, combined with a soothing theme, make it a game worth your time. Whether you're a novice or a seasoned player, this game promises a balanced mix of fun and thrill.
More Hacksaw Gaming Slot Reviews and playable Demo's here: